Greenpeace Attacks Romney Aide On Climate Work
Group accuses Press Secretary Andrea Saul, who previously worked as a lobbyist against climate change regulations, of skewing the candidate's energy position.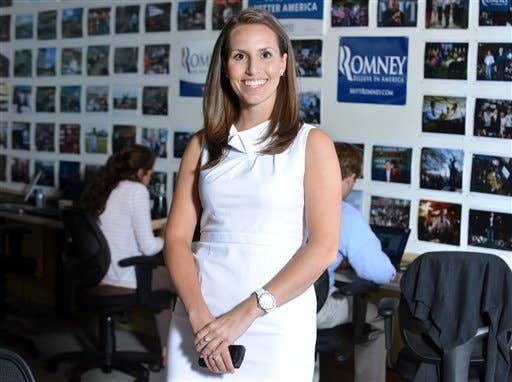 Environmentalists are accusing Mitt Romney's press secretary of wielding influence over Mitt Romney's positions on climate change, charging that her previous work as a lobbyist working against regulatory controls on greenhouse gases has bled into her campaign work.
Andrea Saul, a veteran Republican staffer who as been with Romney's campaign since the Spring of 2011, previously worked for the DCI Group, a powerhouse DC lobbying shop that has represented ExxonMobil and other major international corporations in the battles to avoid expensive environmental regulations.
Although she worked for the DCI, Saul has never been a registered lobbyist.
The presence of former lobbyists – either for corporations or special interest groups on either side of the ideological aisle – is not uncommon in presidential campaign operations. Washington's revolving door means that aides are constantly moving between campaigns, congressional offices, administration gigs and K Street.
But despite that reality, their presence in a campaign, particularly in key positions like Saul's, often leads to questions about whether they or their former clients may have added influence on a candidate's positions.
"Saul's legacy of work vending misinformation on global warming science for clients like Exxon raises serious questions about how much she is shaping Romney's stance on these critical issues, even as the country faces historic drought, heat waves and crop failure," GreenPeace Research Director Kert Davies said Tuesday, who noted that Romney has (like his party) grown more skeptical on the human role in climate change in recent years.
During her time at DCI, a young Saul was clearly engaged in the firm's climate change work, according to publicly available records. Saul appears to have primarily worked in public outreach and was listed on numerous press releases produced by DCI on climate change. Saul also helped promote academics and others who question the science behind climate change, like Oregon climatologist George Taylor.
Unlike more bombastic opponents of climate controls like Sen. Jim Inhofe, who has accused the meteorological establishment of conspiring to create phony science, DCI appears to have taken a far softer approach to chip away at the academic consensus, using releases like Saul's 2006 "Oregon State Climatologist Questions Global Warming Study in Washington Post" to raise questions about the science in the public mind.
Thsoe efforts have clearly paid off. Over the last several years, while the scientific community has become more solidified in its support of the basic science linking humans and climate change (if not its scale or appropriate solutions), the public's confidence has faded, according to surveys.
Saul's work at DCI between 2004 and 2007 included a range of work on behalf of corporate clients fighting environmental regulation, ranging from a 2006 effort to blunt efforts by environmentalists to connect hurricanes to climate change to the organization's efforts to fight new taxes on oil companies in the mid 2000s.
In a memo, Greenpeace argues that Saul worked to "orchestrate a multi-faceted, covert operation to undermine science, attack scientists and confuse the public and reporters" during her time at DCI – work that Saul declined to comment on her past work or the charges Greenpeace has leveled against her, and instead pointed to Romney's 2011 book "No Apology" in which he acknowledged human contributions to climate change but said "I am uncertain how much of the warming, however, is attributable to man and how much is attributable to factors out of our control."
Saul's job does not include any policy work and it is unclear what, if any, effect she has had on how Romney talks about the issue of climate change.
Romney has not taken as hard of a line on climate change as many Republicans who refute the notion of significant changes in the climate as a hoax perpetrated by environmentalists.
Indeed, in the past he has made clear he not only believes climate change exists but also that human beings have played a part creating climate change. But as the Republican Party's base has shifted sharply against even widely-accepted elements of climate science,, Romney has been careful in discussing the issue during the 2012 election, avoiding any mention of man-made causes.