Graham: "The President Of Russia Has Told The President Of The United States To Go To Hell"
Sen. Lindsey Graham tells BuzzFeed News that Russia putting boots on the ground in Syria could tilt the balance of power in the Middle East.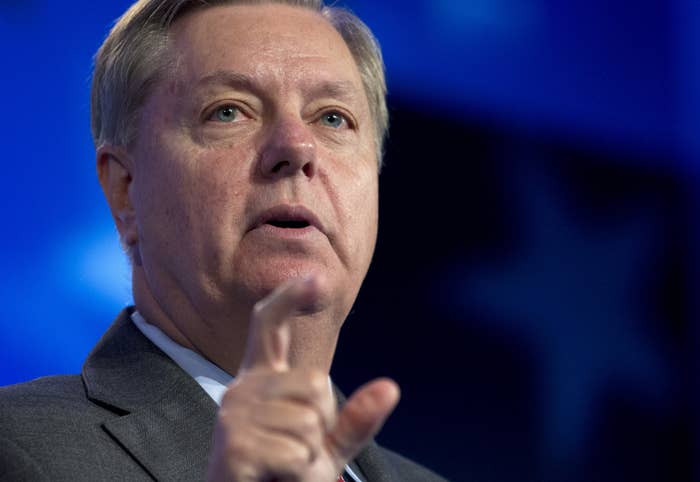 WASHINGTON — Sen. Lindsey Graham Tuesday warned that rather than becoming bogged down in the Syrian civil war, Russia is set to greatly expand it's influence in the Middle East thanks to Russia's decision to send in ground forces.
Graham, who has long advocated a more aggressive approach to ousting both ISIS and Syrian dictator Bashar Al-Assad, argued that Russian President Vladimir Putin's is essentially following the playbook Graham and other hawks have urged for years.
"Putin is doing what I would have suggested. He's forming a regional force of Syrians, Hezbollah, Iranians, and now Russian ground forces, with Russian air power, and they're going to go after the people that threaten Assad," Graham said to BuzzFeed News in the Senate's halls. "The president of Russia has told the president of the United States to go to hell."
Graham warned that allowing Russians to continue expanding their military role in the civil war could lead to a significant shift in power in the volatile Middle East and eventually tilt much of the Arab world towards Russia and Iran.
Obama "thinks some how Russia is being bogged down. They're not being bogged down, they're making a very smart play. At the end of the day they sized up and said, 'if we use ground forces … America will do nothing about it,'" Graham said.
"And it means that Assad will stay in power and the Arabs are going to have to look at Russia anew. They're going to have to look at Iran anew. What Obama is doing is giving Russia and Iran more influence in the mid-east anytime since the mid-70s," he added.
Despite the presence of Russian air and ground forces in Syria, Graham insisted Obama must form his own coalition to counter Russia. The White House should "come up with a strategy that works. Stop being walked all over on," Graham said, adding that Obama "could form a regional force, go in on the ground and go after ISIL with a regional approach, that will put pressure eventually on Assad to leave. But the vacuum he's created has helped ISIL, Iran, and Russia."