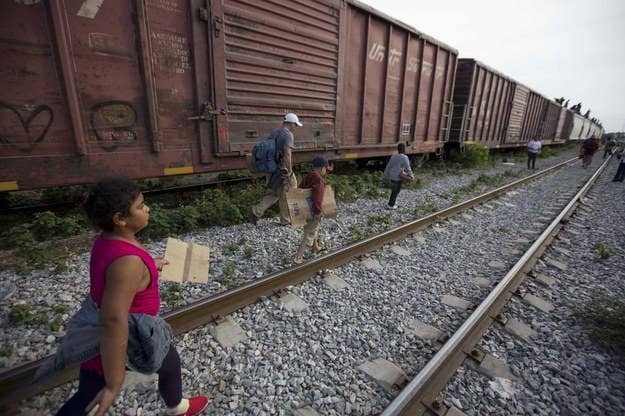 WASHINGTON — The Obama administration is using a Bush-era decision by former Attorney General John Ashcroft to classify the flood of undocumented immigrants that have hit the southern border as a "national security threat" in an effort to deny them bond during immigration status hearings.
Immigration attorneys said the argument, based on a 2003 decision by Ashcroft, has been employed against undocumented immigrant mothers with children being held at the Artesia, New Mexico, detention facility.
The nation's immigration courts are overseen by the Department of Justice, and the attorney general has the authority to rule on any appeal of a case before it can be taken to the judicial system for review.
During a Tuesday hearing viewed by BuzzFeed at a Virginia courthouse, a Department of Homeland Security attorney used the national security argument as part of her successful opposition to a bond request by an El Salvadoran mother and her child, who are being held at the Artesia facility.
In her statement against granting bond, the administration attorney argued that the current "mass migration" crisis has been "recognized as a national security threat by the [attorney general] … [and] it will encourage human trafficking."
The national security claim is based on an April 17, 2003 ruling by Ashcroft known as the "Matter of D- J." In that case, which involved an immigrant from Haiti, Ashcroft ruled against granting a bond, arguing, "I have determined that the release of respondent on bond was and is unwarranted due to considerations of sound immigration policy and national security that would be undercut by the release of respondent and other undocumented alien migrants who unlawfully crossed the borders of the United States."
Arguing that granting bond would encourage further illegal entries, Ashcroft explicitly cited 9/11 in his decision, writing, "in light of the terrorist attacks on September 11, 2001, there is increased necessity in preventing undocumented aliens from entering the country without the screening of the immigration inspections process."
It is unclear whether national security concerns weighed in Judge Roxanne Hladylowycz's decision: She did not specifically cite the argument or the Ashcroft decision when ruling against the bond request.
Two sources indicated to BuzzFeed that the national security argument has been used in bond hearings for others at the Artesia facility. The use of the decision has already angered advocates for immigrants.
"To impose mandatory detention on women and children who have established a credible fear of persecution in order to deter other families from seeking asylum in the United States is an egregious misuse of the government's detention authority," said Judy Rabinovitz, Deputy Director of the American Civil Liberties Union's Immigrants' Rights Project.
"The government's invocation of Matter of D- J — an attorney general decision that upholds the categorical detention of individuals based on overblown allegations of risk to national security — violates the essence of due process, which requires individualized determinations of danger or flight risk in order to justify a deprivation of liberty," Robinovitz added.
A DHS spokesman did not return a request for comment.