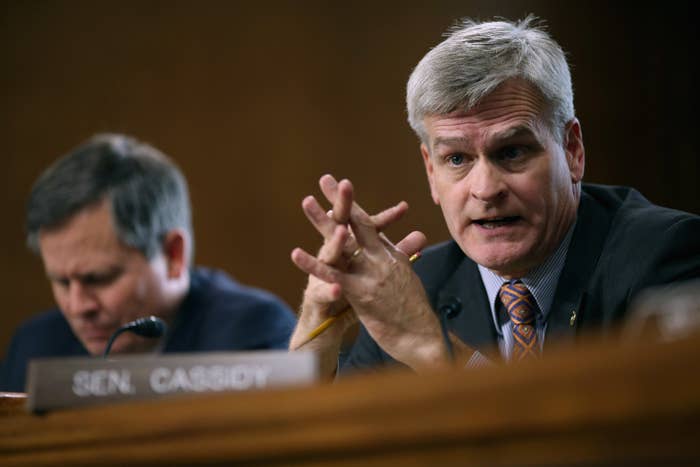 WASHINGTON — Louisiana Sen. Bill Cassidy Thursday acknowledged that Donald Trump may not be the best messenger for Republicans going into November's elections, and bluntly warned Republicans should be prepared to try and find ways to work with Hillary Clinton if she wins the presidency.
Asked during an interview on C-SPAN's Newsmakers program about whether Trump, Louisiana senate candidate David Duke, and a growing number of pro-Trump white supremacists have hurt the GOP's brand, Cassidy said Republicans' electoral woes this fall aren't so much a question of policy, but rather Trump himself.
"The message that we have is pretty good… it may turn out that Mr. Trump is not the messenger. Maybe he is. But it really seems to boil down to Mr. Trump's personality being not what people like, as opposed to some of the issues," Cassidy said.
Cassidy also warned that if Clinton does win in November, Republicans will have to find areas to work with her. "I hope we find common ground as how to progress as a nation," pointing to mental health reform and overhauling how the government responds to public health emergencies as two areas on which he and Clinton already agree. He predicted Speaker Paul Ryan will find ways to work with Clinton.
"There will be common ground… Ryan is a great American. He is going to work with whomever he needs to work [with] to make something happen," Cassidy said.
On Duke, Cassidy dismissed the white supremacist's Senate bid, noting that most Republicans have disavowed Duke. "This is the longest conversation I've have about David Duke since he announced his candidacy. In Louisiana, it's a non-event," Cassidy said.
Meanwhile, Cassidy and Senate Majority Leader Mitch McConnell are discussing moving legislation this month aimed at boosting funding for disaster relief for areas of his state devastated by recent flooding.
"I have spoken to Mitch McConnell already … how can we get that community development block grants out sooner, how can we get the resources we need to rebuild out sooner," Cassidy said. Although FEMA is already moving significant resources into the region, the cleanup remains slow. Amid the height of hurricane season, local officials worry that a massive storm could wreak havoc on cleanup efforts and devastate the region.
According to Cassidy, he is eyeing legislation that would be proportionally modeled on disaster legislation Congress has passed in recent years for flooding in South Carolina and other states. Although many conservatives have long resisted supplemental funding bills, Cassidy appeared hopeful the Senate will take it up, and said during his discussions with the Majority Leader, McConnell "seemed to feel like we were on the right track."
"I hope we can accomplish that in September before the [October] deadline" for appropriations bills, Cassidy said, explaining that it could be rolled into a larger disaster bill that deals with other hard hit parts of the country, as well as addressing the Zika virus.