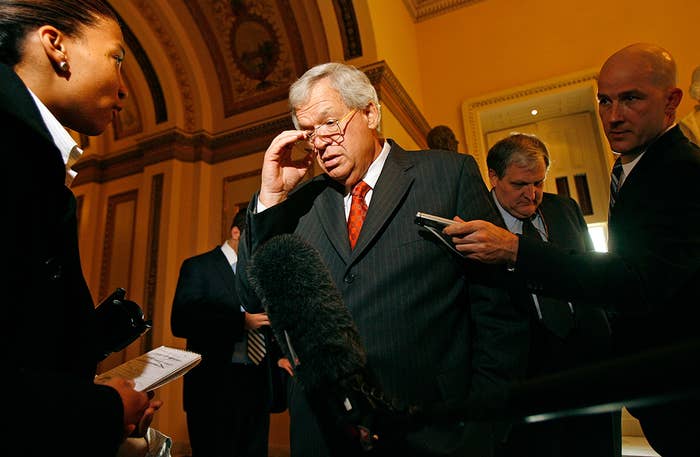 What We Know So Far
Dennis Hastert, the former speaker of the House, was indicted Thursday on federal charges of evading reporting requirements and lying to the FBI.
The Illinois Republican allegedly agreed to pay an unnamed individual $3.5 million for "past misconduct" that was reportedly the sexual abuse of a man while Hastert was the Yorkville High School wrestling coach — before he won elected office.
BuzzFeed News confirmed Jolene Burdge spoke with the FBI and that her deceased brother Steve Reinboldt was an alleged victim of Hastert.
Investigators considered adding a second alleged Hastert victim to the indictment, but chose not to do so, a source familiar with the matter told BuzzFeed News.
Hastert will be arraigned on June 9.
A source with knowledge of the investigation confirmed to BuzzFeed News that Jolene Burdge spoke with the FBI and that her deceased brother, Steve Reinboldt, was an alleged sexual abuse victim of Hastert.
The sister of one of Dennis Hastert's alleged sexual abuse victims spoke out to ABC News on Friday, saying her brother suffered at the hands of his then-high school wrestling coach.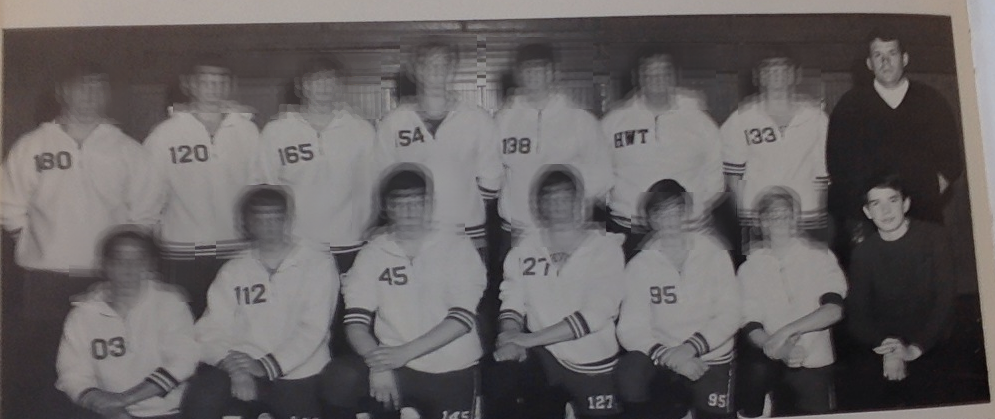 Jolene Burdge said that neither she nor her deceased brother Steve Reinboldt are the person identified in the indictment as "Individual A" but that she came forward because she wanted other possible victims to know they are not alone.
Burdge told ABC News she first learned of her brother's alleged years-long sexual abuse by Hastert in 1979 when Reinboldt came out to her as gay.
"I asked him, when was your first same sex experience. He looked at me and said, 'It was with Dennis Hastert,'" Burdge told ABC News. "I was stunned."
Burdge went on the say that Hastert, then a high school wrestling coach, abused Steve for four years while he was the team's student manager.
She said her brother never told anyone else of the alleged abuse out of fear that nobody would believe him.
Burdge said she confronted Hastert when he attended Reinboldt's funeral in 1995, telling him his secret didn't die with her brother. Jolene said Hastert did not respond, but rather got in his car and drove away.
While Reinboldt is not "Individual A" and Jolene said she never asked for money from Hastert, she believes "Individual A" knows about what happened to her brother.
The Yorkville Police Department did not preserve records for the vast majority of Hastert's time as a coach.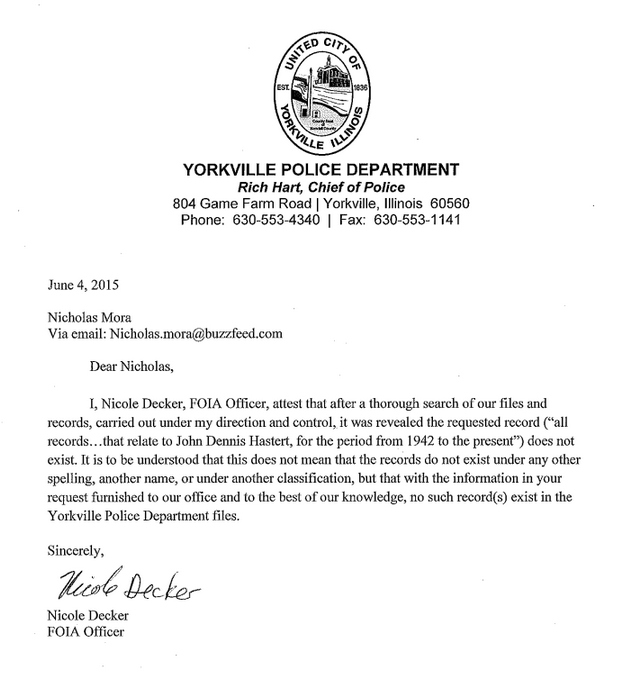 In response to a number of Freedom of Information requests, the Yorkville Police Department told BuzzFeed News that it did not preserve any records prior to 1979 — a period that includes all but three years of the time Hastert spent in the town as a teacher and coach.
The department said it found no mentions of sexual misconduct at Yorkville High or of Hastert's name in the records it does have.
Hastert's arraignment, where he will enter a plea, was rescheduled for June 9, according to federal court filings entered on Tuesday.
The federal judge tasked with presiding over Dennis Hastert's case twice donated money to the former House speaker's election campaigns, Federal Election Commission records show.
As first reported by the Associated Press, U.S. District Judge Thomas M. Durkin donated $500 to Hastert's congressional campaign in 2002 and $1,000 to his campaign in 2004 when the judge was in private practice as an attorney.
Durkin, who was nominated to the U.S. District Court for the Northern District of Illinois by President Obama in May 2012, told the AP he was unable to provide comment on the Hastert case, including on whether he may recuse himself from the proceedings due to a conflict of interest.
Hastert, who is facing charges of evading bank regulations and lying to FBI officials, will be arraigned in court on Thursday.
The Illinois Republican allegedly agreed to pay an unnamed individual $3.5 million in hush money for "past misconduct" that was reportedly the sexual abuse of a man while Hastert was the Yorkville High School wrestling coach — before he won elected office.
Hastert is fighting another unrelated court case saying he misused government funds.
Even as former House Speaker Dennis Hastert faces felony structuring charges for making payments to a man he reportedly sexually abused, the Illinois Republican's lawyers on Friday filed a motion in an unrelated case alleging he misused government funds after leaving the speaker's office.
Hastert's lawyers include his son, Ethan Hastert, a partner at Mayer Brown, and Justin Chiarodo, a partner at Dickstein Shapiro — the firm where Hastert worked prior to Thursday's indictment.
The lawsuit, brought under the False Claims Act by private attorney J. David John, alleges that Hastert misused government funds. After speakers of the House step down, as noted in the suit, they are "allowed to have an office for up to five years."
The suit alleges, however, that Hastert used a portion of the money for his own business purposes.
Among the other claims, the lawsuit alleges, "Mr. Hastert regularly used his federal employees, Lisa Post and Bryan Harbin, to make arrangements for, do research for, and coordinate with third parties concerning Mr. Hastert's private business dealings."
Post and Harbin were two of three employees of Hastert's post-speaker office. A woman reached by BuzzFeed News on Thursday night at a phone number associated with Harbin directed all questions to Dickstein Shapiro, the firm where Hastert worked. Post, who was not in her office as scheduler at the Illinois Comptroller's Office on Friday, also was not reachable at her home on Friday.
The third employee, Tom Jarman, accompanied Hastert and John on a 2008 trip to California — a trip referenced in a 2012 Chicago Tribune investigation into Hastert's funds — that was also raised in the lawsuit. Jarman left the former speaker's office in 2010, according to federal records available on a public database, and a call to a number associated with Jarman was not answered.
The lawsuit was dismissed by the judge overseeing the case on March 4, but John's lawyers attempted to keep the case alive by asking to file an amended complaint a month later, on April 7 — their second attempt at doing so.
"We're trying to prove in federal court that Dennis Hastert misappropriated funds, and that's what this case is about," John's attorney, Mike Goldberg, told BuzzFeed News. "The fact there's an indictment, I think, only serves to enhance our case and is a positive step for our case."
Asked whether he believed the facts of their lawsuit are related to the indictment against Hastert, Goldberg said, "I have no specific reason to believe that. I wouldn't be surprised if they end up relating, but right now I have no indication that they would."
Although a Dickstein Shapiro spokesperson confirmed to BuzzFeed News that Hastert had resigned from the firm, a partner at the firm — along with Hastert's son — was still serving as Hastert's lawyer in the False Claims Act case on Friday, arguing that John's lawyers should not be able to file a second amended complaint.
Chiarodo has not responded to multiple requests for comment.
Hastert, who also taught at Yorkville High School, coached the wrestling team to at least two state championships, in 1969 and 1976, the year he was named Class A Illinois coach of the year.
Seven former wrestlers and a former assistant coach reached by BuzzFeed News said they had no knowledge of misconduct by Hastert during his time as a coach.
The former speaker spoke at length throughout his career about the experience of coaching, even including in the acknowledgments to his memoir a note to one of the championship teams:
TO THE YORKVILLE FOXES OF 1976: While many of our teams did well, you were the very best. For me, winning the state championship was among the finest moments of my life. So many of the fine athletes I had the good fortune to coach are today raising and coaching boys and girls of their own. They're mentoring the next generation. For me, it doesn't get any better than that.
Hastert writes extensively about his career as a wrestling coach in the book, Speaker: Lessons From Forty Years in Coaching and Politics, which was published in 2004 — two years before Republicans lost control of the House of Representatives, and Hastert ultimately left Capitol Hill.
"I felt a special bond with our wrestlers," he writes in the book, "and I think they felt one with me. In my talks with them, I stressed how important it was that they learned to do a few things well. That was better than trying to do everything halfway. 'It's work and not talk that wins championships,' I kept telling them. 'Perseverance is the key in whatever you do.'"
In the book, Hastert also writes that he organized trips for the wrestling team. "For almost a dozen years, I drove my kids to the Rocky Mountain Wrestling Camp in Gunnison, Colorado, on the Rockies' western slope," he writes, describing trips to Virginia and Washington, D.C., as well.
One former wrestler that BuzzFeed News spoke with said he had been on numerous trips with Hastert as a coach and "never witnessed any inappropriate behavior, or heard rumors of any."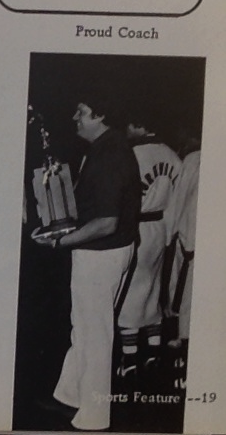 A man told federal investigators that Hastert sexually touched him while he was a high school wrestling coach, the New York Times reported.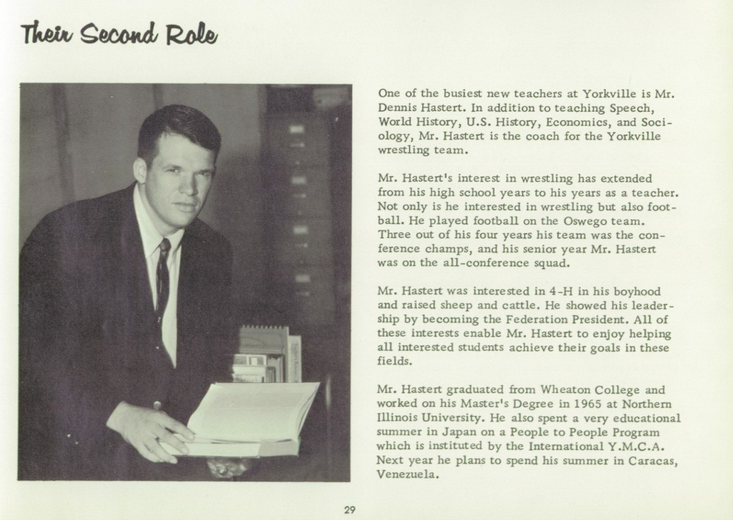 As the NYT reported:
The man — who was not identified in court papers — told the FBI that he had been touched by Mr. Hastert when Mr. Hastert was a high school teacher and wrestling coach, the two people said on Friday. The people briefed on the investigation spoke on the condition of anonymity because they did not want to be identified discussing a federal investigation.
Source: Investigators considered including a second alleged victim in the Hastert indictment, but ultimately chose not to do so.
A source familiar with the investigation told BuzzFeed News that U.S. Attorney Zachary Fardon considered but did not pursue additional charges against former Speaker Dennis Hastert, which would have included a reference to an Individual B, one of potentially several alleged victims of "prior misdeeds."
According to this source, no additional charges are expected to be filed against Hastert at this point.
The Department of Justice had no comment. A spokesperson for the U.S. attorney for the Northern District of Illinois said "no comment." A lawyer representing Hastert in another pending legal matter didn't respond to a request for comment.
Hastert reportedly paid a person from his past to conceal sexual misconduct, the Los Angeles Times reported.
The Times reported:
Indicted former House Speaker Dennis Hastert was paying an individual from his past to conceal sexual misconduct, two federal law enforcement officials said Friday.

One of the officials, who would not speak publicly about the federal charges in Chicago, said "Individual A," as the person is described in Thursday's federal indictment, was a man and that the alleged misconduct was unrelated to Hastert's tenure in Congress. The actions date to Hastert's time as a Yorkville, Ill., high school wrestling coach and teacher, the official said.

...

Asked why Hastert was making the payments, the official said it was to conceal Hastert's past relationship with the male. "It was sex,'' the source said. The other official confirmed that the misconduct involved sexual abuse.
The Yorkville school district said Friday that officials there had "no knowledge of Mr. Hastert's alleged misconduct" before Thursday.
Here's the full statement:
Yorkville Community Unit School District #115 employed Mr. Dennis Hastert from 1965-1981. The District was first made aware of any concerns regarding Mr. Hastert when the federal indictment was released on May 28, 2015.

Yorkville Community Unit School District #115 has no knowledge of Mr. Hastert's alleged misconduct, nor has any individual contacted the District to report any such misconduct. If requested to do so, the District plans to cooperate fully with the U.S. Attorney's investigation into this matter.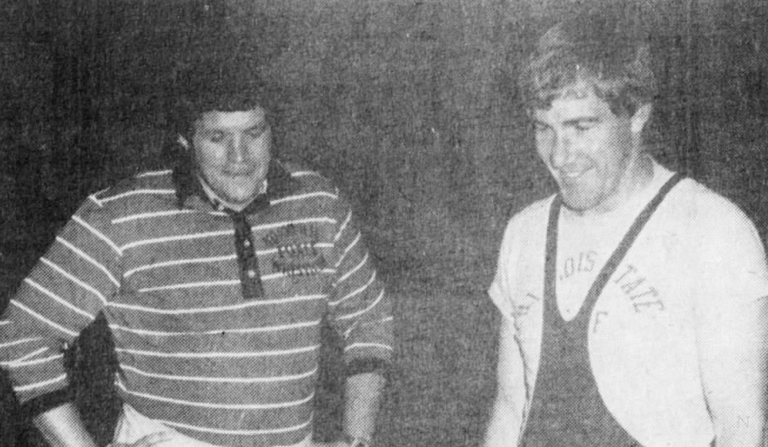 Former colleagues described Hastert as "a straight arrow" who was more focused on coaching wrestling than classroom teaching.
BuzzFeed News spoke with Maria Steiner, a teacher who taught French and Spanish at Yorktown High School from 1976 to 1980. Reached at her home in Ponte Verdra Beach, Florida, Thursday night, Steiner recalled Hastert as a dedicated wrestling coach who gave his teaching responsibilities less than his full attention.
"He was just the kind of teacher that would drive me crazy," she said. "He would show movies in his class while he worked on wrestling stuff. He was kind of a slacker teacher."
But, Steiner added, Hastert "was big in wrestling and that was big in Yorkville, Illinois."
Hastert's assistant wrestling coach, Anthony Houle, described him as "a straight arrow."
"He was a straight arrow, nothing was hidden," Houle told BuzzFeed News. "It was a small town; if you farted it was going to be big news."
Sources: U.S. Attorney agreed to withhold details of Hastert's alleged "misconduct" in indictment
WASHINGTON — U.S. Attorney Zachary T. Fardon agreed to withhold details of former House Speaker Dennis Hastert's alleged "prior misconduct" against an unidentified individual as part of an indictment against the Illinois Republican, two sources familiar with the case told BuzzFeed News.
Fardon announced the indictment — which charges that Hastert illegally evaded reporting transfers of large sums of money and of lying to the FBI — Thursday afternoon. Although the indictment says Hastert agreed to pay "Individual A" $3.5 million" in order to compensate for and conceal "prior misconduct" it does not include details of the alleged misconduct nor the identity of Individual A.
Fardon's spokeswoman, Kimberly Nerheim, did not respond to multiple requests for comment.
According to sources familiar with the case, Fardon had originally been prepared to move forward with a much more explicit indictment of Hastert, who prior to serving in Congress was a high school teacher and wrestling coach for more than 15 years in Yorkville, Illinois.
But Fardon's office ultimately agreed to limit the amount of information in the indictment, according to these sources, in part because of a request from Hastert's attorneys.