Feds Change Plans: They Won't Deport Somali Journalist Who Helped FBI
Lawyers for the detained journalist have contended that if deported back to Somalia, where he was targeted by al-Shabaab, he would likely be killed.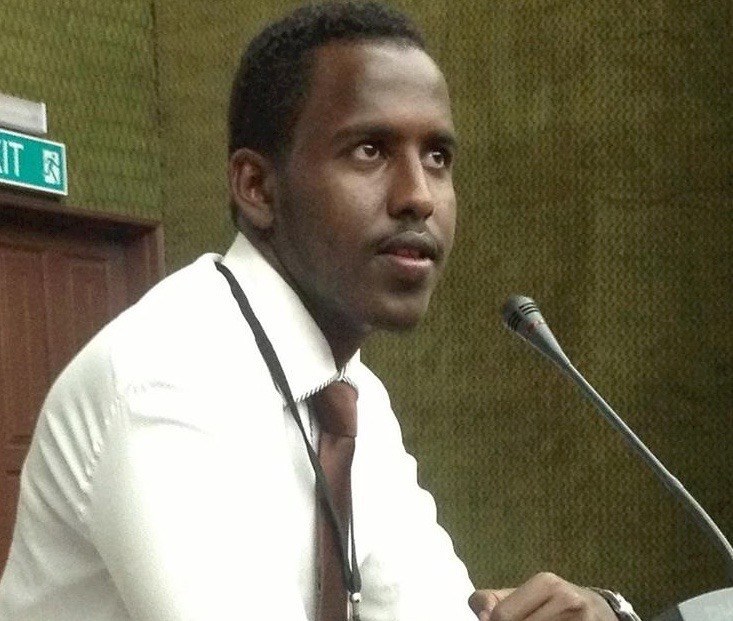 WASHINGTON — The Department of Homeland Security has abruptly reversed plans to deport a Somali man who cooperated with the FBI on counterterrorism investigations in the United States, following a more than three-month detention during which officials refused to discuss his case.
In a Nov. 3 letter, Adrian Macias, El Paso field director of the Immigration and Customs Enforcement division of the Department of Homeland Security, informed Said Muse Dahir's lawyer that the agency was no longer deporting Dahir back to Somalia.
"After consideration of all the documents submitted and review of your client's immigration case, I have determined that your client's release is appropriate on the basis of humanitarian reasons," Macias wrote to Dahir's attorney Nancy Oretskin.
While Oretskin welcomed the DHS decision, she slammed what she called a pattern of harassment of Dahir by DHS, particularly by officials at ICE's El Paso detention center. During his more than 90 days in detention, "they didn't do anything [on his case], they didn't get any further documents. They held him for punitive reasons," Oretskin said, adding that other African immigrants held in the El Paso detention center that she represents have told her "they feel they're treated differently in detention."
"It's a gulag down here," Oretskin added.
DHS spokeswomen did not respond to more than 20 requests for comment from BuzzFeed News, the last of which came just days before the decision to reverse Dahir's deportation order. In fact, since BuzzFeed News first began reporting on Dahir's case in September of last year, the department has largely ignored more than three dozen emails and phone requests for comment regarding the case.
The decision is a reversal of the Obama administration's stance on Dahir's case and is essentially a stay: The deportation order is still technically in effect for Dahir, who had his claim for asylum denied last year despite evidence that he was targeted by the terrorist organization al-Shabaab because of his work as a journalist. In theory, DHS could decide to send him back to Somalia any time it wishes, with little or no warning to either Dahir or his legal team.
In January 2012 al-Shabaab terrorists ambushed Dahir as he was leaving work in his hometown of Galkayo, a dangerous part of Somalia that has increasingly come under the sway of the organization. During the attack Dahir was shot twice, and following a series of attacks on his colleagues, he fled Somalia later that year.
The DHS reversal is the latest move in a series of decisions by federal immigration officials that Dahir's lawyers allege show a clear pattern of harassment, and highlights the inconsistent application of asylum law by federal officials in El Paso.
Oreskin points to the very beginnings of Dahir's case, noting that asylum judge Sunita Mahtabfar denied his claim despite evidence he was targeted — including a tweet from the al-Shabaab's official twitter account.
"#Mujahideen intelligence in Galkayo killed #Said Muuse Daahir who was working with Radio Gaalkacyo," the HSMPress announced at 11:22 p.m. the night night of the attack when they had thought Dahir had died. Later, after the group launched an unsuccessful attack on the hospital where he was being treated, al-Shabaab's spokesman for the central region of Somalia would tell Radio Alfurqaan "that they were after this journalist because they blamed him for working with the enemy."
Mahtabfar, however, agreed with Obama administration attorneys that Dahir should be deported back to Somalia.
When Dahir protested that "You are ordering me to be dead, and you will be responsible for my death," according to Dahir, the judge simply responded: "Good luck."
But before DHS could begin the process of deporting Dahir, he began working with FBI officials working to identify potential al-Shabbab terrorists who may have sought to enter the United States through the southern border.
During his time in the El Paso detention "a number of FBI agents repeatedly interviewed him to learn what he knew and if he knew if any of the other Somali detainees were affiliated with al-Shabbab. He cooperated 100% and gave the agents any and all information he had or knew of," Oreskin notes in a Sept. 16 letter to Adrian Macias, field office director of Enforcement and Removal Operations for DHS in El Paso.
Although the FBI did not respond to requests for comment — and typically will not respond to questions regarding sources in terrorism related cases in order to protect people cooperating — administration sources familiar with the case said it was Dahir's cooperation with the investigations that resulted in him being given a one year Deferred Action Order on Aug. 11, 2014, which delayed his deportation.
For tens of thousands of migrants from places like Somalia who have had their asylum claims denied, a deferred action order essentially means open-ended permission to stay in the United States. Even migrants who come from relatively stable areas like Latin America, can stay in the United States for years and even decades under Deferred Action Orders, so long as they abide by strict check in rules, have their orders renewed annually, and stay out of legal trouble.
Following his release in August of 2014, Dahir moved to Falls Church, Virginia, and began working. He regularly checked in with his caseworker.
But on July 28 of this year — 13 days before his deferred action order had even ended — ICE agents took Dahir back into custody and shipped him to El Paso, where he would be deported to Somalia from. According to Oretskin, it appears the decision to pick up Dahir was made by El Paso ICE officials and not local agents in Falls Church.
In a 2014 interview with BuzzFeed News, Dahir said that during his time in ICE's El Paso detention center immigration officials questioned his credibility because he was a Muslim from Somalia. And, according to members of his legal team, when he was returned to the detention center in July, Dahir's concerns about his safety if he was deported were summarily dismissed and he was told that even if he was not a member of al-Shabbab, Galkayo is a safe city with a stable government.
The situation on the ground in Galkayo is anything but safe: Somalia's federal government essentially does not exist and even government officials are not safe in the city. International nonprofit organizations and media outlets also view the city as extremely dangerous, and personnel are allowed to travel there only under extremely controlled circumstances and with significant security.
Because DHS spokeswomen have not returned requests for comment, it's unclear how the Department makes determinations on the relative safety of a region when making deportation decisions — a key factor in deciding to move forward with a removal.
However, other administration officials generally familiar with the situation in Somalia said there are essentially no safe places or functioning governmental bodies in the country and questioned the DHS decision-making process.
Oretskin also pointed out that while dozens of Somalis and other African asylum seekers have come through the El Paso detention center as part of a new wave of refugees coming to the U.S. through Mexico, the vast majority of Africans — and particularly Somalis — have their claims dismissed out of hand by immigration judges.
Dahir's case is the third instance in which DHS or immigration judges in El Paso have decided against deporting an African immigrant after the cases gained public attention. In 2014, judges in El Paso granted asylum to a Somali English teacher and a gay man from Ghana within weeks of their cases gaining national attention in the media — a pattern that Oretskin said is extremely troubling. "The day after I told [DHS officials] that I was talking to a reporter … the very next day, we received the letter. It just doesn't seem right me," Oretskin told BuzzFeed News.