Farm Bill Collapse Sets Off New Round Of Republican Infighting
"I am extremely disappointed that some of my Republican colleagues did not recognize a conservative movement toward market-based policy and solid welfare reform when they saw it," Rep. Ted Yoho said.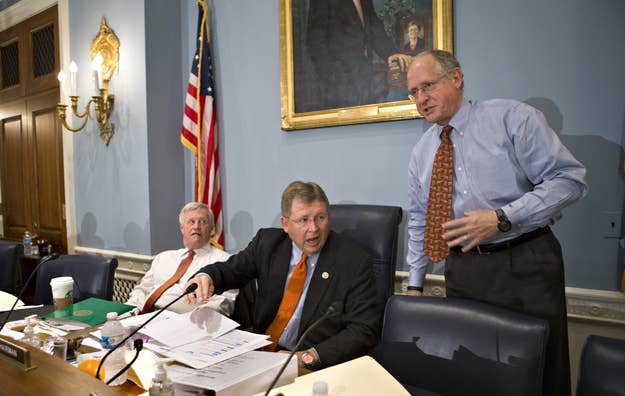 WASHINGTON — The surprise defeat of a massive bipartisan farm bill Thursday unleashed a fresh round of internecine warfare within the House Republican conference as supporters of the bill lashed out at their fellow Republicans, particularly conservatives and Majority Leader Eric Cantor.
The farm bill was expected to pass on a bipartisan basis Thursday, especially after Speaker John Boehner took the unusual step of announcing that he backed passage of a bill, something speakers rarely due.
But after Cantor helped push amendment to include a controversial work for food stamps provision in the bill, Democrats abandoned the carefully orchestrated bill in droves, according to House sources.
The defeat of the bill was met with cheers from conservatives. "The lesson here is that when the American people are informed and engaged, we can get our country back on the right track," Heritage Foundation President Jim DeMint tweeted Thursday.
Similarly, conservative activist Erick Erickson tweeted, "Does John Boehner have any clout left after publicly saying he would take the rare act as Speaker of voting for the farm bill? Pasture time?"
The collapse of the bipartisan coalition clearly frustrated Agriculture Chairman Frank Lucas, who took to the floor to plead with Republicans to back the bill. The Oklahoma Republican warned that if it failed "we just look like a dysfunctional body that can't get things done. And you know that's not true."
Officially, Republicans are looking to blame Minority Leader Nancy Pelosi for the collapse, arguing in talking points that, "good faith bipartisanship is trumped by bad faith politics" and insisting that Democrats backed out of a deal with Lucas.
"It was not as if this amendment came out of thin air … the entire leadership in the minority knew the amendment was there," Cantor said on the floor in an exchange with Minority Whip Steny Hoyer.
"What we saw today was a Democratic leadership in the House that was insistent to undo years and years of bipartisan work on an issue like a farm bill and decide to make it a partisan issue," he added.
"Yes, we knew about them, and you knew about them and you knew we were very much opposed to some of those amendments," Hoyer countered.
Other Republicans were also less willing to blame Democrats.
"I am extremely disappointed that some of my Republican colleagues did not recognize a conservative movement toward market-based policy and solid welfare reform when they saw it," Rep. Ted Yoho said in a statement following the vote.
"Today is a sad day not just for the agricultural base of this country, but for every single American who expects and deserves certainty and security in their food source," Yoho added.
In a statement, Lucas took a more measured approach. "On this day, on this vote, the House worked its will. I'm obviously disappointed but the reforms in HR 1947 are too important -- $40 billion in deficit reduction, elimination of direct payments and the first reforms to SNAP since 1996 -- to not continue to pursue. We are assessing all of our options, but I have no doubt that we will finish our work in the very near future and provide the certainty that our farmers, ranchers and rural constituents need," Lucas said.
But a senior House Republican aide familiar with the situation was more blunt, laying the blame squarely at the feet of Cantor. "It doesn't take a genius to see what happened," the aide said, pointing to Cantor's last minute floor speech in support of the work for food stamp program, which was sponsored by Rep. Steve Southerland. Cantor's first press release and tweet on the bill also came just prior to Thursday's vote.
The amendment passed on a voice vote initially, although Southerland demanded a recorded vote on the amendment, a move the aide argued was an "in your face" gesture aimed at Democrats.
Cantor spokesman Rory Cooper dismissed the notion that Cantor's push for the amendment killed the bill, noting that Republicans have made no secret of their plans to pursue the amendment.
"The idea behind the Southerland amendment has been discussed for a month. Right at the back of the floor [Agriculture Committee ranking member Collin Peterson] told Eric Cantor right before the vote every Democrat knew the Southerland amendment was going to pass and he didn't know what was happening."
"Everybody knew this was happening, there have been no surprises today. What happened was Democrats failed to bring the votes they promised they were going to bring because Democratic leadership put politics first," Cooper said, adding "They promised at least double of what they had … Mr. Peterson couldn't keep his caucus together, unfortunately Democratic leadership just thought politics was more important."
However, a Republican aide dismissed that argument, noting that leadership did not force votes on other amendments that would have also acted as poison pills.
Cooper also pointed out that Democrats did not seek added time to work on the bill: something that Cantor would have provided if Republicans had known there was a problem. "If they had an issue that they thought was going to derail this at the last minute we were already prepared to work into next week on this issue, we could have worked any issues out on this over the weekend. They didn't raise any warnings … we wouldn't have brought final passage vote up today if we knew Democrats were going to do this," Cooper said.
But Peterson said he warned Republicans that the Southerland amendment would be a poison pill and kill Democratic support, and urged them to not attach it to the bill.
"If you overreach you get nothing, and that's what we've been trying to tell them. You carry this too far and you get no reduction in the deficit, you get no reform in the farm programs, you will continue food stamps exactly like they are with no changes and that's where we are at. We warned people and that's where we are," Peterson said.
With reporting from Kate Nocera