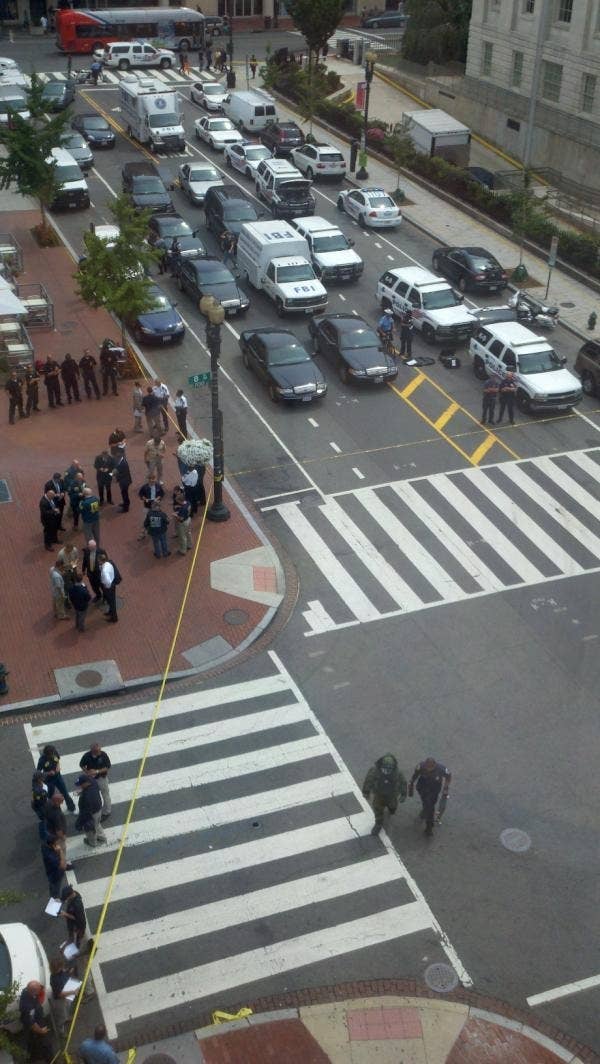 WASHINGTON, DC – Police are investigating a shooting outside the headquarters of the conservative Family Research Council in downtown Washington Wednesday that left two wounded, including the suspect.
The motivation behind the attack was unknown, and it was unclear whether FRC or its employee, a security guard working at the building, were the intended target.
"The police are investigating this incident. Our first concern is with our colleague who was shot today. Our concern is for him and his family," FRC President Tony Perkins said in a statement Wednesday.
According to a Metropolitan Police Department spokesman Araz Alali, the shooting occurred at approximately 10:50 Wednesday morning. The shooter, who NBC news has reported is 28 tear old Floyd Corker of Herndon, Virginia, has been taken into custody by the FBI, which has taken the lead on the investigation.
According to Alali, the motive for the attacks was not yet know, and the FRC security guard, who was shot in the arm, was conscious and breathing and receiving treatment at a local hospital.
Meanwhile, shortly after noon it appeared police and the FBI were bringing in a bomb squad team to investigate the area. Although Alali declined to comment specifically on their presence, he acknowledged law enforcement is "deploying all of our assets."
Various political advocacy organizations have released statements on the shooting, including Truth Wins Out, which called the incident an "awful tragedy."
"If the shooting is found to be politically motivated, it is a detestable act of cruelty and cowardice and the perpetrator should be punished to the fullest extent of the law," said Truth Wins Out's Executive Director Wayne Besen.
LGBT advocacy group Equality Matters also released a statement on its website: "Equality Matters has made it clear that we do not agree with policies supported by the Family Research Council. Despite our differences, we are upset and concerned over reports that they may have been targeted."
Shortly after last month's Aurora shooting, Perkins released a podcast on how Americans can use faith to find answers to the "rapid rise in senseless murders."
The attack was quickly condemned by the gay community, which has had run ins with FRC and Perkins over the years due to the organizations' opposition to gay marriage.
"The motivation and circumstances behind today's tragedy are still unknown, but regardless of what emerges as the reason for this shooting, we utterly reject and condemn such violence. We wish for a swift and complete recovery for the victim of this terrible incident," a coalition of 25 LGBT groups said in a joint statement Wednesday.
Log Cabin Republicans Executive Director R Clarke Cooper, meanwhile, said in a statement that "Though we rarely see eye to eye, we absolutely condemn the violence that occurred today … whatever our political disagreements, in this country, we use ballots, not bullets, to address them.
"We offer prayers for the injured security guard, his family, and everybody at the FRC building, barely a fifteen minute walk away from Log Cabin Republicans national headquarters. In many ways, this is a reminder that we aren't so far apart," Cooper added.