Here's What You Need To Know About The Democratic Debate
Democrats seeking the party's presidential nomination faced off in their second debate Saturday night. BuzzFeed News reporters Ruby Cramer and Evan McMorris-Santoro are in Des Moines, Iowa.
Here's a quick rundown:
* The second Democratic presidential primary debate took place at Drake University in Des Moines, Iowa. Sponsored by CBS, KCCI, and the Des Moines Register, it lasted slightly LESS than the expected two hours.
* Former Secretary of State Hillary Clinton, Vermont Sen. Bernie Sanders, and former Maryland Gov. Martin O'Malley are faced off. Former Virginia Sen. Jim Webb and Former Rhode Island Gov. Lincoln Chafee dropped out of the race after the first debate.
* Candidates were asked about Friday night's terror attacks in Paris, where 129 people were killed in coordinated attacks. France's President said ISIS was responsible.
* Moderator John Dickerson also asked questions about the minimum wage, health care, police accountability, and Wall Street.
* Sanders and O'Malley sought to hit Clinton on her vote for the Iraq war, which many say helped create the vacuum that led to ISIS. Clinton parried with her record on foreign affairs as Secretary of State.
* Clinton also defended her receiving contributions from Wall Street by invoking the Sept. 11, 2011 attacks.
* Overall, the debate wasn't too exciting. Dickerson pressed Clinton early on her support of the war, he asked few pointed questions. Instead the candidates had room to discuss their policies.
The debate began with a moment of silence and each candidate's statement on the Paris terror attacks.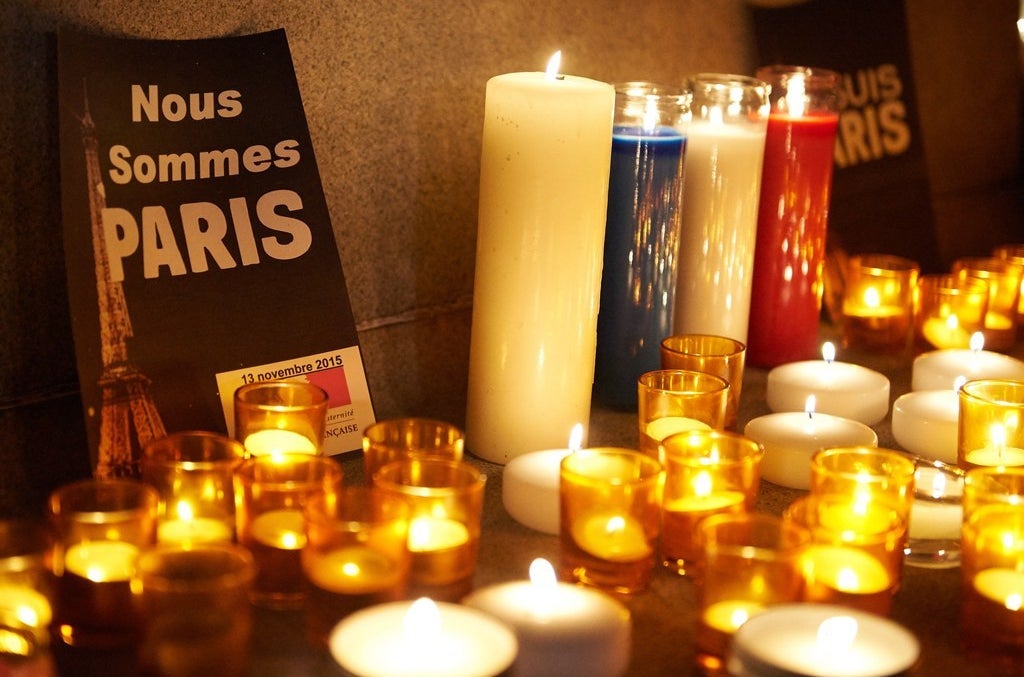 Sen. Bernie Sanders, who represents the more doveish wing of the Democratic party, set the tone for the debate in his opening statement, saying that he was "shocked and disgusted" by the attack and vowing that "this country will rid our planet of this murderous organization that is called ISIS."
Former Secretary of State Hillary Clinton argued "This is election is not only about electing a president, it's about choosing our next commander in chief." She added that she will begin laying out changes she would pursue to U.S. policy on the war against ISIS and other terrorists.
Likewise, former Maryland Gov. Martin O'Malley called for a renewed effort against ISIS, but insisted the U.S. must work more collaboratively with countries in the Middle East. "This is the new face of conflict and warfare … [and] we must be able to work collaboratively with others" and anticipate attacks, O'Malley said.
The question then quickly transitioned into the U.S.'s response to ISIS. Both Sanders and O'Malley used the question to criticize Clinton for her vote for the Iraq war, which they — and other experts — said contributed to the rise of ISIS.
Asked to respond to President Obama's comments that "we have contained" ISIS — comments made hours before the Paris attack — candidates raised their own approaches to taking on the jihadist group taking credit for Friday's massacre.
Clinton stressed that other countries must lead the fight against ISIS. "It cannot be an American fight," Clinton said. "We will support those who take the fight to ISIS." While the U.S. could take a "supporting" role, she said, Americans could not take the bulk of responsibility.
O'Malley and Sanders, however, tried to show space with Clinton. "This is America's fight," Maryland's former governor said, adding that the United States must "confront evil when it rises."
Sanders, meanwhile, tried to pin the rise of terrorist groups in the Middle East resulted in part from the war that Clinton voted to authorize while she was in the Senate. Sanders said that invasion "has unraveled the region completely and led to the rise of Al-Qaeda and ISIS." But the U.S. could not go it alone, he said, arguing that a press against ISIS must include partners in the region.
Clinton pushed back against the criticism, noting that the Sept. 11, 2001 came years before the Iraq invasion.
Sen. Bernie Sanders linked the war in Syria to climate change, citing past CIA warnings of global warming worsening conflicts.
In March, a Proceedings of the National Academy of Sciences study did link the conflict in Syria to climate change. The study concluded the 2007 to 2010 drought in Syria was made three times more likely due to global warming, and helped spark mass migration from farms to cities that helped spark the 2011 Syrian uprising.
In May, President Obama had called climate a threat to national security as well, noting the Defense Department called it a "threat multiplier" in its 2014 strategy statement. But while the CIA has warned that climate change might trigger refugees movements and worsen conflicts, the spy agency closed its Center on Climate Change and National Security in 2012.
But here, by far, is the best answer of the evening: Clinton invoked 9/11 in defense of receiving Wall Street contributions. Here's part of the exchange. Read it all here.
SANDERS: Here's the story: I mean, you know, let's not be naive about it. Why do — why, over her political career has Wall Street been a major — the major campaign contributor to Hillary Clinton? You know, maybe they're dumb and they don't know what they're going to get, but I don't think so.

...

CLINTON: Well, John, wait a minute. Wait a minute, he has basically used his answer to impune my integrity. Let's be frank here.

SANDERS: No, I have not.

CLINTON: Oh, wait a minute, senator. You know, not only do I have hundreds of thousands of donors, most of them small. And I'm very proud that for the first time a majority of my donors are women, 60%.

So, I represented New York, and I represented New York on 9/11 when we were attacked. Where were we attacked? We were attacked in downtown Manhattan where Wall Street is. I did spend a whole lot of time and effort helping them rebuild. That was good for New York. It was good for the economy and it was a way to rebuke the terrorists who had attacked our country.

So, you know, it's fine for you to say what you're going to say, but I looked very carefully at your proposal. Reinstating Glass- Steagall is a part of what very well could help, but it is nowhere near enough. My proposal is tougher, more effective, and more comprehensive because I go after all of Wall Street not just the big banks.
Let's take an early break for the ~best~ one-liners and applause lines:
"This is a war for the soul of Islam." — Bernie Sanders

"I don't think we're at war with Islam...I think we're at war with jihadists" — Clinton

"Libya is a mess, Syria is a mess, Iraq is a mess, Afghanistan is a mess." —O'Malley

"My son is not a pair of boots on the ground." — O'Malley quoting a soldier's dad.

"We've got to move from a minimum wage to a living wage, $15 bucks an hour." — Sanders

"We bailed out Wall St. It's their time to bail out the middle class." — Sanders

"I don't think tax payers should be paying for Donald Trump's kids to go to college" - Clinton

"That immigrant-bashing carnival barker." — O'Malley on Trump
Back to the action. The candidates were asked about raising the minimum wage.
Unlike last week's GOP debate when Republicans insisted wages were in fact too high, Sanders argued the opposite Saturday. "They're wages that they are earning are just too low … this country needs to move towards a living wage. It's not a radical idea to say somebody who is working 40 hours a week shouldn't be living in poverty," Sanders said.
O'Malley said two counties in Maryland when he was governor went to $12.80.
Sanders said he wants $15 an hour minimum wage implemented within the next few years, adding, "I apologize to no one." Such a policy was adopted recently in Seattle and San Francisco.
But Clinton said Sanders' target was unprecedented and proposed a compromise $12-an-hour wage, saying big cities can pass higher wage floors if they choose. She argued that raising the minimum wage was not inherently linked to job losses.
And on immigration, the moderator asked O'Malley if he would compromise with Republicans on border security as a priority in an immigration overhaul.
O'Malley responded that the immigration strategy has been that way for years. On an issue where Democrats have thus far struggled to separate themselves as the progressive candidate on immigration, Clinton was able to talk about how she will expand executive actions farther than Obama did, which all three candidates support.
Sanders was asked to talk about the effect of immigration on American's wages, a stance which he has been criticized for this cycle, and instead pivoted to the minimum wage.
O'Malley hit Republicans on immigration, arguing "The truth of the matter is net immigration from Mexico last year was zero," a line that Clinton picked up on later. "It is true that net immigration from Mexico and places south is zero," Clinton said at one point. But Clinton may have over stepped, as immigration levels from Central America have remained high.
Here are some other topics the candidates hit on:
Guns
O'Malley slammed Clinton on gun control, charging she had been on "three sides of the issue," supporting new regulations in 2000 while "In 2008 you were portraying yourself as annie okley and saying we didn't need those regulations on the federal level."
Police accountability
When police officers kill people who are unarmed who should not be killed, they should be held accountable," Sanders said.
Taxes
Clinton said she will fund her programs by "taxing the wealthy more" and closing loopholes.
Here's Sanders on taxes:
And here's a takeaway from our D.C. Bureau Chief John Stanton:
The second Democratic debate was a largely staid affair, especially compared to the often tense GOP debates over the last several months.
With only three participants and clocking in at two hours, Clinton, O'Malley and Sanders all had extended time to reel off laundry lists of talking points — so much so that O'Malley repeated at least one talking point when he twice touted his record as Governor for being "the only state to go four years without a penny increase" in college tuition costs.
Although Dickerson pressed Clinton early in the debate on her support of the Iraq war, the debate featured few pointed questions, with the moderators opting instead to allow the candidates room to discuss their policies and engage in occasionally animated but largely polite back-and-forths.
In several instances, candidates staked out positions dear to the Democratic electorate — such as Sanders pushing to abolish the federal prohibition of pot — but moderators pivoted to new questions without pressing the candidates to draw contrasts between them.
There was one major twist, though: the debate ended about five minutes early.