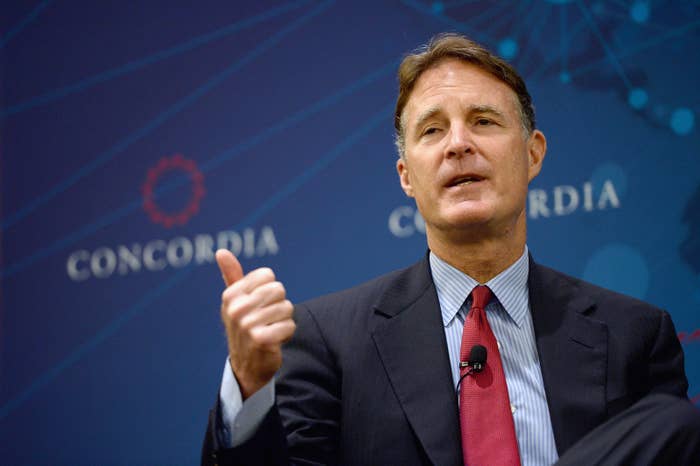 WASHINGTON — Former Sen. Evan Bayh appears to have spent little time in Senate Armed Services Committee hearings while he was a member between 2003 and his departure from the Senate in 2011, missing more than three-quarters of the influential panel's meetings, according to Senate records and a copy of his daily schedule obtained by BuzzFeed News.

Bayh, who is once again running for the Senate after a five-year hiatus in the private sector, is considered one of the keys to Democrats' hopes of retaking the Senate this year. Although initially seen as a likely pickup, his campaign in recent weeks has been dogged by questions about his seriousness after leaked copies of his schedule as a senator appear to show he spent more time fundraising, traveling at taxpayer expense and potentially job hunting than being focused on his job in the Senate.
It wasn't always supposed to be like this for Bayh, whose father Birch was a popular politician in Indiana, and who came into the Senate as a moderate, business friendly Democrat.
When Bayh took his seat on the Senate Armed Services Committee in 2003, it seemed like the perfect move for a young, handsome first time senator with much higher ambitions.
Already ensconced on the Banking Committee, from which even an average politician could build a massive campaign finance war chest, a seat at the Armed Services table could give a young senator the sort of foreign policy gravitas he'd need to mount a presidential campaign in wartime America. The Bush administration, already at war in Afghanistan, was beating the war drums against Saddam Hussein and Iraq, and the committee was at the heart of the nation's debate over the nascent war against terrorism.
But the ambitious senator rarely showed up to hearings of the committee, particularly in the run up to the March 20, 2003, invasion of Iraq. According to attendance data on the committee's website, Bayh only attended five of the 24 hearings Armed Services held between Jan. 1, 2003, and April 9, 2003, the day Hussein's statue was toppled in Baghdad. Overall, throughout his career on the committee, the Indiana Democrat would miss roughly 76% of hearings, a figure reported by the Free Beacon earlier this month.
In fact, on the morning of the invasion, the committee held a hearing on that year's defense authorization bill, a critical piece of legislation that laid out defense spending priorities for fiscal year. But while Bayh would miss the 9:45 a.m. hearing — where then Energy Secretary Spencer Abraham would testify about his department's atomic energy defense activities — he did make it to an "informal breakfast" held by the Investment Company Institute earlier that morning.
That evening, as the first steps of the invasion of Iraq were raging, Bayh attended a reception — which a Republican charged was a fundraiser — at the home of Jamie Gorelick, who at the time was vice chair of Fannie Mae. The next day, following a members briefing on the war, Bayh and his wife would head out of DC to Vail, Colorado for three days, where he would attend fundraisers and a charity event.
To be sure, lawmakers' schedules are extremely crowded, and all politicians spend nearly every free moment fundraising or wooing deep pocketed donors. As a result, that has meant every year as they chase campaign funds, most lawmakers miss an increasing number of hearings, votes, and other official meetings.
Nevertheless, a GOP operative argued Bayh's chronic absences from the committee's hearings demonstrates the "cavalier approach he has to sending us into a decade-long war" and insisted it is part of a broader pattern of putting fundraising ahead of the official work of a senator during his first stint in the Senate.
But Bayh's campaign rejected that argument, noting that the leaked schedule does not include everything Bayh did during his tenure and does not reflect his work on national defense and veteran affairs.
"The documents being provided to press by a political opponent of Evan's in the final days before an election are at best incomplete and not reliable sources of information on how his time was spent," Bayh spokesman Ben Ray said.
"Evan Bayh has worked consistently to support our men and women in uniform and a strong national defense, from fighting for up-armored Humvees in the Senate to his current work on the external advisory board of the CIA. His opponent, Congressman Young, either didn't show or didn't speak at more than 80% of his Armed Services hearings," Ray added.
However, a Republican acknowledged that Young hasn't spoken at many hearings, but pointed out he is a relatively new member of the House committee, which is significantly larger than its Senate counterpart. That, combined with the fact that his name comes at the end of the alphabet, has meant he rarely makes the cut to speak during hearings, although he has submitted questions in writing to witnesses that appear before the panel.
Young's campaign manager, Trevor Foughty, dismissed the Bayh campaign's assertions, arguing, "As a ten year military veteran, Todd had many friends and Naval Academy classmates who served — and some who died — in Iraq. The only thing more appalling than suggesting Todd doesn't care about his brothers and sisters in uniform is that Evan Bayh was on a plane bound for a personal ski vacation as those same American troops first entered harm's way in Iraq."