Eric Cantor, Key Ryan Ally, Won't Speak At Convention
While plenty of Republican lawmakers will be speaking from the podium, House Majority Leader Eric Cantor won't be one of them. Sheriff Joe Arpaio plans to speak to Western Republicans, outside the zoo. [UPDATED]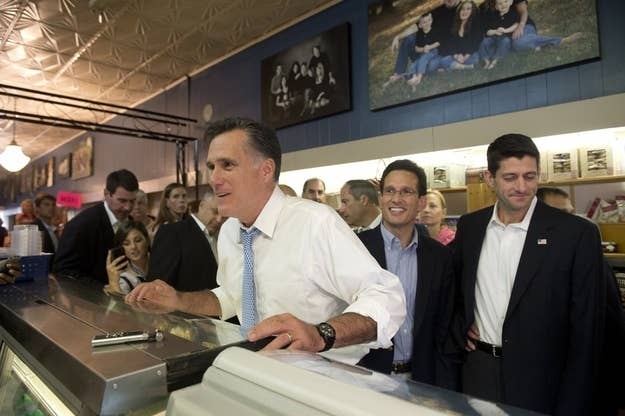 WASHINGTON, DC - House Majority Leader Eric Cantor may be heading to Tampa with the rest of the Republican Party to fete Mitt Romney and Rep. Paul Ryan, but he won't be addressing the convention.
Although members of Congress are not generally the centerpiece of national conventions, Cantor's absence from the speaker rolls is notable. In addition to being one of the party's most powerful leaders, Cantor is close friends and political allies with Ryan.
Indeed, Ryan, Cantor and House Majority Whip Kevin McCarthy – who is also not speaking – founded the so-called "Young Guns" that helped recruit much of the 87 Republican freshmen who swept the GOP into power in 2010.
Cantor is also the highest ranking Jewish politician in America, making him a unique surrogate for Romney, who has made courting Jewish voters a priority while making his stance on Israel a key plank in his foreign policy platform.
And it's not as if Capitol Hill isn't going to be represented. According to a GOP official, in addition to Speaker John Boehner, other members of the House and Senate addressing the convention include Senate Minority Leader Mitch McConnell, Sens. Rand Paul Kelly Ayotte, Marco Rubio, John Thune, John McCain and Rob Portman, and Reps. Cathy McMorris Rodgers and Connie Mack.
While it is unclear why Cantor has not been asked to speak, the Romney campaign and national Republicans have been increasingly unhappy with the House GOP generally following weeks of embarrassing episodes ranging from Rep. Todd Akin's incendiary comments about rape to the revelation that a group of Republican lawmakers drunkenly went skinny dipping in the Sea of Galilee during a trip to Israel last summer.
A spokesman for the convention did not immediately return a request for comment.
UPDATE: An earlier version of this item said that Sheriff Joe Arpaio would be speaking at the RNC. He will be addressing some delegates from Western states, but will not speak from the podium.