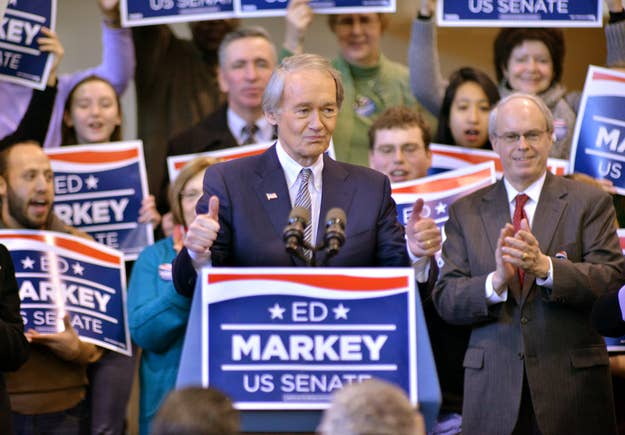 WASHINGTON — Rep. Ed Markey on Tuesday compared the Supreme Court's Citizens United campaign finance decision to the 1858 Dred Scott decision upholding slavery during a campaign speech in Pittsfield, Mass.
The remarks came during a speech that Markey, who is running to replace former Sen. John Kerry in the Senate, gave to a crowd of supporters in which he said repealing the decision is a key reason he is running.
"I want to go to the United States Senate in order to fight for a constitutional amendment to repeal Citizens United. The whole idea that the Koch brothers, that Karl Rove can say we're coming to Massachusetts, to any state of the union with undisclosed amounts of money is a pollution, which must be changed," Markey said to loud applause.
"The constitution must be amended. The Dred Scott decision had to be repealed, we have to repeal Citizens United," he added.
The speech, which was given before some 100 residents of the area, was heavy on issues like the environment, gun control and local development and economic issues, according to the Berkshire Eagle.
In 1858 a slave by the name of Dred Scott sued for his freedom and his family's. The case made it to the Supreme Court, which ultimately ruled against Scott, a decision that helped galvanize elements of the North in the years leading up to the Civil War.
Citizens United, by contrast, is a 2010 high court decision gutting much of the McCain Feingold campaign finance law limiting the ability of corporations to spend money on campaigns. The ruling paved the way for the host of Super PACs that spent tens of millions of dollars in the 2012 campaign.
Markey has accepted more than $2.5 million in contributions from corporate and other PACs during his career, according to opensecrets.org.
Markey is one of the most liberal members of the House, and has been courting black clergy members in the state during his primary fight with Rep. Stephen Lynch.
"Citizens United is poisoning the democratic process in America and that is completely wrong. Karl Rove, the Koch Brothers and anonymous special interests have no place in our elections and no place in this Senate race," Markey spokeswoman Giselle Barry said in an email.