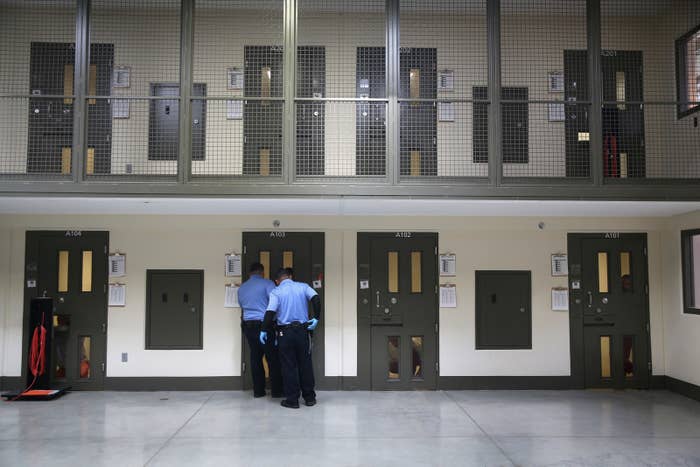 A group of nine asylum seekers being held in a California detention center say they were pepper-sprayed and repeatedly beaten by guards Monday morning in response to a hunger strike and sit-in protesting conditions at the facility.
The nine men were detained at the San Ysidro border crossing between Tijuana and San Diego May 7th as part of a group of more than 75 Central American asylum seekers, and were transferred to the Adelanto Detention Facility in Adelanto, California. Adelanto is the largest immigration detention facility in the country, and according to the Department of Homeland Security houses 1,600 detainees.
Adelanto is operated by GEO Group Inc, a private prison company. Immigration activists have been harshly critical of GEO and the conditions at Adelanto. GEO referred a request for comment to the Immigration and Customs Enforcement agency. In a statement, an ICE spokesperson acknowledged the men were pepper-sprayed but denied any were injured. "After repeated efforts to avoid confrontation, a supervisory officer used pepper spray to subdue the detainees, who immediately complied and submitted to mechanical restraints. All nine men were subsequently examined by medical staff and cleared for placement in restrictive housing pending a full disciplinary review. No officers or detainees were injured," the ICE spokesperson said.
According to activists from the advocacy group Sureñxs En Acción who are in contact with the detainees, at 6 a.m. Monday the men presented a letter to officials at the detention center that outlined demands ranging from bail reductions to unused underwear and clean water, which they said they had been denied. The detainees also informed guards that they were beginning a hunger strike and sit-in in the dining area until a representative from the US Immigration and Customs Enforcement agency met with them.
When the men refused to leave the dining area following breakfast, a GEO guard "began to harass us, to speak rudely to us. I knew that she was speaking rudely to us by the tone of her voice," detainee Isaac Lopez Castillo told activists by phone, according to a translated transcript of the call provided by Sureñxs En Acción.

The situation quickly devolved, Castillo said. "They came and began to spray us with pepper spray. And so we all stood up, and turned to one another and grabbed one another. It was at that point that the officials began to beat us and pull on us to try and separate us and force us out of there," Castillo said. Guards also allegedly slammed several inmates into walls and allegedly knocked out a detainee's dental crown.
After the men were separated, they said, they were forced into hot showers — which reactivated the pepper spray, Castillo said — and then sent to cells isolated from other prisoners. According to Castillo, the conditions in the cells have been harsh. "In my case my bed doesn't even have a mattress, and we don't have sheets to cover ourselves. And apart from the tremendous burning I feel on my body, they keep the cells deathly cold and I can't stand it. But we all said we still wouldn't eat any food," he said.
Conditions in the network of detention centers used to house tens of thousands of undocumented immigrants have long been of concern to civil and human rights organizations. So far in fiscal year 2017, at least nine detainees have died while in custody, and an April report by the advocacy group Community Initiatives for Visiting Immigrants in Confinement (CIVIC) found that few allegations of sexual assault inside these detention centers have been investigated.
Activists have been particularly critical of privately run facilities like Adelanto, where a detainee died in May. Although in the waning days of the Obama administration the White House announced it was ending the use of private contractors, the Trump administration has reversed that decision — and is in fact expanding their use for immigration detention centers.