Denis McDonough Made Surprise Appearance On Capitol Hill After Senator Blasted CIA Spying
Sen. Dianne Feinstein tore into the CIA in a blistering — and widely covered — floor speech on Tuesday. White House Chief of Staff Denis McDonough met with the senator after her speech.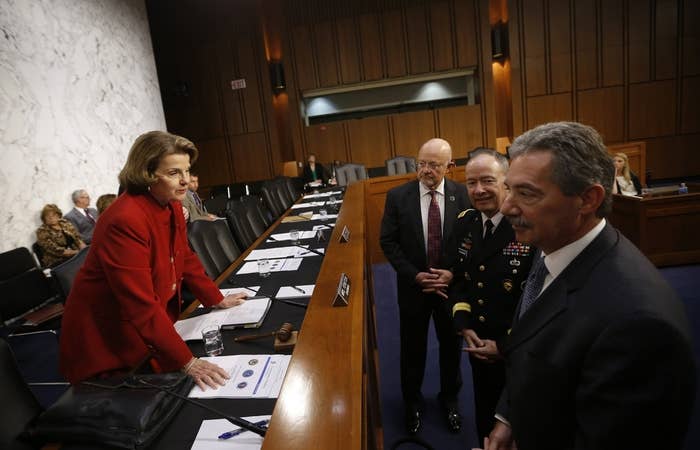 WASHINGTON — White House Chief of Staff Denis McDonough hastily appeared on Capitol Hill Tuesday to meet with Senate Intelligence Chairwoman Dianne Feinstein after the powerful Democrat attacked the CIA for spying on Congress in a blistering floor speech that sent reverberations throughout Congress.
Feinstein has long been one of the fiercest defenders of the intelligence community, refusing to join with Sens. Ron Wyden, Rand Paul, and others who have roundly criticized the various intelligence operations for spying on Americans.
Although Feinstein's office declined to comment, multiple sources saw McDonough enter the Hart Senate office building Tuesday, shortly after the chairwoman had completed her speech on the House floor. Obama's chief of staff then met with Feinstein to discuss the burgeoning scandal, according to these sources.
In the past, however, Feinstein has acknowledged she has discussed the CIA's programs with McDonough.
Top officials at the White House did not return requests for comment. But the fact that Obama dispatched his top aide to the hill — even as CIA Director John Brennan was publicly denying his agency had spied on the Senate — underscores the seriousness of the issue for the administration and the turning point it is facing in its relationship with Congress' oversight committees.
Feinstein's reluctance to criticize the intelligence community made her floor speech Tuesday all the more notable, a fact the California Democrat was clearly aware of.
"Let me say up front that I come to the Senate floor reluctantly," she said in the speech. "Since Jan. 15, 2014, when I was informed of the CIA's search of this committee's network, I have been trying to resolve this dispute in a discreet and respectful way. I have not commented in response to media requests for additional information on this matter. However, the increasing amount of inaccurate information circulating now cannot be allowed to stand unanswered."
She then laid out evidence that the CIA has been spying on her committee's efforts to oversee CIA detention and interrogation activities over the last several years.
"This [is] a defining moment for the oversight of our Intelligence Community," she said in the speech. How Congress responds and how this is resolved will show whether the Intelligence Committee can be effective in monitoring and investigating our nation's intelligence activities, or whether our work can be thwarted by those we oversee."