Dems Hit GOP Congressman With 'Wanted' Poster Over Alleged Rabbi Shakedown
With grand jury, FBI probes underway, national Democrats take up the case of embattled Staten Island lawmaker, Michael Grimm.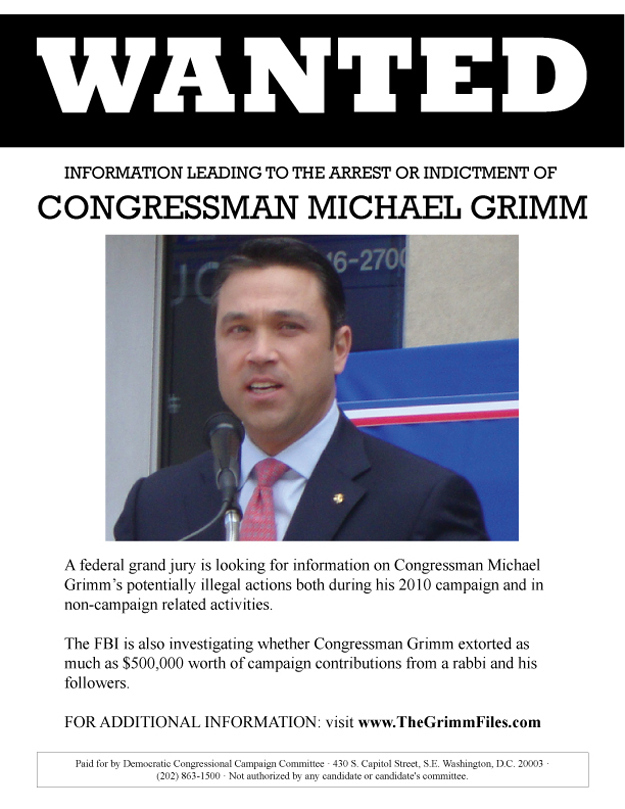 Rep. Michael Grimm may have the backing of party leaders in Washington and his GOP constituents back home in Staten Island, but Democrats are doing everything they can to make his life as uncomfortable as possible – and to keep his legal woes in the front of everyone's mind.
On Wednesday, the Democratic Congressional Campaign Committee positioned staffers outside the Capitol South Metro Station – the main entrance to Washington's subway for House staffers and cash strapped members of Congress – to hand out "wanted" poster's of the lawmaker.
The poster notes that Grimm is currently under investigation by a federal grand jury and the FBI on a number of fronts, most notably accusations that the first term Republican shook down Rabbi Yoshiyahu Yosef Pinto and members of his congregation in 2010 for campaign cash. Grimm has steadfastly denied those charges.
As luck would have it, the operatives happened to catch Grimm on his way into the office Wednesday morning and handed him one of the fliers, a DCCC source said. According to the source, the flier didn't get a rise out of Grimm, who simply walked away.
Although the House Ethics Committee cleared Grimm of any wrongdoing in his campaign fundraising, the continuing federal probes have cost his campaign hundreds of thousands of dollars in attorney fees, federal records show.
Grimm has become a prime target for the DCCC, which is run by Rep. Steve Israel, a fellow New Yorker. The DCCC has set up a website – TheGrimmFiles.com -- cataloguing news stories about the scandal, and Democrats hope they can wrest the seat from him come November.
But that is far from certain – Grimm still enjoys the support of Speaker John Boehner and other GOP leaders, and has continued to rack up significant endorsements and campaign contributions.
A spokeswoman for Grimm did not immediately return a request for comment.