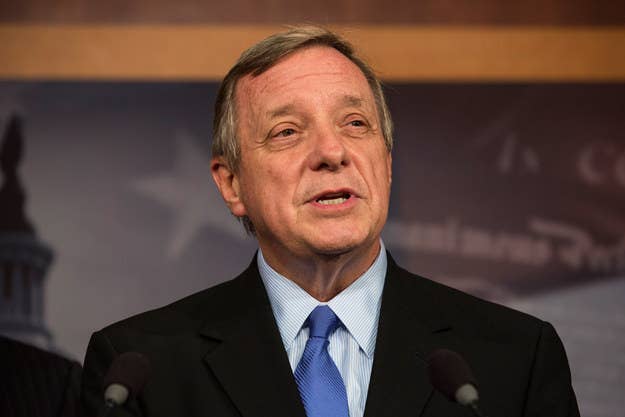 WASHINGTON — Democrats are shifting their rhetoric on the flood of Central American undocumented immigrant minors entering the United States, moving away from calling them "immigrants" in favor of "refugees."
Thousands of children, many under the age of 8, have crossed the border in recent months from Central America.
"Let's be clear: This is not an immigration crisis," Sen. Bob Menendez said Thursday during a press conference to unveil a package of new proposals for addressing the crisis. "This is a humanitarian and refugee crisis. It's being caused in large measure by thousands in Central America who believe it is better to run for their lives and risk dying, than stay and die for sure."
"The bottom line is that we must attack this problem from a foreign policy perspective, a humanitarian perspective, a criminal perspective, immigration perspective, and a national security perspective," Menendez argued.
The shift in language may seem subtle, but it's significant: While "immigrants" conjures up images of Latin Americans crossing the desert in search of jobs, the public views "refugees" much more sympathetically, as evidenced by successful charity efforts to assist displaced populations in war-torn parts of the globe.
Republicans have increasingly sought to tie the crisis along the border to President Obama's push for changes to immigration laws, as well as his decision to halt deportations for DREAMers already in the United States.
For instance, the House Judiciary Committee next week will hold a hearing on the issue titled "An Administration-made Disaster: The South Texas Border Surge of Unaccompanied Alien Minors," and some Republicans routinely charge children are being drawn to the United States by promises of not being deported.
Those attacks have prompted bitter recriminations from Democrats. "For them, it is a political crisis, a political opportunity," Senate Majority Whip Dick Durbin said Thursday.
Indeed, Menendez drew a direct comparison to the refugee situation in other parts of the world, arguing, "We need to do all we can to stabilize the situation in Central America and stem the flow of children and refugees to our borders, a tragedy that is simply unacceptable in America and unacceptable in our hemisphere."
Democratic Rep. Lucille Roybal-Allard pointed to a recent report by the United Nations High Commissioner for Refugees on the flood of children from El Salvador, Honduras, and Guatemala as evidence their migration to the United States is not a simple matter of immigration. "The number one reason these kids are leaving their homes is to escape endemic violence, including extortion, killings, and forced recruitment into street gangs."
That is not, of course, to say Democrats aren't using the crisis to aid their push for immigration changes.
In addition to calling for the children to be given legal representation and an aid package to Central America, the lawmakers made clear their proposal also includes passage of broader reforms.
"The humanitarian crisis demonstrates the need for Congress to pass comprehensive immigration reform and for everyone to work together to curtail trafficking and smuggling," Sen. Mazie Hirono said.