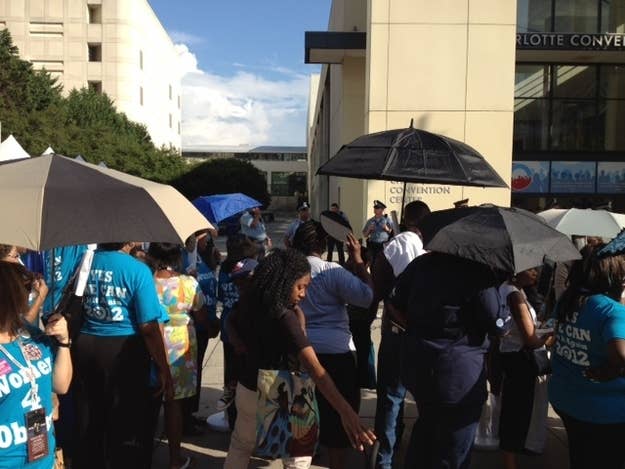 The Democratic Convention is scrambling to accomodate hundreds — and possibly thousands — of disappointed supporters who have showed up in Charlotte with tickets to tonight's festivities, which were moved from the spacious Bank of America Stadium to a smaller indoor venue out of fear of rain.
Volunteers at the convention center in downtown Charlotte are telling supporters that their tickets will be honored for space in second-floor ballrooms at the Charlotte Convention Center, which also houses thousands of reporters in its basement media space.
The tickets are first-come, first-serve, and there is space for some 7,500 people, convention aides are telling visitors.
Democrats scrambled to alert supporters who had been given tickets to the change in plans, and are concerned about demoralizing some of their core volunteers and supporters in a swing state; the visitors are currently lined up under a blue sky outside the convention center.
The campaign sent out emails to people telling them where to go and to RSVP, people in the line told BuzzFeed.