Democrats Hope Obama Victory Would Mean Mandate For Compromise
"Come the lame duck we have the high ground … I think they're much more likely to blink than we are," Sen. Chuck Schumer insists. Some conservatives worry that Boehner is ready to deal — but a leadership aide says "absolutely not."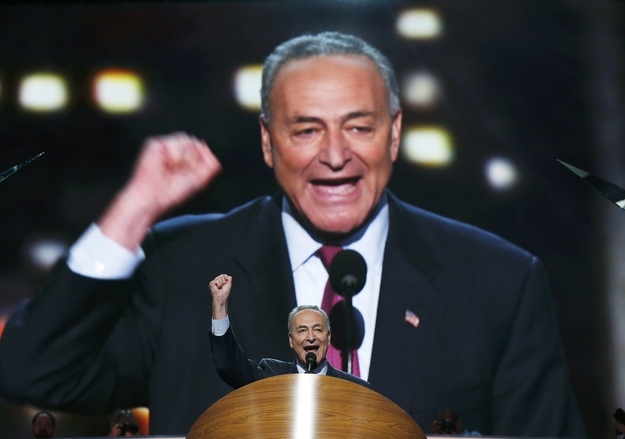 WASHINGTON, D.C. — Top Democrats say they're confident a victory by President Barack Obama in November will translate into at least a short-term mandate for compromise on Capitol Hill and will break the back of hardline conservatives who continue to hold Republicans to a strict set of standards.
Sen. Chuck Schumer, one of the party's top strategists, told Buzzfeed that, "among the mainstream conservatives, they don't just believe in bringing the house down, they don't believe everything in government is bad and compromise is a dirty word all the time. And I know from talking to a lot of them, particularly in the Senate, that they're frustrated."
A strong showing by Democrats on election day, would allow that that sentiment to open up the prospects for a "grand bargain" on the Bush-era tax cuts and addressing the looming sequester, Schumer and other congressional leaders said.
Of course, that's only if Obama wins – something Republicans at least publicly insist isn't going to happen. Under a Romney win, most lawmakers agree there is virtually no chance of an agreement to do much more than punt debt, deficit and tax issues for at least a year to allow the new Romney administration time to develop its own proposals.
But if "Obama wins by a significant amount, we keep about the same number of seats in the Senate and the House Democrats gain some seats, even not a majority — 10 seats lets say — it will strengthen the hand of mainstream conservatives [who] will say 'this embrace of the Tea Party that … the Romney Ryan Republicans have done didn't work,'" Schumer argued.
House Minority Whip Steny Hoyer also said he sees an opportunity for compromise after the election, if Obama — who spent his first term bitterly battling Republican congressional leaders — is re-elected.
Hoyer said he hopes an Obama victory will bring about "a consensus that we need to move the country forward."
"Hopefully those Republicans who have chosen conflict over compromise every time will say to themselves 'Look, I've got children I've got grandchildren I've got great grandchildren, I want to make sure this country works. And I'm going to look not to my partisanship but to my patriotism and work together with the other side,'" he said.
But despite the two leaders' rosy outlook for the coming lame duck session of Congress, the prospects that Republicans and Democrats will actually come to an agreement seem dim at best.
Asked if a grand bargain of any sort would be palatable to much of the House Republican conference, a leadership aide said bluntly "absolutely not." And given the fact that Rep. Paul Ryan would be returning to the House if Obama wins — and looking four years in the future at a bid for the top of the GOP ticket — there's little chance he'd back any plan that includes a the sort of tax increase on the wealthy that Democrats would demand as part of any deal.
In fact, a number of Republicans argued a defeat of the Romney-Ryan ticket will be seen by lawmakers as an inability of a relatively weak candidate to defeat Obama rather than be seen as a repudiation of the party's hardline anti-spending positions.
Schumer said he anticipated, and would dismiss conservative efforts to blame a Romney defeat on the candidate, rather than the cause.
"Jesse Jackson in 1988 said the reason Dukakis lost is he didn't follow Jackson's program," he said. "Elections are won, as much as the hard right and the hard left want to believe that they are the fount of wisdom, elections are decided in the middle."
The key wild card is Speaker John Boehner, who over the last two years has made multiple attempts at trying to broker a grand bargain with the White House on taxes and the debt.
Boehner has personally appeared willing to go significantly further than many of his conservative colleagues towards a compromise with Democrats — including entertaining the notion of increased revenues as part of a deal to reign in the debt.
Despite those previous efforts, at this point Boehner appears resigned to the idea that a grand bargain won't be in reach until sometime next year at the earliest, when comprehensive tax reform is taken up.
But several conservative Republicans said Friday they still worry he may end up making yet another go at a big deal with Obama and Senate Democrats during the lame duck post-election session if he believes it could be in reach.
Although Republicans familiar with Boehner's thinking downplayed that possibility, noting he has made no explicit moves that would suggest he is interested in pursuing a deal, Democrats remained hopeful they can force his hand in the end.
"Come the lame duck we have the high ground … I think they're much more likely to blink than we are, if we hold our ground," Schumer said.