D.C. Mayor Angrily Confronts Senate Democrats Over Government Shutdown
Taxation Without Representation, except in the District of Columbia.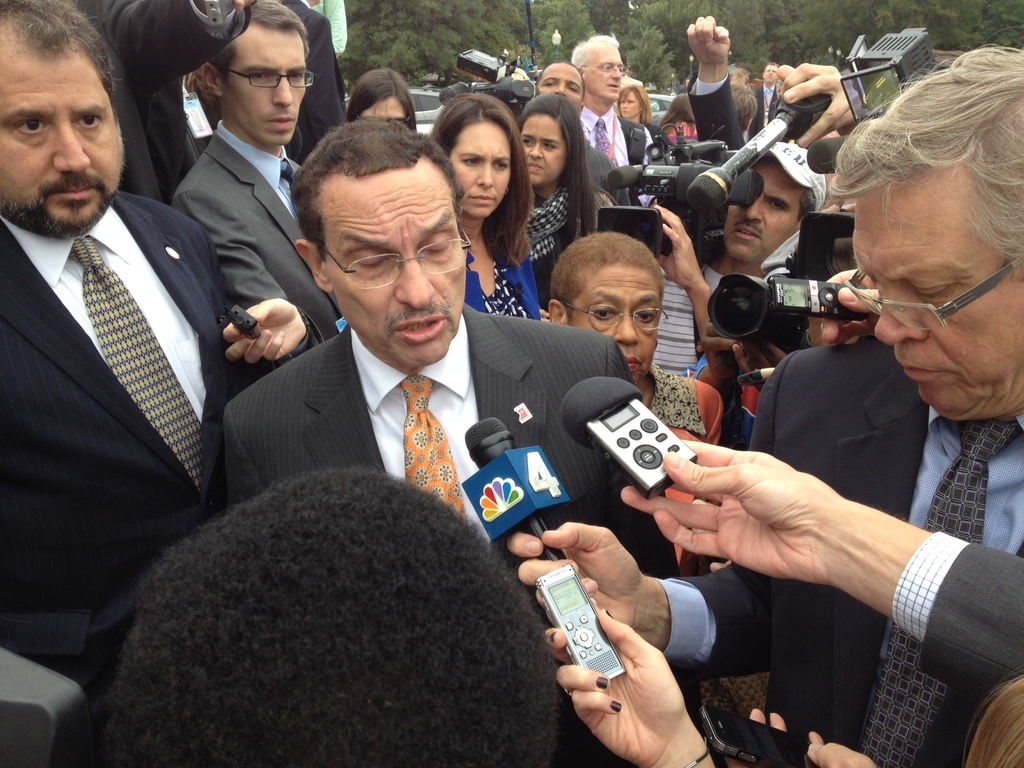 WASHINGTON — D.C. Mayor Vincent Gray angrily confronted Senate Majority Leader Harry Reid Wednesday morning, demanding he and other congressional leaders pass legislation to release the city's budget from the government shutdown.
"We're not like anything else, we're a city. We're simply asking for the opportunity to spend our own money. Its not the parks service's federal budget that we're talking about. It's not the veterans services federal budget. We're talking about the money of the people of the District of Columbia that shouldn't be held hostage up here in the first place," Gray said following a tense conversation between Reid and himself.
The District does not have representation in the Senate, and only has one non-voting member in the House. While most of the city's budget comes from local revenue, it remains controlled by the federal government and cannot be spent without approval — a process that has been held up as part of the government shutdown.
"All we're asking for is to be freed from the bondage that our budget is being is held," Gray said.
Gray, Rep. Eleanor Holmes Norton, and other city leaders were holding a press conference outside the Senate about the shutdown's effects on the city at the same time as a planned Senate Democratic event on the chamber's steps.
Trailed by aides and a knot of local reporters, Gray crashed the senators' event, pushing through a national media throng to stand beside Reid as Virginia's Senate delegation lamented the effects the shutdown has had on their state.
Gray was not allowed to address the national media, and after a few short questions, Reid brought the press event to end and turned to leave. But Gray blocked the Nevada Democrat's path and pressed him on passing an appropriations measure to fund the District.
During their brief conversation, Reid was overheard by reporters angrily telling Gray to "not screw it up," although it was unclear what he was referring to. When asked about the exchange, Gray said, "If I know what that meant, I'd tell you."
"We're simply asking for respect. The majority leader a few weeks ago made the statement that the District of Columbia should be a state. I was there when he said it … Now is an opportunity to demonstrate that we can function like a state. Just give us the ability to spend our own money," Gray argued.
"Our tax payers raise $6 billion a year from income taxes that we pay, property taxes that we pay, sales taxes that we pay, just like every other jurisdiction of America. Set us free to do like other Americans. If this is a democracy, now is the time to show it," he added.