Senate Foreign Relations Chairman Says Obama Is Sidelining Biden On Foreign Affairs
"I know it's gotta be frustrating for all of those who occupy a space outside the building. I would say probably including the vice president," Senate Foreign Relations Chairman Bob Corker said.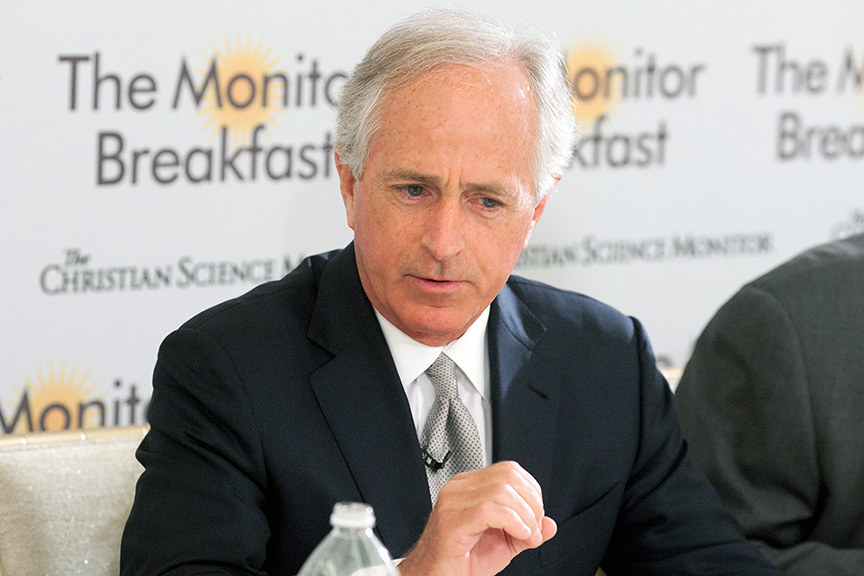 WASHINGTON — Senate Foreign Relations Chairman Bob Corker Wednesday accused the White House of shutting out dissenting voices — including Vice President Joe Biden — when making critical foreign policy decisions, including how to conduct the war against ISIS.
At a breakfast sponsored by the Christian Science Monitor, Corker singled out Biden specifically as someone whom President Obama and his inner circle have shut out of the decision making process, particularly when it comes to Syria and ISIS.
"It's evident that, again, the administration has not been willing to make decisions that will cause things to move along. I know it's gotta be frustrating for all of those who occupy a space outside the building. I would say probably including the vice president," Corker said.
Asked to expand on his views about Biden, Corker demurred, quipping: "I don't ever wish to get into private conversations, because then they end."
Still Corker went on to say, "Let's face it, anybody who's outside the internal offices of the White House has very little impact on the big decisions in terms of foreign policy."
That lack of engagement has, in Corker's mind, caused significant harm to U.S. interests.
"The lowest moment in foreign policy, since I've been in the Senate … was that August to September timeframe in 2013 when we figuratively jumped into the Russians lap to avoid having to deal with the issue of Assad crossing the red line. And just the implications of that … are real and deep," Corker said.
Obama walked back a threat to bomb the Assad regime following a chemical weapons attack on the Damascus suburb of Ghouta in August 2013. The following month, the administration reached a deal with Russia to remove Syria's chemical weapons instead. Recent reports say the Assad regime still maintains chemical weapons.
Meanwhile, Corker remained cool on the prospects that Congress would pass a new Authorized Use of Military Force measure to cover the war against ISIS.
"Look, I've spent a lifetime trying to produce outcomes, do things that matter … and I think all of you recognize that at least the way the AUMF was sent forth … it's going to have zero effect to things on the ground. Zero effect whatsoever," Corker said.
Corker pointed out that the White House has essentially abandoned any serious effort to enact a new AUMF in part because it believes it has adequate legal authority. "The White House is going to exert zero effort to pass an AUMF. It's just not something they're going to do," he said.
Still, Corker conceded "that doesn't mean we shouldn't deal with the issue. Our staff, my own staff, are divided" on the administration's existing authority, "Most believe they are on the fringes, legally, of doing what is legal."
"There is no daylight between the Vice President and the President's position regarding Syria," said Stephen Spector, a spokesperson for Biden. "Vice President Biden plays an integral role in the Administration's policy in Syria – including as an interlocutor with Turkey. The President continues to rely on the Vice President for his counsel on the region."