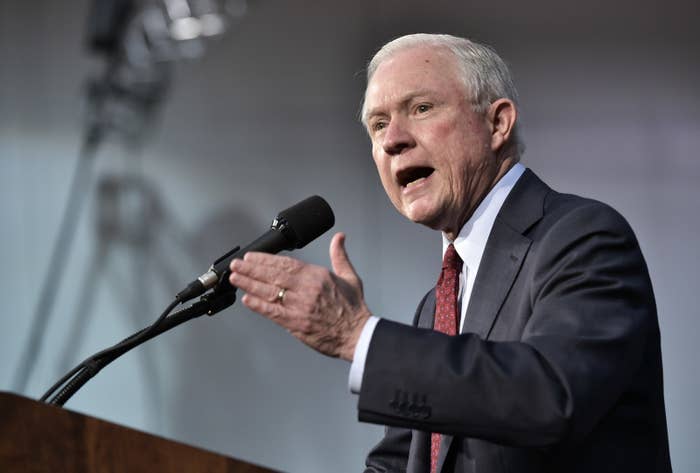 In 1986, as the Senate was considering the nomination of Jefferson Beauregard Sessions for federal judge, Coretta Scott King wrote an impassioned plea to the members of the Judiciary Committee.
Sessions, whose nomination had initially seemed routine, was suddenly on the ropes after witnesses accused him of using racial slurs and using his position as a US attorney to target civil rights activists in Alabama.
The letter would become a key part of the case against Sessions, who would ultimately be defeated when his home state senator, the late Howell Heflin, shocked the Senate and voted against the confirmation.
The Washington Post published the full, 10 page letter from King to the committee Tuesday evening. It can be read here.
At the time of the hearing, Judiciary Committee Chairman Strom Thurmond never put the letter into the congressional record, and its contents remained largely unknown. In the only line that was made public at the time — published in June 1986 by Knight Ridder reporter Aaron Epstein — King made clear her opposition to Sessions' nomination.
"For a century, the racial practices that characterized our region were established and enforced by men who, like Mr. Sessions, protested that they, too, were not personally hostile to blacks," King's letter said, according to Epstein's dispatch.
Now Sessions, who would go on to become Alabama's attorney general before replacing Heflin in the Senate in 1997, is once again before the Senate for confirmation, this time as President-elect Donald Trump's attorney general.
It's unclear why Thurmond didn't include the letter in the record. Chairman Chuck Grassley's office did not respond to requests for the letter, and sources told BuzzFeed News that Democratic members' hands are tied by committee rules that give Grassley the sole authority to release it.
Additionally, the King Center, the Atlanta-based memorial and nonprofit that manages Coretta Scott King's papers as well as those of her late husband, said it has not finished processing her papers and could not provide a copy of the letter. Epstein, the reporter who obtained a copy in 1986, told BuzzFeed News he no longer has a copy and could not recall details of its contents beyond what was printed at the time.
It's unlikely King's testimonial alone will derail Sessions' nomination: The Senate rarely rejects nominations for one of its own, and with Republicans controlling the chamber, it appears likely he will be installed at the Department of Justice.
Now that it has been released, the letter may prove embarrassing for Sessions.
Sessions' 1986 defeat deeply wounded the Alabama conservative, and as a senator he made a point of backing a number of civil rights measures, particularly those connected to King. For instance, he sponsored legislation to give King and Rosa Parks the Congressional Gold Medals, backed a bill to place a statue of Parks in the US Capitol, and voted for a 2006 reauthorization of the Civil Rights Act named after King.
Following King's death in 2006, Sessions lauded her, saying in a statement that it "marks yet another sad passing of an historic leader in the movement for equal rights in America."