Conservatives' New Attack On Immigration Bill: It Costs Too Much
Heritage Foundation president Jim DeMint charges undocumented workers will reap "$3 in benefits for every $1 in taxes paid under this amnesty program." The supposed price tag: $6.3 Trillion.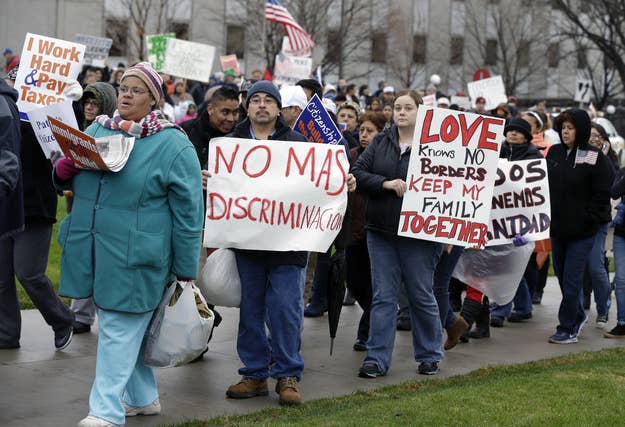 WASHINGTON — With the Senate set to begin marking up bipartisan immigration reform legislation, conservatives rolled out a new analysis — and a new message: They charge that a "pathway to citizenship" will cost some $6.3 trillion over the next five decades.
The report, conducted by the Heritage Foundation, is the opening salvo in what is expected to be a politically brutal fight over the coming weeks between different factions of the Republican Party.
The study includes costs associated with local, state and federal benefits like social security and health care benefits that families headed by non-high school graduates would receive. It does not take into account any costs or savings associated with the legislation's broader reforms to the immigration system and border security — or the economic or tax benefits advocates for the bill hope will come with legalizing a vast gray economy.
The Judiciary Committee will begin formal work on the bipartisan "Gang of Eight"'s bill this week, a process that is expected to take several weeks.
Although at this point it appears all but certain that the bill will have at least 60 votes when the full Senate takes it up, supporters want to run up the score as much as possible to put pressure on House Republicans to back the bill.
But that could be difficult if conservatives can make claims that the bill will result in a surge in federal spending.
The bipartisan bill, which is being championed on the right by Sen. Marco Rubio, is "like Obamcare, which created numerous new federal programs … [and it] also violates the rule of law that makes our nation a beacon of freedom for people around the world, and its unfair to immigrants who want to come here the right way," Heritage President Jim DeMint said during a press conference Monday.
"Amnesty will only make the problem worse in the future," he added, arguing that, "Taxpayers, including immigrants who've come here legally, will be saddled with 63 trillion in costs over the next 50 years."
"No matter how you slice it, amnesty will add a tremendous amount of pressure on America's already strained public purse," said the study's author Robert Rector, Heritage's senior research fellow in domestic policy studies.