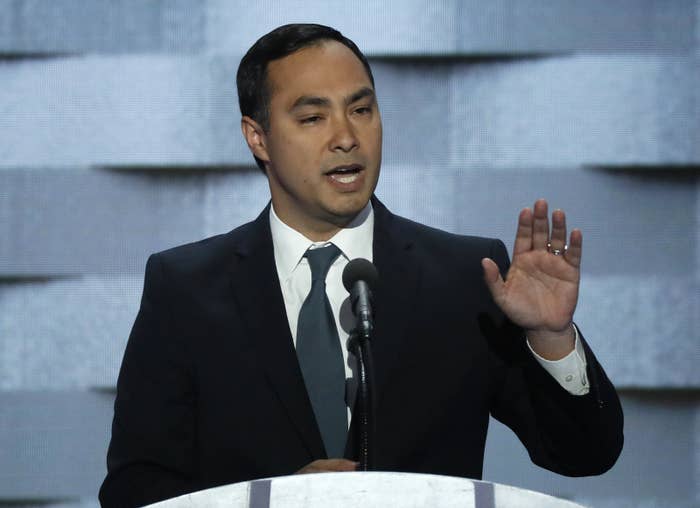 Rep. Joaquin Castro warned Tuesday that if the White House has ordered the US Customs and Border Protection Agency to ignore judicial stays against the controversial refugee travel ban, Congress must begin the process of formally censuring — and potentially impeaching — President Donald Trump.

In an interview with BuzzFeed News, the Texas Democrat also joined other Democrats including Senate Assistant Minority Leader Dick Durbin in calling for Congress to "investigate whether President Trump intentionally exceeded his constitutional authority." They argue that if he has, Congress must take steps to censure or ultimately impeach Trump, warning the country risks essentially becoming a "military junta."
CBP spokesperson Gillian Christensen denied the agency was directed to ignore court orders halting enforcement of the executive order.
"CBP officers are not detaining anyone. Green card holders who arrive in the US have to go through secondary screening but that process is working smoothly and relatively quickly," Christensen said. "Furthermore, visa holders who would be affected by the executive order are being denied boarding at their point of departure so they are not even making it into the US."
Christensen also pointed to a statement issued on Monday by Homeland Security Secretary John Kelly in which he insisted "since the court orders related to the executive order were issued over the weekend, CBP immediately began taking steps to be in compliance. We are and will remain in compliance with judicial orders."
Despite those assurances, questions remain. Throughout the weekend immigration attorneys accused CBP agents at airports of attempting to deport people, refusing them access to clients, or generally ignoring all or portions of the various court orders halting the executive order.
Combined with an administration that has repeatedly lied, Democrats remain skeptical. If the White House has indeed directed CBP to ignore the rulings, "there should be a resolution of censure. And if he does it again, there should be articles of impeachment," Castro said.
Castro said he is increasingly concerned with Trump's consolidation of power within the White House. "There's no longer any checks and balances," Castro said, adding that if Trump is indeed flouting court orders, "you're basically living in a military junta."