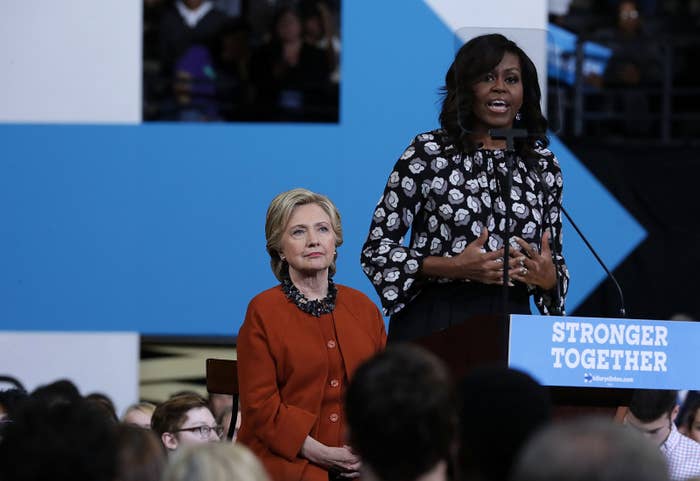 WASHINGTON — The Clinton campaign has sent cease and desist letters to at least four local television stations in Florida demanding they stop running an ad paid for by a pro-Trump Super PAC featuring First Lady Michelle Obama — even as the PAC is expanding its ad campaign in North Carolina.
The ad, titled "Can't Run Her House," is being run through the Defeat Crooked Hillary PAC, a subsidiary of the Make America Number 1 PAC, which is backing Trump's campaign. It features footage of Obama speaking during the 2008 campaign, including an apparent swipe interpreted by some to be a reference to Clinton, who at the time was locked in an ugly primary fight with Obama's husband. "One of the important aspects of this race is role-modeling what good families should look like. And my view is, if you can't run your own house, you certainly can't run the White House. You can't do it," the first lady is shown saying. At the time of Michelle Obama's remarks, Barack Obama denied that they were meant to be taken as a swipe at Clinton.
On Monday, the Clinton campaign sent cease and desist letters WFLA-TV in Tampa, Cox Cable in Gainesville, Bright House Cable in Orlando, and WESH-TV in Orlando, demanding the stations stop airing the ad, according to sources familiar with the situation. Spokespeople for the stations could not be reached for comment.
Although initially targeted towards Florida's I-4 corridor, the PAC on Thursday expanded their ad buy to North Carolina in order to "bookend" the first joint campaign appearance by Clinton and the First Lady in the state.
In a letter to the stations, Make America Number 1's lawyer Larry Levy argues Hillary for America's demand in an attempt to "deny the public an opportunity to view our advertisement because it is 'false and misleading'. In reality, HFA simply finds it politically inconvenient that a top surrogate for its candidate once held a differing view concerning her qualifications for
office."
"If HFA seeks to make a factual argument concerning the meaning of the words clearly and unambiguously videotaped coming from the mouth of Michelle Obama, they are free to do so. They are not, however, free to threaten legal action to prevent the public from making up its own mind," Levy added.
In a statement the PAC's spokesperson Hogan Gidley mocked the legal maneuver. "Hillary's just angry because the ad is impactful, it's working and it speaks directly to the women she's been trying to con for years. Hillary's own campaign said when Michelle Obama speaks out, 'it has a real impact,' and indeed, we agree – because it was Mrs. Obama who correctly pointed out Hillary Clinton 'certainly can't run the White House,'" Gidley said.
A spokesperson for the Clinton campaign did not return a request for comment.