Churches Now Providing Sanctuary Protection For Undocumented Immigrants
"I cannot visit my friends and do things I would usually do. But on the other hand, my family will come here to visit me … it's harder to live in fear with a deportation order."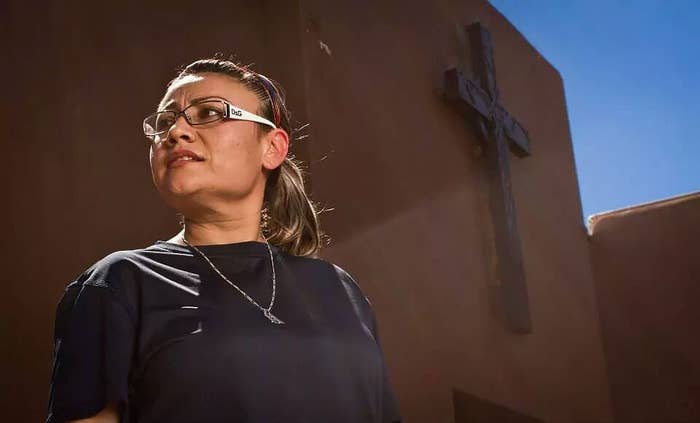 WASHINGTON — For the first time in years, Rosa Robles Loreto and her family didn't celebrate Christmas in their Tucson home. Nor had they decorated their tree, shopped for presents, or engaged in any of the traditional holiday traditions most Christians in the United States were enjoying.
Instead, Robles, her husband, and their two children opened presents and ate Christmas dinner in the Southside Presbyterian Church, the place Robles has called home since she fled her home Aug. 7 after the Obama administration had ordered her deportation.
"It is very difficult," Robles says of her months long separation from her family. Although her children spend weekends at the church, they remain at home with their father on weekdays.
Robles came to Arizona 15 years ago from the neighboring Mexican state of Sonora, a poor part of the country that for decades has been wracked by drug cartel violence. Working as a maid and nanny in Tucson, she and her husband Gerardo had two children and became active in the church.
In September 2010, Robles was pulled over by a sheriff for failing to obey traffic signs in a highway construction zone. Although she had a Mexican driver's license, Robles had no U.S. identification, and she was arrested and turned over to federal immigration authorities. After spending 60 days in detention, she was released on a bond.
Although the Obama administration has for years claimed it was not targeting undocumented immigrants with minor traffic offenses — and instead focusing on violent criminals in immigrant communities — in July, Robles received her final deportation notice, known as a removal order, from the Department of Homeland Security.
Unwilling to be separated from her family, Robles decided to seek out sanctuary in her church. "Before I went (into sanctuary) we were very close. We would eat together, I would help them with their homework," Robles said, adding, "It is very difficult being here for Christmas."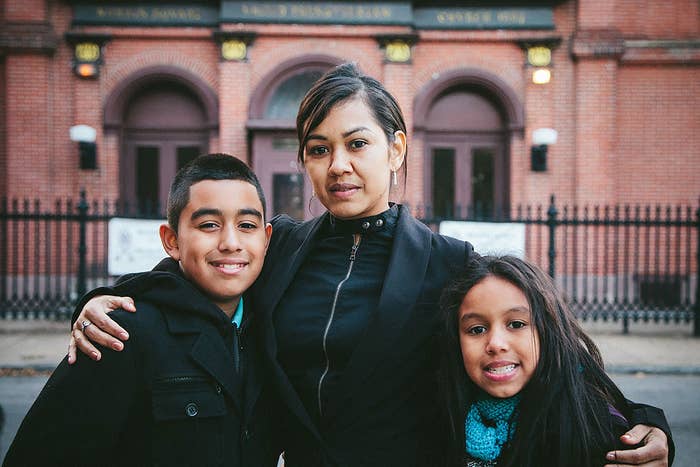 Thousands of miles away in north Philadelphia, Angela Navarro was preparing for her Christmas celebration.
Like Robles, Navarro has been given sanctuary, in the West Kensington Ministry, where she and her family are now living. A native of Honduras, Navarro left the country 12 years ago, eventually settling in Philadelphia. But unlike Robles, Navarro has lived under the threat of deportation for a decade, and has seen her uncle and other family members deported in recent years. "Immigration has been looking for me. They showed up at my mother's house looking for me," she said, explaining that she went to the church "to stop living in fear."
Christmastime is particularly difficult, she said, because "I cannot visit my friends and do things I would usually do. But on the other hand, my family will come here to visit me … it's harder to live in fear with a deportation order."
Robles and Navarro are part of a handful of undocumented immigrants who, facing mandatory deportation orders, have sought out sanctuary inside churches across the country. The movement, which has taken hold in a number of states including Arizona, Pennsylvania, Illinois, and Colorado, is part of a broader push by religious groups including the Church World Service to pressure the Obama administration on the issue of undocumented immigrants.
"I understand this is something I have to do … to be in the struggle," Robles said of her decision. "Especially given the season we're in, I hope the hearts of those in power … will be filled with Jesus. Jesus is walking with (us)," she said.
While churches providing sanctuary are keenly focused on the individuals, people with the group acknowledge the wider class of people in similar situations.
"There are 900,000 people with deportation orders," said Rev. Allison Harrington, the pastor at Southside Presbyterian in Tucson. "When [Robles] speaks, she speaks for thousands of others just like her. Millions really."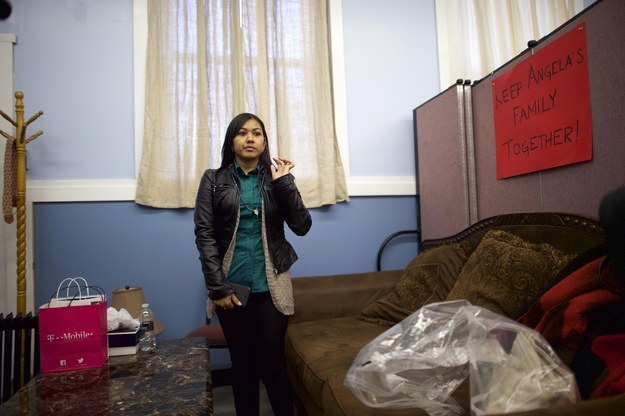 While immigration activists have hailed President Obama's November executive order deferring millions of deportations for undocumented immigrants, the order affects roughly five million people — and there are an estimated 11 million undocumented persons in the country.
"We are deporting 1,100 people a day … it's morally reprehensible to break families apart," said Rev. Adan Mairena, the pastor at Philadelphia's West Kensington Ministry. Those numbers, and the reality that Congress isn't expected to consider seriously changes to immigration laws until at least after the 2016 election, prompted religious leaders involved in the sanctuary movement to act.
"We're a Christian entity, so for us it's part of living out our faith, part of the spirit of hospitality and standing up for justice," Mairena said. "Christ mandates us to love one another, and it doesn't matter what status you are."
Mairena and other religious leaders involved in the movement argued it is particularly important for Christians to become involved in the immigration debate, particularly during the Christmas season. "If Mary and Joseph were to come to the door in 2014, are we going to be like everyone else and say, 'Oh, there's no room at the inn?' … How can we break up a family when we are celebrating the birth of a child? It's pretty ironic."