Chuck D: Hip-Hop Is Entering A New Era Of Political Awareness
"Every single artist has something to say about what's going on right now," the Public Enemy frontman said in Cleveland as the Republican National Convention kicked off.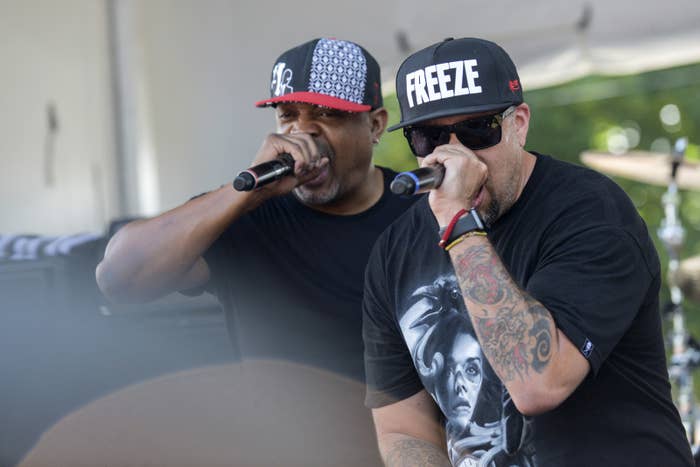 CLEVELAND — Music legend Chuck D said Monday hip-hop has entered a new era of political awareness, with artists big and small increasingly willing to tackle social issues in their lyrics.
Chuck D, who as the frontman for Public Enemy was one of the pioneers of politically active, conscious hip-hop, performed with The Prophets of Rage — a super group made up of members of Rage Against the Machine, Cypress Hill's B Real, DJ Lord and Chuck D — at a rally in East Cleveland during the first day of the Republican Convention.
"Every single artist has something to say about what's going on right now," Chuck D said, noting that in addition to artists like Bishop Lamont and Kendrick Lamar, "even Joe Budden did a freestyle on Beyonce's cut." They're under the radar, he said with a laugh, "but there's so many artists saying so many things right now, don't give an MC a topic."

After the show, Chuck D and members of the group joined about a thousand protesters in a march from East Cleveland into downtown.
Although hip-hop was long associated with social justice movements and political activism, particularly in the black community, since the late 90s much of "conscious hip-hop" has been relegated to the underground, with few politically minded acts reaching the sort of critical and popular success as "Golden Era" acts like Chuck D's Public Enemy, NWA, De La Soul, and A Tribe Called Quest.
But over the last several years a new generation of politically active artists like Killer Mike, J Cole and Kendrick Lamar have begun breaking out of the underground mold, while YG and Nipsy Hussle's "Fuck Donald Trump" has become a rallying cry at anti-Trump rallies across the country.
Still, Chuck D lamented the lack of commercial support for artists who speak out on social issues. "Now, is it favored by the industry, the mainstream, BET? No. But that's COINTELPRO," he said.