Chamber Of Commerce Promises To Make Opponents Pay Come November
U.S. Chamber of Commerce warns the heavyweight organization will make lawmakers "see the light" or run them out of Congress.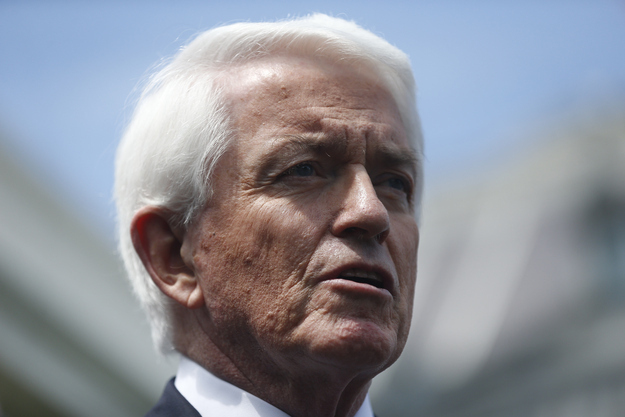 WASHINGTON —U.S. Chamber of Commerce President Tom Donohue Wednesday said his organization will use its vast resources to make lawmakers pay for opposition to new immigration laws and other business priorities and will focus on primary challenges to lawmakers who can't or won't "see the light."
In his annual "State of American Business" address, Donohue laid out the chamber's agenda for the year and reiterated that immigration remains one of the business community's top legislative goals, despite its dim prospects on Capitol Hill.
"We're determined to make 2014 the year that immigration reform is finally enacted. The Chamber will pull out all the stops — through grassroots lobbying, communications, politics, and partnerships with unions, faith organizations, law enforcement and others — to get it done," Donohue said.
But that will be easier said than done, even for a group like the Chamber that has traditionally wielded significant power in Washington.
Once one of the most powerful voices in American politics, the Chamber and other business groups have become increasingly marginalized as Tea Party and other newer outside groups have gained influence over the Republican Party.
That loss of influence has had clear impacts on Capitol Hill, where increasing numbers of Republicans have broken with the business community on issues ranging from immigration to shutting down the government over Obamacare.
Donohue acknowledged that getting new immigration legislation passed or any of the Chamber's other priorities done will be difficult in an election year.
But he argued the Chamber hopes to turn "the upcoming elections into a motivator for change. It's based on a simple theory — if you can't make them see the light, then at least make them feel some heat."
Donohue said the group is already focused on a dozen House and Senate races, including a number of primaries in which conservatives are challenging traditional Republicans.
"In primaries and in the general election, we will support candidates who want to work within the legislative process to solve the nation's problems—and who understand that business is not the problem, business is a big part of the solution," he explained.
"The business community understands what's at stake. They respect our political team, support our strategy, and understand the powerful impact our brand can have in pivotal elections. This means we will have all the resources we need to run the most effective political program of 2014," he added.
As part of that, Donohue said the group has already begun ramping up its field operations and hired additional staff for campaign activities. "We're prepared for this election. We're focusing intently on candidate selection," Donohue said at press conference following his speech.
Donohue said the group's fight isn't with the Tea Party as with hardline conservatives who he argues have hijacked the movement. "When the Tea Party first came out … they talked about things that the Chamber very much supports" including tax policy changes and "reasonable" control of federal costs.
"All of that stuff was pretty good," Donohue said. "And then we had people come along with different views … and they were the people that didn't want to pay the national debt, shutdown the government" and have generally been at odds with the business community.
"When they get to Washington they're not going to do what we believe they should do," Donohue said. "So why should we support them?"