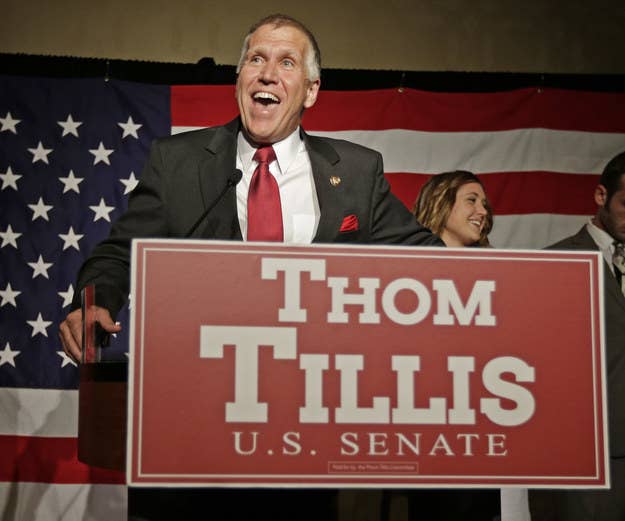 WASHINGTON — The U.S. Chamber of Commerce may want the GOP to change its tune on immigration policy, but that isn't stopping the powerful business lobby from pouring more than $15 million into efforts to re-elect nearly two dozen Republicans who disagree with them.
In fact, in four Senate races in North Carolina, Georgia, Iowa, and Kentucky that could determine control of the Senate, the Chamber has spent nearly $7.8 million propping up Republicans against providing a pathway to citizenship for undocumented immigrants.
Earlier this year the Chamber made clear that it would not base its support for candidates solely on their immigration stances — and spent significant sums on primary races to support Republicans that disagreed with them.
But the sheer volume of money going towards candidates who have either voted against Chamber-backed immigration bills or publicly repudiated them is remarkable.
All told, the Chamber has spent just more than $15 million in 22 House and Senate races across the country, according to data collected by Open Secrets. In addition to marquee races like Senate Minority Leader Mitch McConnell's campaign and state Rep. Thom Tillis' challenge to Sen. Kay Hagan in North Carolina, the Chamber has also backed candidates House races in Arizona, West Virginia, and Alabama.
Spending in support of candidates opposed to their immigration agenda represents more than half of the $28.2 million the Chamber has spent so far on the 2014 elections, according to the data.
The Chamber did not immediately respond to a request for comment, but earlier this year, spokeswoman Blair Latoff Holmes told BuzzFeed News, "The Chamber is not a single issue organization and we aren't going to agree with members or candidates 100% of the time … Immigration is certainly a top-tier issue for the Chamber but we're also focused on policies that will create jobs and grow the economy such regulatory reform, trade, and energy development to name a few."
For immigration activists, the Chamber's decision to spend significant amounts on candidates who oppose them on immigration reform is another reminder of the fair-weather-friend nature of political allies.
Earlier this week, Allison Grimes, who is facing off against McConnell in Kentucky, ran a controversial ad blasting her opponent for supporting a Reagan-era "amnesty" bill. The ad enraged Latino organizations, but for Grimes, who is hoping to suppress conservative voters as part of her electoral strategy, abandoning them could help her oust one of the most powerful Republicans in the country.
Chamber spokeswoman Blair Latoff Holmes said Tuesday afternoon that "The Chamber's support for candidates and lawmakers is predicated on where they stand on a broad ranger of pro-growth issues (we are not a single issue organization) that are important to the business community. We use a cumulative score over their career" to determine support.
She also noted the chamber is supporting a number of Republicans who support their immigration position, including Reps. Mike Coffman in Colorado and California Rep. David Valadao.