Catholic Left Looks For An Opening With A New Pope
"A unique opportunity to radically shift the agenda of the church," says Salt. A question of emphasis.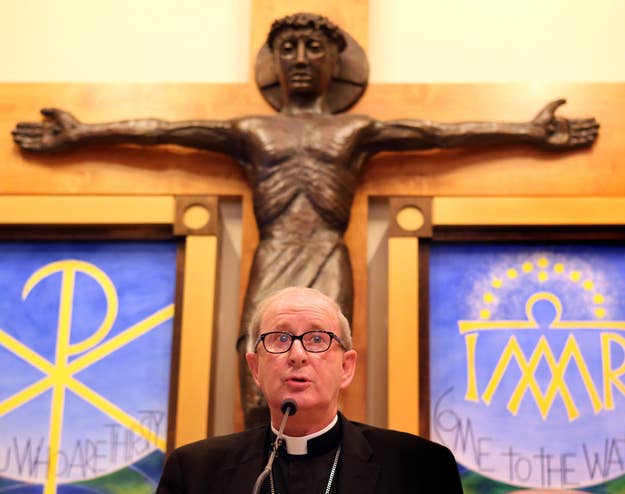 WASHINGTON — Pope Benedict's surprise decision to abdicate the papacy will set the direction for an American church that has increasingly become a key force on the right.
Under the leadership of Archbishop Timothy Dolan, the U.S. Conference of Bishops has become a major player in Republican politics in recent years, and should the next pope be cut from the same conservative cloth as Benedict, that position could become solidified for decades to come.
But if the church settles on someone outside of Catholicism's conservative wing — perhaps a figure from Africa or Latin America — it could have significant implications for Dolan and the Conference, a change, if perhaps a remote one, that liberal American Catholic groups are eyeing with anticipation.
"The next pope has a unique opportunity to radically shift the agenda of the church," said Catholics United Executive Director James Salt in a statement.
The question is less one of direction than of emphasis. The church isn't going to move away from its opposition to abortion or gay marriage, those who follow the Catholic hierarchy believe. And no matter who succeeds Benedict, women still won't be donning the collar.
But a renewed focus on social justice, women's equality, and climate change? Those are the sort of things at least progressives within the church are desperately hoping for from a new pontiff.
"The cardinals can and should consider opening their horizons toward a successor from the global south, such as Latin America or Africa, whose experience represents a vastly different worldview than many church leaders," Salt said.
Because they make up significant parts of swing states like Ohio, Wisconsin, and Pennsylvania, white, working-class Catholics have become one of the most sought after voter demographics in national politics, and one that has shifted steadily to the right in recent years.
Republicans made a significant push, starting last spring when Speaker John Boehner and Sen. Roy Blunt took up Dolan's campaign against requiring Catholic employers to pay for contraception. The two lawmakers rallied Republicans against new Obama administration rules requiring contraception be provided as part of insurance plans.
Although at first a strictly Catholic issue, Protestant anti-abortion leaders quickly joined the campaign.
Then in August, Dolan appeared at the Republican National Convention in Tampa, a move that angered Catholic Democrats and raised questions about the Conference's direct involvement in the presidential election.
"We're seeing more and more what used to be unusual activities" by Dolan and other church leaders, Catholics United's Chris Pumpelly said, pointing to the cardinal's direct involvement in the Republican National Convention last summer and the Conference of Bishops' aggressive lobbying campaign against President Obama.
"Cardinal Dolan is a handpicked cardinal of the Pope … his decision to become outwardly partisan is an outflow of the mind-set of this papacy," he said.
Of course the Catholic Church's rightward shift is not a direct result of Benedict's papacy or the work of Dolan. In the 1980s, Pope John Paul II began a concerted effort to marginalize adherents of liberation philosophy — a radical understanding of Catholic teachings that stresses social justice and a battle against oppression espoused by Latin American priests, most notably the martyred El Salvadorian Archbishop Oscar Romero.
That push dovetailed with the Reagan administration's foreign policy in Central America, where the U.S. often found itself in conflict with local Catholic leaders in supporting dictatorships fighting communist insurgents.
Still, the activity has increased dramatically in recent years, and the Holy See not only knew about the increasing partisan activities of the Conference, but seems to have explicitly endorsed it.
In a papal letter to the Knights of Columbus last summer, Benedict argued, "By defending the right of all religious believers, as individual citizens and in their institutions, to work responsibly in shaping a democratic society inspired by their deepest beliefs, values and aspiration your Order has proudly lived up to the high religious and patriotic principles which inspired its founding."
Dolan also enjoys a personal relationship with the Pope. "I love this pope … I [have] a special bond to this pope," Dolan told the Today show Monday morning. That, critics have argued, has also emboldened Dolan's efforts to ramp up the U.S. church's political activity.
None of this is to say significant shifts or even minimal changes will be seen anytime soon, progressive Catholics acknowledged.
"The change in direction, while unlikely, is something we can hope for," Pumpelly said.