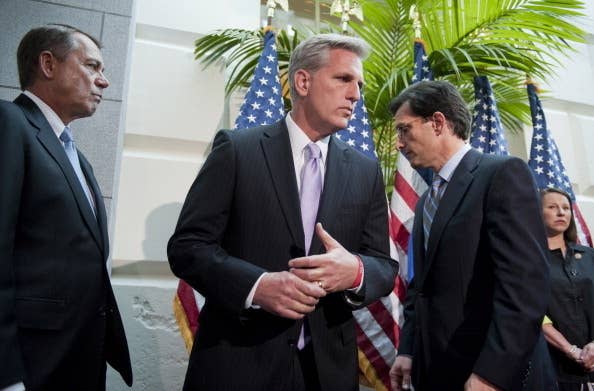 WASHINGTON — House Majority Leader Eric Cantor and Majority Whip Kevin McCarthy broke with Speaker John Boehner Monday night, voting against a multi-trillion tax package designed to avert the fiscal cliff.
The decision to abandon Boehner — which came after Boehner's leadership team whipped not only rank and file members but even other lower ranking members of leadership — will almost certainly set off a furious round of speculation about the future of his speakership, less than 48 hours before members are scheduled to vote on it.
The defections could upturn efforts to pass a $60 billion spending supplemental related to Hurricane Sandy and will almost assuredly have long lasting implications for Boehner's team in handling an already wild and unruly conference.
Cantor and McCarthy did pay Boehner the courtesy of waiting until a majority — 218 members — had voted for the compromise forged between the White House and Senate Republicans, reducing the chances that their defections would scuttle the bill.
Another leading House conservative, former Vice Presidential nominee Rep. Paul Ryan, voted for the legislation.