Can Irish-Americans Convince Republicans To Embrace Immigration Reform?
There are an estimated 50,000 to 75,000 undocumented Irish immigrants living in the United States. With a focused strategy, Irish-Americans are looking to give the immigration reform movement a key assist.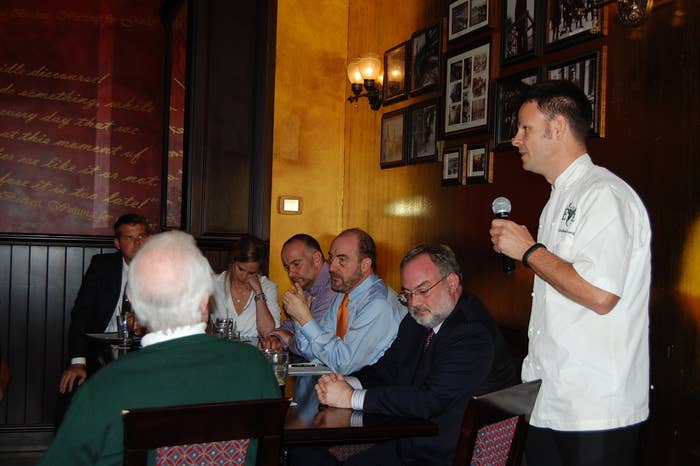 ARLINGTON, Va. — Immigration activists may have found an unusual ally in the daunting bid to convince Republicans that comprehensive immigration reform must happen: the nation's 40 million Irish-Americans.
"We can be the generation that rejuvenates the Irish-American community, or we can be the generation that lets the Irish-American community die," Ciaran Staunton, president of the Irish Lobby for Immigration Reform, bluntly warned 30 business and community leaders gathered in the back room of Beckett's Irish Gastro Pub.
This wasn't the first meeting Staunton and other Irish immigration leaders have held: Staunton has set up similar campaigns in Ohio, Pennsylvania, New York, and North and South Carolina. Irish-American leaders have also been making a push on Capitol Hill, meeting with key Republican leaders like Rep. Paul Ryan to make the case for comprehensive reform.
But Virginia, which is home to Majority Leader Eric Cantor and House Judiciary Chairman Bob Goodlatte, is seen as key to the struggle because those two leaders hold the keys to reform's future in the House.
And with 100,000 Irish-Americans in Cantor's district alone, Staunton and other organizers believe they could be the difference between reform dying on the vine again and President Obama signing a bill before the end of 2014.
"Members of the House of Representatives respond to pressure from the people in their districts," said Kevin Conmy, the Deputy Chief Mission for the Irish Embassy.
Although grassroots efforts on immigration are nothing new, much of the focus has been on — and energy has come from — the Latino community. Activists privately argue that putting a white face on the issue could help move not only some apathetic members of the public but also increase pressure on Republicans who may not have large Hispanic populations in their districts.
It's important for them "to hear from Irish-Americans … Irish-Americans have a dog in this fight. It's virtually impossible to legally immigrate to the United States from Ireland," Staunton said in an interview before the meeting.
The Irish aren't exactly what most people think of when they hear immigration reform. But the community faces its own challenges: There are an estimated 50,000 to 75,000 undocumented Irish immigrants living and working in the United States. Irish bars and restaurants — like other ethnically based businesses — are routinely targeted by federal officials for lengthy and burdensome investigations "to see that they're real establishments and that I'm not just bringing people over on visas and releasing them into the wild," said Mark Kirwan, an Irish immigrant and the owner of Beckett's.
And while the most of the public — and members of Congress — may assume immigration from Ireland is relatively easy due to the cultural and familial ties between the two countries, it's anything but: Thanks to the 1965 immigration reform law, of the 10 million green cards issued between 2002 and 2012, only 15,000 went to Irish applicants.
"Many people see the '65 immigration bill as the Irish Exclusion Act," Staunton said, referring to the China Exclusion Act, which specifically barred Chinese immigrants from the United States.
Organizers concede they face challenges: Many Irish Catholics are conservative Republicans, and the immigration debate's focus on Latino immigrants and border control can make winning them over difficult.
Activists hope meetings like the one in Arlington can help change that. In addition to leaders from the Ancient Order of Hibernians, the Irish Embassy, and the Gaelic Athletic Association, they also brought in successful Irish businessmen — who were also once illegal immigrants to the United States.
"I was an illegal immigrant. I was an undocumented worker," said Cathal Armstrong, the chef at Restaurant Eve, a tony upscale restaurant in Old Town Alexandria, just across the Potomac River from Washington.
Armstrong said that while he was eventually able to achieve legalized status, many of his friends have not — pointing to one man in particular who "has no hope of becoming legal in this country. No hope. He has two kids, he pays his taxes … he has no hope. It's outrageous."