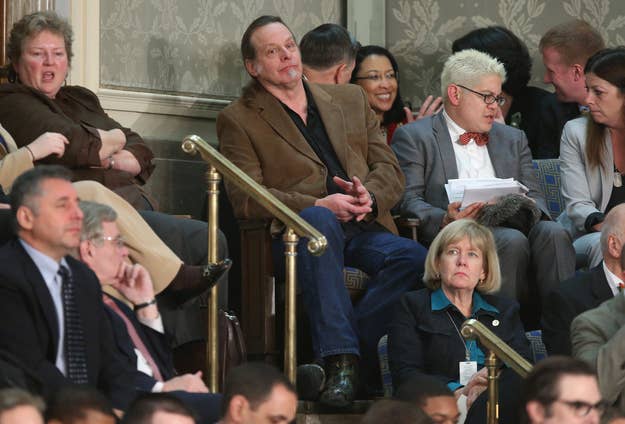 WASHINGTON — Aging rocker Ted Nugent may have avoided making a spectacle during President Barack Obama's State of the Union address much to the chagrin in the scores of reporters on hand, but he had harsh words for the administration's gun control plans after the speech.
Invited to the State of the Union by Texas Republican Rep. Steve Stockman, Nugent sat in the far back corner of the visitor's gallery during the address. Although he respectfully rose to his feet when Obama first came into the chamber, he spent the rest of the speech firmly planted in his chair, a decidedly bored look on his face.
Nugent said he received a warm welcome in the nation's Capitol, despite the fact that he had threatened the president during last year's election and there were questions about how he would be treated by law enforcement tasked with protecting Obama and Congress.
"I love Washington D.C., I've always rock 'n rolled here, people love rock n roll here. I love coming to Washington D.C." Nugent said, adding, "See the smile on my face? I have a lot of friends here … who give me a whole lot of back slappin' and attaboys for speaking up on their behalf."
But when it came to gun control proposals, he didn't mince words.
"Its more nonsense. Nothing he proposes or nothing he's been proposed would have stopped any of the shootings. None of those shooters are gonna register anything," Nugent said as dozens of reporters huddled around the conservative agitator just off the House floor.
"Canada finally abandoned its multibillion waste of a C68 gun law where goose hunters and farmers had to register their squirrel rifles. And it didn't do anything to reduce crime or save any lives."
"Who doesn't know this? Who doesn't know that registration and limitation on magazine capacity and the color of guns has anything to do with saving lives and reducing crime?" the "Nuge" argued, before his handler whisked him away for a television interview.