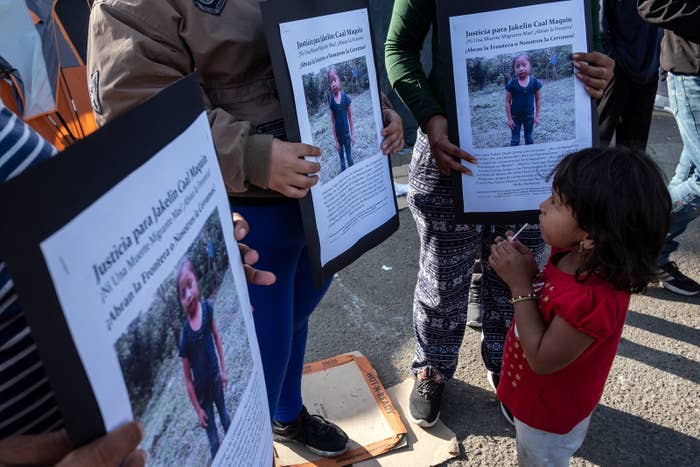 LORDSBURG, New Mexico — The Department of Homeland Security has told members of the Congressional Hispanic Caucus that they will not be allowed to speak with Customs and Border Protection agents involved in the apprehension and detention of Jakelin Caal, the 7-year-old Guatemalan asylum-seeker who died in CBP custody earlier this month, during their visit Tuesday to the remote station where her illness was first treated.
According to a source with CHC, DHS's refusal to allow the lawmakers to interview the agents came during a conference call Monday. The refusal frustrated lawmakers, and the CHC source said at one point Rep. Joaquin Castro, a Texas Democrat, warned that if the agents are not made available during the Tuesday inspection, they can expect to be called before Congress as soon as Democrats take control of the House in January.
DHS and members of Congress were frequently at odds over access to DHS facilities during the summer as controversy raged around the administration's family separation policy.
DHS has promised a full investigation of the events surrounding Caal's death.
DHS spokesperson Katie Waldman defended the department's refusal, noting that there is an ongoing investigation and that several top Border Patrol officials have already been made available. She also said the proper agency to investigate is DHS' inspector general, not Congress, and that in any case Customs and Border Protection cannot force lower level Border Patrol agents, who are members of a union, to talk to members of Congress.
"While DHS respects the oversight role of Congress, it is important to allow the review process [to} occur unimpeded by politics," she said.
DHS's decision to block interviews with the agents comes after Caal's father, Nery Gilberto Caal, denied Trump administration claims that his daughter had gone without food and water for several days before they arrived at the border on Dec. 6. She died less than 30 hours after crossing into the United States.
On Friday, Rep. Lou Correa, who will take the helm of the Homeland Security Committee's Subcommittee on Oversight in January, announced that he would hold hearings on Caal's death next year, and warned that he will hold DHS leadership "responsible for their failure to properly care for migrants in their custody and their inability to lead the hardworking officers under their command."
Hamed Aleaziz contributed reporting.