Bipartisan Voting Rights Reforms Could See Quick Action In Congress
As nation prepares to celebrate Martin Luther King Jr's birthday, lawmakers announce compromise reforms to protect voting rights while allowing voter ID laws to stand.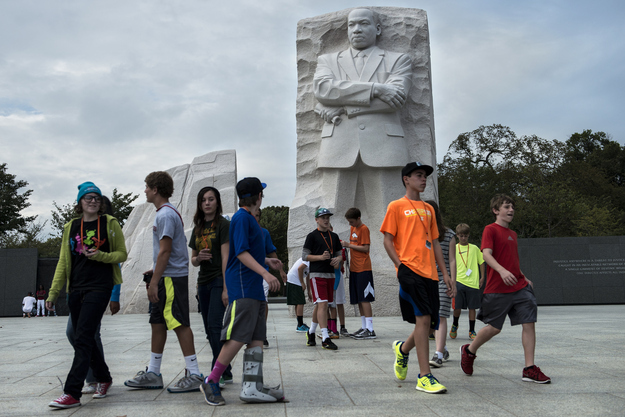 WASHINGTON — Lawmakers achieved something Thursday few thought was possible a year ago: introducing a bipartisan bill to update the Voting Rights Act in the wake of last year's Supreme Court decision.
Responding to the Supreme Court's gutting of a section of the Voting Rights Act last year, a bipartisan group of lawmakers — Senate Judiciary Chairman Patrick Leahy, House Judiciary Chairman Jim Sensenbrenner, civil rights icon Rep. John Lewis, House Judiciary ranking member John Conyers and others — have been quietly working for months to modernize the law that protects voters in minority communities.
The compromise bill expands protections of the law nationwide, and will focus particularly on instances where states have at least five instances of discriminatory voting practices in the last 15 years. Critically, the bill does not necessarily rule out the implementation of stricter voter ID laws, a key demand of Republicans, although if they have the effect of discrimination it appears they could come under scrutiny from the Justice Department.
Although VRA reauthorizations have been a bipartisan affair in the past, given the explosive history of civil rights issues, Republican voter ID efforts and the general toxicity of Congress, few outside Congress thought the group would be able to come to an agreement.
The trick was "figuring out how to get the votes to pass this modernization through a divided and very fractured Congress … I think we've threaded that needle," Sensenbrenner said matter-of-factly of the group's unlikely achievement.
Indeed, Sensenbrenner noted that Reps. Trey Gowdy of South Carolina and Spencer Baucus of Alabama, two of the most conservative Republicans in the House, are sponsors of the bill. "So there is southern support for it," Sensenbrenner noted.
"It is unbelievable. It is almost unreal that we were able to come together so quickly to craft a compromise that Democrats and Republicans can support … I will admit that it is not a perfect bill. But it is a necessary and good beginning," Lewis said.
"This is not something that is going to be filibustered in the Senate," Leahy added, explaining he expects to have support from conservatives and liberals alike.
Last year's Supreme Court ruling undid decades of voting rights law, eliminating requirements that a handful of southern states with a history of discrimination get pre-approval from the Justice Department for changes to voter laws.
The ruling opened the flood gates for state-level changes to the laws, particularly new voter identification requirements, and since then civil rights activists have warned it could result in a new era of restricted voting abilities for minorities, not just in the South but across the country.
The compromise bill drew praise from the ACLU and other civil rights and civil liberties groups.
"The bill includes commonsense updates to a law that has protected the fundamental right to vote for American citizens for nearly 50 years. While it does not fix everything that was lost … we are pleased to see a bipartisan bill that contains a set of protections that are flexible, forward-looking, and written to capture recent discrimination and stop discriminatory changes before elections take place. We will continue to work for improvements in the bill and urge Congress to pass the bill swiftly. Congress must do all in its power to ensure that Americans are treated fairly at the ballot box," ACLU senior legislative counsel Deborah J. Vagins said.