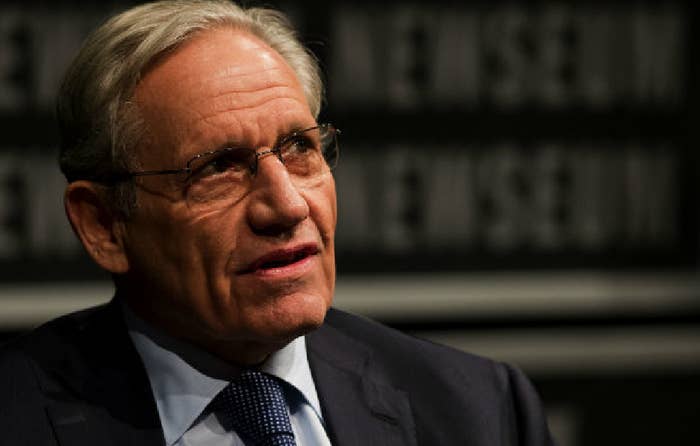 The Obama administration's bitter battle with the legendary reporter Bob Woodward is less about a disputed e-mail exchange than a culture clash.
Obama and his aides have been in a cold war with Washington's elite — who they privately revile, and whom they have come to fear — since the newly elected president moved into the White House in 2009. And Richard Nixon's legendary antagonist has, ironically, come to embody that elite.
This mutual disregard is no secret. Woodward's first book made the case that Obama played a major role in the failure of a "grand bargain" on the deficit early in his first term. And inside the West Wing, Woodward is viewed, one top Democrat said, as a "self-righteous kook," while an administration official said he "has been going nuts for no good reason." Some of Woodward's best sources, too, are the very people Obama's inner circle never quite trusted; Washington eminences like former National Security Adviser James Jones and former Chief of Staff Rahm Emanuel.
"Woodward represents the Washington establishment that never bought into Obama, and has no real connections to the inner circle — a circle that disdains the press corps and the gray beards in it, and probably didn't play much ball with him on his books," said a former administration official.
Wednesday night's eruption over whether Obama aide Gene Sperling had "threatened" Woodward by saying he'd "regret" a critical column had largely burned out Thursday morning, when Politico printed the men's full, and extremely cordial, e-mail exchange, and Woodward distanced himself from the notion of a threat.
But the incident brought to the surface an underlying tension. Obama hates social gatherings with the press and other Washington movers and shakers, and while his administration is teeming with creatures of official Washington, they have very much taken to Obama's "Chicago Way or the Highway" approach.
Woodward, meanwhile, has come to embody a Georgetown social set that for decades ruled official Washington, and is still the dominant figure in the town's favorite sport, an access journalism that the Obama camp alternately fears and scorns.
The feeling, people who know Woodward said, is mutual. Much of Obama's staff fails to grasp, his friends say, the weight of his career, beginning but not ending with the Watergate reportage that reshaped not just Washington politics but also his profession.
"It's a generational clash, a culture clash," one veteran Senate Republican aide argued. "I don't think he likes them very much or respects their strategy."
"Woodward has been hyper sensitive about his image and legacy lately … in this instance it seems like he picked this fight, but the White House should never have engaged," one veteran Democrat said.
Even Republican officials Thursday rolled their eyes at the notion that the White House had manhandled the venerable journalist.
"I think Gene's email back to him was OK. I know I shouldn't say that, because it takes away the drama of this whole thing," said a Republican Senator.
Democrats, meanwhile, winced at the whole drama whose damage, ultimately, accrues to the White House and to their party.
"Of all the kind of insignificant things that have been discussed about the sequester, this is the dumbest," a Democratic operative close to the White House said. "Nobody outside of the beltway cares what Bob Woodward thinks. I think engaging with him elevates it to an actual legitimate topic of conversation," the operative explained.
"It's a stupid sideshow to an already stupid sideshow," the Democrat said. "This isn't the '70s anymore [and] it's his version. He's a writer. Let him write it the way he wants."