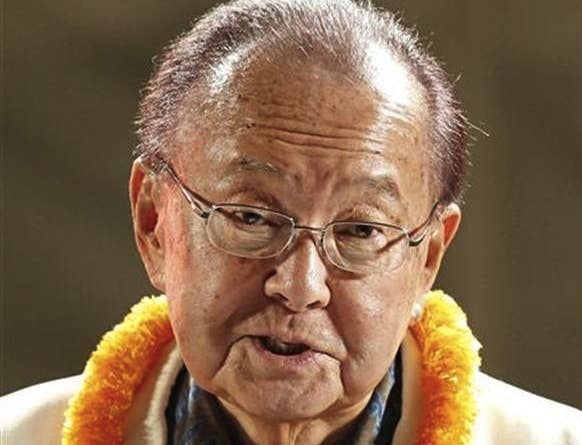 WASHINGTON — Sen. Daniel Inouye, the highest ranking Asian-American elected official in American history and one of the longest serving members of the Senate died Monday afternoon, according to his office.
Inouye, 88, died from respiratory complications at Walter Reed Medical Center, according to his office.
His last words were, according to his office, simply "Aloha."
His colleagues quickly began to take the floor Monday evening to speak about Inouye.
"A week ago last Friday, we spent an hour in his office together, just the two of us. And we ended the meeting saying, we should do this again. But I won't be able to do that again, he won't be able to do that again," a clearly emotional Majority Leader Harry Reid said shortly after news of his death broke.
"We will all miss him, and that's a gross understatement."
"I wish I were capable of saying more."
"He believed in me more than I believed in myself … He said, you're going to do great things in the Senate," Reid said of his close friend.
"No one has been a better American than Sen. Inouye."
Noting his prestigious military and legislative career, Senate Minority Leader Mitch McConnell, said Inouye "was a man who had every reason to call attention to himself, but never did."
Inouye, who was a medical volunteer following the Pearl Harbor attack in World War II, and enlisted in the military when the ban on service by Japanese Americans was lifted in 1943.
In 1945 Inouye was severely wounded in Italy. Ignoring his wounds, Inouye continued to lead his men in the fight, and although he ultimately lost his right arm as a result he was presented with a Medal of Honor by President Bill Clinton for his efforts.
Inouye was elected Hawaii's first member of the House of Representatives in 1958 before being elected to the Senate in 1962.
A longtime appropriator, Inouye has been one of the most influential, and beloved, members of the Senate in modern history.
At a time when bipartisanship and comity has been on the decline in Washington, Inouye doggedly stuck by his friends on both sides of the aisle — even when they found themselves in ethical trouble. For instance, as the late Sen. Ted Stevens, found himself under investigation by the FBI, Inouye remained one of his staunchest defenders and even actively campaigned on his friends' behalf.
During his career, Inouye became a staunch supporter of civil rights movements, not only for Asian Americans but others as well, including gay and lesbian members of the military.
For instance, following the Senate's 2010 vote to repeal Don't Ask Don't Tell, Inouye hailed the legislation.
"Finally, all brave men and women who want to put on the uniform of our great nation and serve in the armed services may do so without having to hide who they are. My only regret is that nearly 13,000 men and women were expelled from the military during the 17 years that this discriminatory policy was in place," Inouye said.
"In every war we have had men and women of different sexual orientation who have risked their lives for their country. I fought alongside gay men during World War II and many of them were killed in combat. Those men were heroes. And once again, heroes will be allowed to defend their country, regardless of their sexual orientation," he added.
During his rehabilitation from his war injuries, Inouye essentially relearned to play the piano one handed, and music continued to play an important part of his life.
Indeed, it was Inouye who encouraged his son Kenny — who played in Marginal Man, one of DC's most influential golden era hardcore punk bands — to take up music.
Punk may not have been the elder Inouye's speed, but in 1984 he went to the legendary 930 club on F St NW to watch Marginal Man perform with a line up of other hardcore bands. Inouye, ever the defender of fairness and equality, refused to cut the line, opting to stand in the cold with the assorted skinheads, dreds and other punk rock kids until the doors of the club opened.
Inouye was even a part owner of a record label that was set up produce Marginal Man's records, making him by far the most punk rock senator in American history.
Inouye is survived by Irene Hirano Inouye, his son Daniel Ken Inouye Jr., Ken's wife Jessica, and granddaughter Maggie and step-daughter Jennifer Hirano.