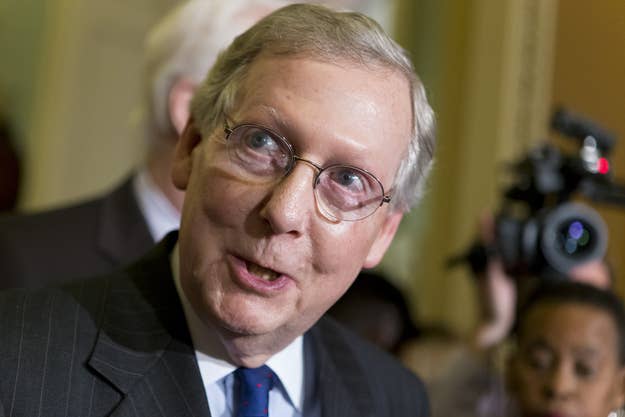 WASHINGTON — The head of a group accused of illegally taping private meetings of Senate Minority Leader Mitch McConnell's campaign visited the White House days before the group's Twitter account began actively attacking the Kentucky Republican, according to White House visitors logs.
White House logs and the Twitter feed of Shawn Reilly, one of two men at the heart of the McConnell wiretapping scandal, show he met with White House officials on Dec. 5, just days before his organization Progress Kentucky began a messaging blitzkrieg against the Republican leader.
Reilly and Curtis Morrison are currently under investigation by the FBI for illicitly taping a campaign conversation between McConnell and a handful of his advisors. During the conversation McConnell and his aides discussed the potential candidacy of actress Ashley Judd — including using her mental health problems against her.
For days, Democrats in the state and nationally have sought to cast the duo as a pair of bungling amateurs who simply got in over their heads and made a series of bad decisions. But the White House visit suggests the distance from Reilly to his party's leaders may not have been quite that far.
The White House visitors log, showing Reilly met with administration officials Dec. 5th, appears to have been signed in by Victoria McCullough, a staff assistant to Obama confidante Valerie Jarrett.

According to Reilly's Twitter feed, his trip to Washington included stops at the White House to discuss the fiscal cliff and a meeting at the Center for American Progress, a left leaning think tank.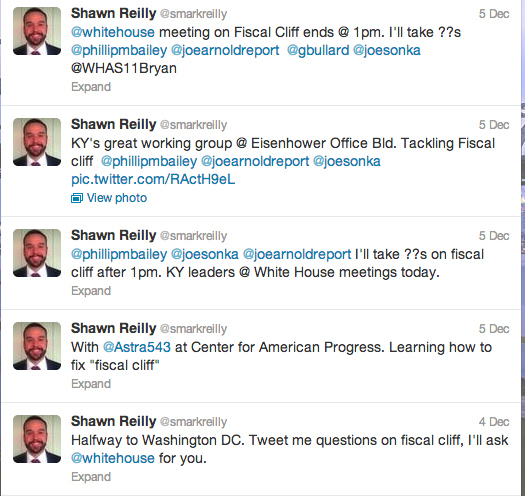 Reilly also tweeted a picture of what he said was his meeting inside the White House's office complex: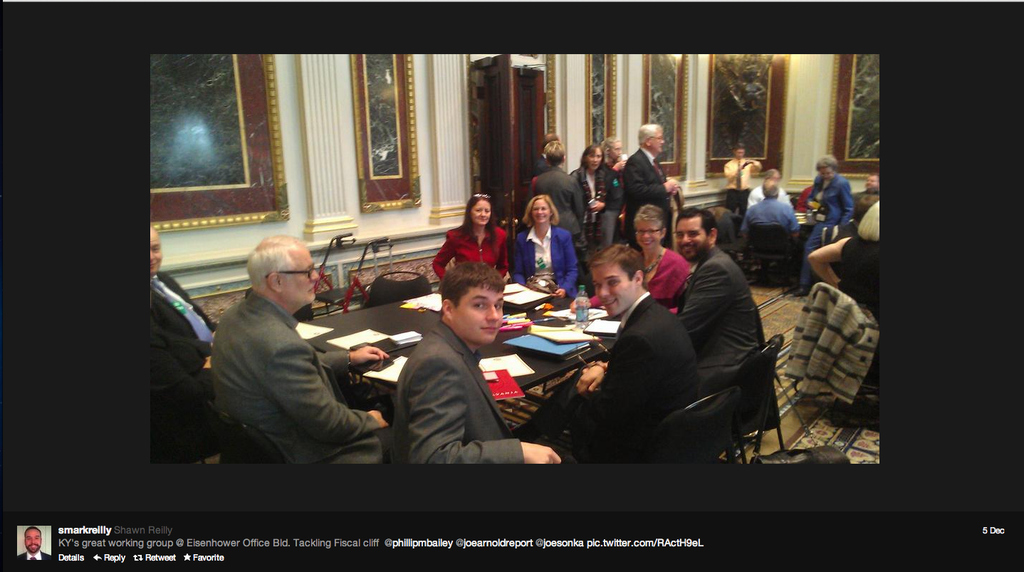 According to the White House website, McCullough is "responsible for the promotion of events across federal agencies and various constituencies" using Twitter, blogs and other forms of social media. McCullough is also the "liaison to the arts and culture community."
McCullough's involvement in Reilly's visit to the White House appears to have been coincidental. According to the source, McCullough is a designated "waver" in Jarrett's office: because of security restrictions, only certain members of each office have the authority to "wave in" visitors to the White House. McCullough does not appear to have been directly involved in the meeting, and she waved in all of the attendees.
On Dec. 13, eight days after Reilly's meeting with the White House, Progress Kentucky tweeted: "The single most important thing we want to achieve: Electing a new US Senator to represent Kentucky," which started a daily barrage of often more than a dozen tweets and retweets directly aimed at McConnell.
Over the next several months the pace of their Twitter attacks, and the vitriol, escalated. The organization hammered McConnell over his positions on fiscal issues, questioned his personal wealth before moving into more personal territory — at one point, Progress Kentucky sent a series of tweets accusing him of favoring China because of her ethnicity and claiming McConnell is a closeted gay man.
Although Judd eventually opted to not run for the Senate, she was courted aggressively by many Democrats, and Progress Kentucky aggressively pushed the possibility of a run in it's tweets.
Although the White House declined to comment, a source familiar with the situation said Reilly was one of 83 other people from Kentucky and Tennessee who attended the event. An administration official addressed the attendees, discussing the then-looming fiscal cliff fight and other items on the White House's upcoming agenda.
Neither Reilly nor any of the other people in attendance had "intimate" one on one meetings with Jarrett or other senior White House officials, according to this source.
Still, Republicans pointed to the evidence of the visitors logs to argue that Reilly is far more connected to the Democratic establishment than leaders would have the public believe.
"The person behind this coordinated Democrat attack was recently sitting in Barack Obama's White House, a claim that probably less than .01% of Kentuckians can make. The same Democratic operative appears to have previously worked with a senior DNC official," said a strategist for the National Republican Senatorial Campaign Committee, Brad Dayspring. "There's no telling where this trail ends, but the fact is Mitch McConnell cares about the people of Kentucky more than anyone, is a damn good Senator, and he's going to keep fighting for Kentuckians no matter how hard the liberal left tries to stop him."