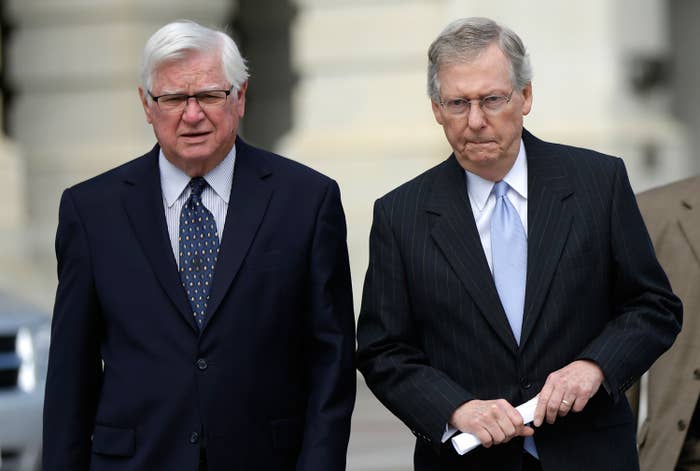 SAN DIEGO — In the waning days of 2015, congressional Republicans agreed to essentially end their decades-long opposition to federally funding state and local needle exchange programs, slipping a repeal of the ban into the end of the year omnibus spending measure with virtually no fanfare.

The decision — purportedly spearheaded by House Appropriations Chairman Hal Rogers and backed by Senate Majority Leader Mitch McConnell, both from Kentucky, as well as West Virginia Republican Sen. Shelley Moore Capito, who is on the Appropriations Committee — came in response to a massive HIV/AIDS outbreak in Indiana, as well as their home state's decision to implement its own exchange to combat growing heroin use.
Rogers and Capito spokespeople did not return requests for comment, but a McConnell aide acknowledged that Rogers pushed for it and that McConnell ensured the language got in the bill.

"If you'd spoken to me at the beginning of last year, I'd have said we're playing the long game, can we even identify a single Republican to champion this," said Michael Collins, Deputy Director of the Drug Policy Alliance.
HIV/AIDS experts and activists hailed the decision. The "partial" repeal passed by Congress in late December will allow exchange programs to pay for "staff, the vans, the gas, rent, everything but the syringes. It's basically a giant work around" to conservative opposition to needle exchanges, said Dr. Steffanie Strathdee, Associate Dean of Global Health Sciences at the University of California at San Diego.
"It will take a lot of [financial] pressure off these groups," Strathdee added.
Collins agreed, noting that "the actual syringes cost almost nothing," but that in keeping the ban on funding needle purchases Republicans aren't technically running afoul of the largely unfounded belief that giving needles to drug users can encourage further use.
Originally implemented in 1988, the ban on needle exchanges came as much of the international community — as well as researchers like Strathdee — were becoming increasingly convinced that these sorts of programs could help reduce the rate of transmission of infectious diseases like HIV/AIDS and tuberculosis amongst intravenous drug users.
The lack of federal funds significantly retarded the growth of state and local programs in the 1990s and 2000s, as state houses and local governments faced increasingly tighter budgets. That, according to Strathdee, in turn hampered efforts to test vulnerable populations for HIV/AIDS and TB, since exchange programs often double as testing centers.
But by 1998, after a decade of growing scientific research supporting the programs, the Clinton administration appeared on the verge of coming out in support of federally funding needle exchange programs. That April, then Department of Health and Human Services Secretary Donna Shalala was planning to hold a press conference announcing the decision to back lifting the ban.
On April 22, then Rep. Denny Hastert — who would go on to become Speaker of the House and, ultimately, plead guilty to fraud charges related to allegations he sexually abused underage boys as a wrestling coach — took to the House floor to denounce the upcoming announcement by Shalala.
"I think we have a bad message, certainly a bad message to drug addicts to all of a sudden say it cannot be too bad. The federal government is giving me the paraphernalia to put these drugs in my veins," Hastert said.
"And certainly the message to parents," he added, "and I think as a parent myself, and a teacher, the worst thing that I would ever want to happen is to think about my kids using drugs … Yet, the federal government is actually saying, oh, by the way, if you need free needles to use drugs, you cannot use drugs. That is bad. That is illegal. But if you want the free needles to use them, here they are."
As part of his floor speech, Hastert entered into congressional testimony a key paper written by Strathdee on needle exchanges in Vancouver — despite the fact that the paper concluded the programs are viable programs that should be encouraged.
According to an April 23 Washington Post report from that year, during a flight from Chile to the United States on Air Force One, Drug Czar Barry McCaffrey pushed Clinton to abandon a push to repeal the ban, insisting it would be too politically risky.
Clinton ultimately agreed, and Shalala ultimately announced that while scientific evidence showed needle exchanges did indeed reduce transmission rates, federal funds would continue to be withheld.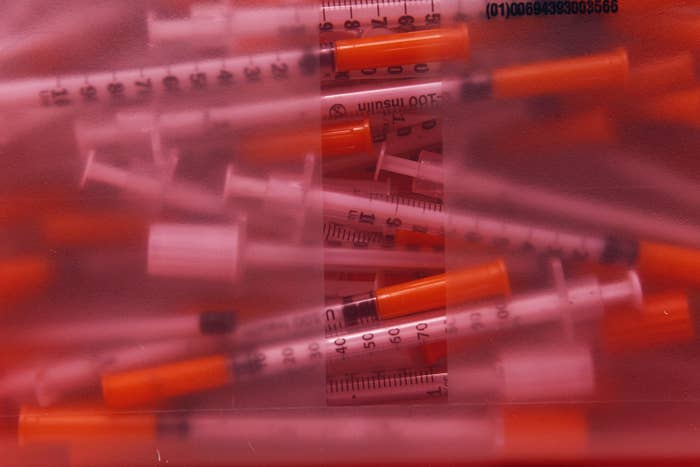 After Democrats took control of the House and Senate in 2006 and President Obama won election in 2008, activists and Democrats moved swiftly to repeal the ban, and in 2009 it was ended.
Almost as soon as federal funds began being used for exchange programs, however, it was ended. After retaking the House in 2010, Republicans made re-enforcing the ban part of their year one priorities, and the ban was once again put in place.
But by this summer, the political winds had once again shifted. Collins said the Indiana HIV/AIDS outbreak and the Kentucky's exchange program — as well as the heroin epidemic that has swept through much of the Midwest over the last few years — helped thaw GOP opposition to the programs. Indeed, while Rogers and McConnell had long been strident opponents to funding exchange programs, Collins said, "Mr. Rogers and his staff decided they weren't ready to fully lift the ban, but they were willing to do a partial lift."
McConnell, meanwhile, committed to ensuring the language was in the Senate's appropriations bill. Combined, the two Bluegrass lawmakers were able to ensure the repeal made it through December's difficult omnibus process.
On Dec. 21, the Centers for Disease Control quietly announced that federal funds could begin flowing to exchange programs. In a statement on the CDC website that went unnoticed by most health officials until this week, National Center for HIV/AIDS, Viral Hepatitis, STD, and TB Prevention Director Dr. Jonathan Mermin said: "Congress has given states and local communities, under limited circumstances, the opportunity to use federal funds to support certain components of syringe services programs. These programs provide sterile injection equipment and may also link individuals to services including HIV and Hepatitis C testing and care for those infected, substance abuse treatment, and overdose prevention."
For Strathdee — who's research was used to implement a ban she opposed — the repeal is something of a personal victory. "I've spent the last couple of decades trying to undo this … when your research is deliberately misused, it really hurts," Strathdee said.