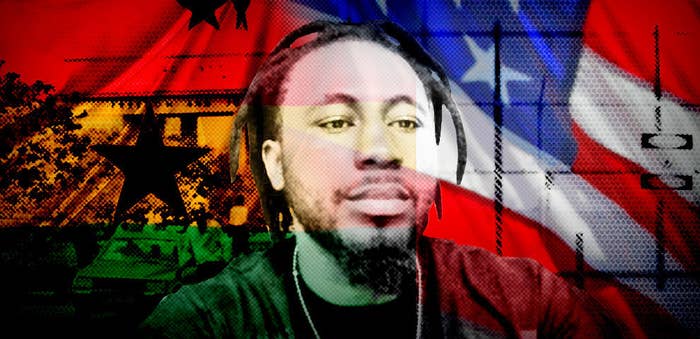 EL PASO, Texas — Amidu Fredrick Sinayor came to this quiet border town from his native Ghana, where he was persecuted for being gay. Abdi, from Somalia, came here to escape Islamist militants who he says tortured him at home.
Since late December, dozens of Africans seeking asylum have entered the United States not by flying directly into the country, but by going first to South or Central America and then trekking northward along the "Migrant Trail" that has been used for decades by Latino migrants to cross into the U.S. from Mexico.
It is an extremely dangerous journey, even for Latin Americans who know the region's customs and political realities, let alone for migrants who don't speak the language and have little in common with the local population. They must walk for hundreds of miles in the jungle, pay off corrupt border officials and the human smugglers known as coyotes, and sometimes battle thieves.
If they survive this harrowing journey and finally cross onto American soil, then their dreams of achieving asylum depend to a shocking extent on which border town they choose to enter the United States. In some jurisdictions, judges grant asylum to 62% of those who come before them. In others, judges grant just 13%, according to federal data collected by the University of Syracuse's Transactional Records Access Clearinghouse.
Sinayor and Abdi told BuzzFeed the story of their journeys from Africa to the U.S. Both ended up in the same detention center in the same border town. Abdi, who on Monday spent eight hours in an asylum hearing, is expected to learn his fate following a July 15 hearing. Sinayor's hearings are scheduled to begin in August.
Sinoyar first thought he would go to South Africa.
He had been seeking to flee Ghana, where intercourse between men is criminalized, since last summer, after he had been repeatedly attacked by the Ga Mashie Youth for Change, a group that beats up gay and lesbian Ghanaians because of their sexuality, and his computer business had been burned down. "They hit me with sticks, whips and their hands," Sinayor said in his asylum application of a November 2012 attack. "They told me this was just a warning and the next time they would come with petrol and burn me to death."
"When I went outside, people would say, 'Here comes the animal,' 'He prefers sex with men more than women,' 'Hey, people, cover your asses or you will get fucked by someone,'" he said. "They would tell me, 'We are going to beat or stone you to death one of these days' … or 'We will hand you over to the police to lock you up like an animal.'"
A.C. Wowolo, a police superintendent in Sakumono, Ghana, said police were unable to charge the local leader of the Ga Mashie Youth who coordinated attacks on Sinayor because: "The Chief and his elders and some politicians both supported this youth movement that targets homosexuals and lesbians … leaving the police with little to do to fully defend and protect the victims," he wrote in a letter to the El Paso immigration court, given to BuzzFeed by Sinayor's lawyer.
So Sinayor fled. He took a bus to Togo, then Benin, then Nigeria, where he considered fleeing to South Africa, because of its constitutional protection of LGBT rights and marriage equality. But cultural acceptance has lagged behind the law, and after seeing news reports from South Africa about violence against gay men, Sinayor decided that the United States was his best bet for asylum.
He traveled to Cameroon, where he paid some sailors $2,000 to hide him in a container ship engine room. After two weeks in his cramped hiding place, allowed out briefly only at night, Sinayor stepped off the boat and onto the shores of Colombia.
After a few days, Sinayor connected with a group of other Africans — mostly Somalis, but also another Ghanaian who fled because he was gay — and began the trek north. Coyotes took them to a well-worn path near the border of Colombia and Panama, where they paid villagers to help them cross. "We walked for two days in the jungle. People had been walking it, so we just followed the path."
When they reached the border, the group turned themselves over to Panamanian authorities, explaining that they were heading to America in search of asylum. This became the pattern: Sinayor would follow migrant trails through the jungle, find a patrolled border crossing, and turn himself over to the local authorities, who after taking him and his fellow travelers into custody would eventually issue them all special papers allowing them to traverse the country.
Detention lengths varied. Costa Rica did not detain them at all and granted them transit papers right away, while in Panama they were taken to the capital and jailed for a month before being released with travel documents and a warning to be out of the country within two weeks.
For migrants, particularly Africans and others who speak little or no Spanish, such travel documents give protection from jailing, but more importantly, they let them travel in the open on buses, a much faster — and far safer — way of traveling than relying on local coyotes.
And yet sometimes coyotes — who are little more than guides, often connected to drug cartels and other criminal organizations — are necessary. They shepherded Sinoyar's group into Nicaragua, and another took them over a mountain on the Honduras–Guatemala border. At Mexico's southern border, coyotes helped them across the Suchiate River "on a raft made of tubes with plywood on top."
On Feb. 15, Sinayor crossed one of the four bridges connecting the Mexican border town of Juarez and El Paso, Texas, approached the first American official he saw, and asked for asylum.
For Abdi, a 22-year-old Somali, the decision to leave his homeland came after the militant Islamist group al-Shabaab destroyed his life. He asked only to be identified by his first name, worried that the group will seek revenge on his wife, mother, or son, who live at a refugee camp in Kenya, if they discover he is in the United States.
Al-Shabaab, which has wrought havoc throughout Somalia and taken responsibility for horrific attacks around Kenya, killed Abdi's father in 2012. "Ten days later, they also arrested me," Abdi recalled. His crime: teaching English to schoolchildren. "They tortured me in so many ways," Abdi says. "Whenever I go back to what happened, to me, I go weak."
He fled to Kenya but still felt unsafe. "Even when I was in Kenya, I was in hiding," he said. For Abdi, the decision to come to America was an obvious one: "When you see U.S., you see good."
Once he decided to leave, Abdi contacted a smuggler in Nairobi named "Carlos" (according to Abdi, the rumor among migrants is that many smugglers have adopted Latino-sounding nicknames). Carlos arranged for him to get a visa to Brazil, and, documents in hand, Abdi boarded an Ethiopian Airlines flight bound for São Paulo in August of last year. Once there, he got ready to make the rest of the journey by land to the U.S.
Travel through Brazil was easy — the country has a large black population, which made blending in easier, and police and military there are not as suspicious of foreigners moving around the country.
Trouble really began when they crossed into Venezuela. Abdi said the group had to pay $600 at one military checkpoint. They were once detained, beaten, and subject to invasive strip searches by police.
Unlike Sinayor, for most of his trip Abdi and his travel companions avoided official checkpoints. But that meant running afoul of local police and military officials, many of whom would arrest or abuse them, demanding money. For instance, in Colombia, "they hit me," Abdi said. But compared with his time in al-Shabaab custody, he added, "this is nothing."
Crossing the border into Panama, the group was given a list of villages they should head for, but were told to stay off roads. "We walked in the jungle for seven days. It's actually a jungle with mountains. We were climbing, then going down, climbing, then going down. Many people die there," he said. They eventually used old, leaky boats for the final leg of the crossing. Later, they would hear that seven Somalis, including a friend of Abdi's, died a few weeks afterward, when their boat collapsed and sank.
Like Sinayor, Abdi eventually made his way to a military checkpoint in Panama, where the group declared themselves as migrants seeking asylum in the United States. After a month in detention, Abdi and six other Somalis resumed their trip north, transit papers in hand.
They occasionally paid local coyotes to drive them for short distances or hire boats, but for much of the time they were on foot. In Nicaragua, their group was attacked by rival coyotes. Abdi was injured during the fight, and the attackers "robbed us and took everything."
For the next 30 days, Abdi's group walked the jungle trails of Central America, slowly making their way to the Mexican border, where they again turned themselves into authorities.
Since 9/11 the path of migration to the United States has changed.
For much of the 20th century, immigrants from countries like Somalia, Ethiopia, and Eritrea would first travel to Europe and, if they were able to secure asylum status there, eventually get a visa to travel to the United States.
Others used legal and forged visas to come directly to the United States. In the 1980s and 1990s, forging travel documents to the United States and other western countries became something of a cottage industry in places such as Addis Ababa.
But in the immigration crackdown that followed 9/11, using forged documents became increasingly difficult. So many turned to South America, where getting legal documents is easier and often cheaper.
But ultimately, the answer for why many African immigrants have been traveling to the U.S. via South America may be simply be because they've heard that someone before them had success. Immigration attorneys point out that migrants will tend to use particular routes across the border for short periods of time before moving into other areas, typically based on word-of-mouth advice.
It's unclear how many African migrants have come up through Central America and Mexico, but asylum seekers have become so common that many countries, including Mexico, have begun issuing special travel documents allowing asylum seekers of all nationalities to move through the region legally on their way to the U.S. border.
And immigration officials Mexico have developed a detention schedule for different countries, according to Sinayor.
"They told us for Ghanaians, it was 19 days," he said, but "if you tell them you're from any war-torn country, they let you go quickly. So we told them we were from CAR," referring to the Central African Republic.
But the gambit didn't work. "They told us nobody from CAR had ever come, and they didn't know how long we'd be there. It took 22 days."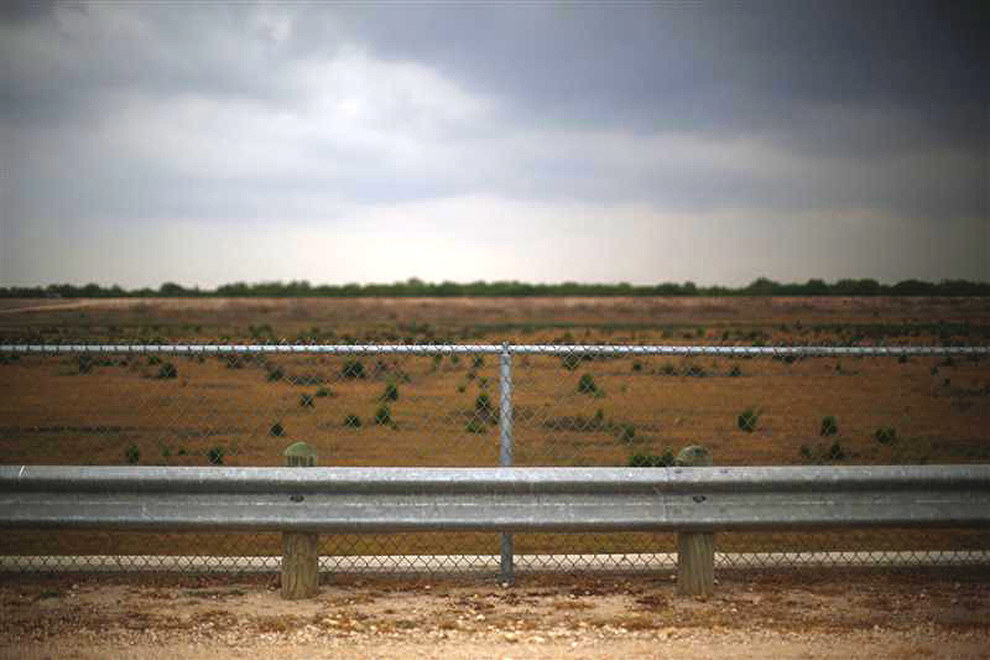 As he approached the U.S.–Mexico border, Abdi faced what he didn't know was a fateful decision: where to cross into the United States. He found a coyote to take him to Tijuana, for $120, but he found another willing to charge $20 less to take him to El Paso instead.
Sinayor and Abdi are now both in the same El Paso detention center, awaiting word of whether they will get asylum in the U.S.
"I thought when we'd get to the border, we would be welcome," Abdi said. "That maybe they'd give us a place to stay." Instead, after crossing the bridge into the U.S., he was detained.
"I didn't expect to be taken as a prisoner," he said, motioning to the concrete walls and one-way mirrors of the "contact room," one of the only areas detainees can be in the same room as visitors. "I also didn't expect to be suspected of being al-Shabaab."
The FBI has interrogated Abdi twice during his detention, and while he said they've never outright accused him of being a member of the Somali terrorist group, "they suspect me."
Sinayor, who also crossed into the U.S. at El Paso, is in the same detention center as Abdi, and both men say they've been treated well. For one thing, prison officials provide them with special halal meals. Their futures remain uncertain, however. As Abdi put it, "The asylum process is difficult. Almost all the people are rejected. Rejected."
"We all see these movies where a guy yells, 'I defect!' and they get asylum. But it doesn't work that way," said David Leopold, a former president of the American Immigration Lawyers Association who is now a private attorney. He pointed to a major problem: "From inside a detention center, it's going to be almost impossible to put together the resources" needed to win an asylum case.
Data collected by the University of Syracuse shows that El Paso immigration judges are significantly less inclined to grant asylum petitions than the national average. The cases are sealed, so it is impossible to judge the merits of petitions presented in these cases. Still, in El Paso, between 2007 and 2012, judges here denied more than 87% of asylum requests. El Paso Judge Thomas Roepke denied 96.3% of the 161 cases that he presided over, making him one of the toughest judges on asylum cases in the country, according to the university's review.
That's significantly higher than the national 50.6% denial rate during that same time, and far higher than other areas along the border, most notably the San Diego sector where judges denied asylum in just 38.1% of cases.
A spokeswoman for the Department of Homeland Security did not return multiple requests for comment. Judge Roepke's office referred a request for comment to Department of Justice spokesperson Kathryn Mattingly. Mattingly declined to comment on the differences in how judges handle asylum cases, saying, "Immigration judges adjudicate each case on a case-by-case basis."
In El Paso, winning asylum cases — especially for non-Mexican or non-Central American detainees — is so rare that when one is granted it often catches everyone in the courtroom off guard. "On the case that I won, almost nobody knew what to do," Nancy Oretskin, an attorney with the Southwest Asylum and Migration Institute who represents both Abdi and Sinayor, said.
Sinayor and other LGBT Africans crossing through Mexico also present a unique set of challenges for the system. While Latin-
American refugees do make asylum claims based on sexual orientation and gender identity, it is still a relatively rare issue for judges in El Paso to deal with, local immigration attorneys said.
For Somalis who find themselves in El Paso, the asylum process is even more difficult, since there is no central government to speak of in Somalia — making it almost impossible to obtain birth certificates or other documents. "The Somalis are having an incredibly difficult time because they don't have any original documents," Oretskin said.
And then there's the fear of terrorism among federal officials, who turn a particularly skeptical eye toward Somalis, wary they may be al-Shabaab agents attempting to exploit the asylum system to gain entry into the United States.
For Abdi, those suspicions of potential connections to al-Shabaab are the worst part of the trip. "Maybe if they suspected me of something else [it wouldn't hurt]. But the same people I hate most in the world? It hurts … I am a victim of al-Shabaab. We have very different ideologies. But not only that. We are enemies. They did nothing to America, but they did everything to me," he said.
"They killed my father, they took my identity from me. I can't go back to my country because of them."