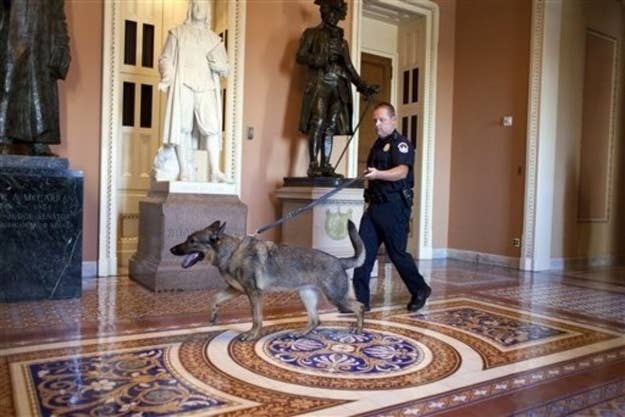 U.S. Capitol Police officers are pushing back against efforts by their bosses to impose a strict new dress code on them that would force officers with tattoos to wear long sleeve uniforms – even in Washington's brutal summer heat.
The effort by police officials to impose a new dress code on Capitol cops comes even as tattoos have lost their stigma, and a growing number of lawmakers — including Reps. Jesse Jackson Jr and Duncan Hunter and Sen. Jim Webb — had work done.
The tattoo rules, and a less controversial body modification rule, are part of a larger package of some 100 new and modified rules human resource officials pushed through in the waning days of former Police Chief Phillip Morse's tenure in May.
"This was never given to the union to review and negotiate on," said Jim Konczos, president of the Capitol Police union.
In fact, according to Konczos, when HR finally turned over the package of new rules to the union for review — after they had been signed — they declined to provide them with any guidance on where changes were being made.
"They didn't have the courtesy to kind of go through the changes they had made, so we to go through it by hand," Konczos said.
The new tattoo rules, which have not yet gone into effect and were first reported by National Journal, would require "Tattoos/body markings of any kind that—in their totality—cover more than one third of the area of exposed skin on an arm or leg are be deemed excessive and must be covered while on duty."
That language has angered a number of officers, since it is not uncommon in Washington for temperatures to hit 100 degrees – indeed, so far this summer Washington has had 26 days with a temperature of at least 90 degrees.
Officers are also unhappy with the fact that the new rule makes the Chief or his "designee" the "the final authority as to the appropriateness of any tattoos."
The new rules also cover other types of body modification, such as nose rings and subdermal implants. Although some female officers had been concerned that the rule would cover breast augmentation procedures, union officials and USCP spokeswoman Kimberly Schneider agreed that was not the case.
"The new USCP policy manual was created as part of our efforts to reinforce uniformity throughout the agency in support of the USCP's mission & goals. These comprehensive policies better describe restrictions and provide more clarity. Our policies follow the best practices in law enforcement & are consistent with other agency's practices," Schneider said in an email.
Other parts of the rules changes are also raising concerns amongst officers, including changes to leave related to the Family and Medical Leave Act, according to Konczos.
"Officers are concerned if they get pregnant and they don't have enough hours on the books, what happens to them," he explained.
Schneider did not immediately return a request for comment regarding the leave policy or union charges that USCP made the changes without input.