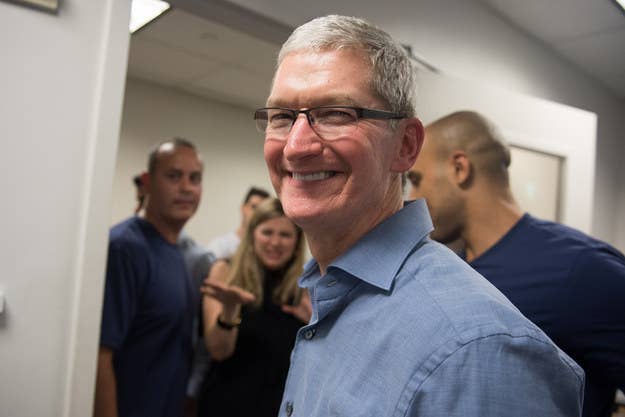 In an all-hands email to Apple employees Friday, CEO Tim Cook said the company is making a "substantial donation" to relief agencies assisting with the refugee crisis in Europe.
"As we've all seen and read in the news, millions of people from Syria and other Middle Eastern countries have fled their homes because of war and persecution," Cook wrote. "Europe, where many hope to find safety, is experiencing a refugee crisis on a scale that hasn't been seen since World War II.
"Our hearts go out to these refugees, and many of you have asked how we can help," Cook wrote.
The answer: 2-for-1 matches of contributions made by Apple employees to the Red Cross. The company is also promoting the Red Cross on the homepage of Apple.com and in its App Store.
Earlier this week, Google offered its help to humanitarian groups looking to help refugees entering Europe, pledging to match the first $5.5 million worth of donations globally to the Red Cross until $11 million is raised.
Cook's email in full:
Team,

As we've all seen and read in the news, millions of people from Syria and other Middle Eastern countries have fled their homes because of war and persecution. Europe, where many hope to find safety, is experiencing a refugee crisis on a scale that hasn't been seen since World War II. Thousands of people have already lost their lives as families embark on long and dangerous journeys across land and sea.

Our hearts go out to these refugees, and many of you have asked how we can help.

Apple is making a substantial donation to relief agencies which provide humanitarian aid to refugees in Europe and around the Mediterranean. We're also making it easy for our customers to support this effort by donating to the Red Cross via the App Store and iTunes.

For employees who donate to the Red Cross campaign and other select relief efforts, Apple will match your contribution 2-for-1. For details, please visit the Apple Matching Gifts program page here.

Apple is dedicated to advancing human rights around the world. We hope the actions we're taking will help make the situation less desperate for some, and ease the hardship so many are enduring.

Thank you.

Tim