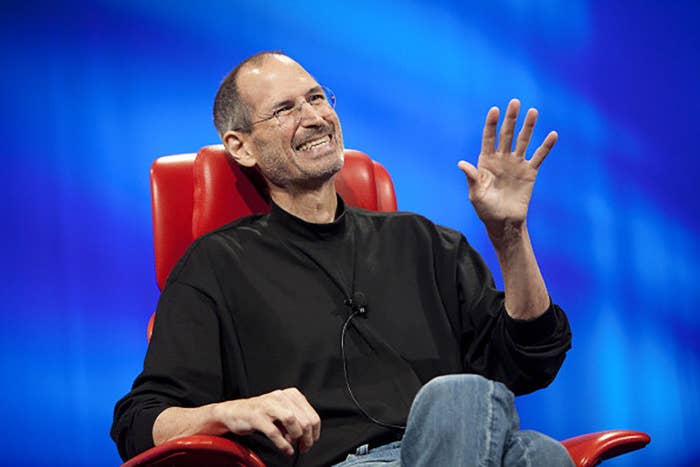 Monday is the fourth anniversary of Apple co-founder Steve Jobs's death, and Apple is marking it with a handful of essays from company luminaries who knew him well. Among those honoring Jobs, who would have turned 60 this year, are Eddy Cue -- Apple's SVP of Internet software and services, Phil Schiller -- Apple's SVP of worldwide marketing, Bud Tribble -- a member of the original Macintosh design team, and CEO Tim Cook. The tributes follow the recent release of a pair of films about Jobs's life that which Cook has publicly dismissed as "opportunistic."
Below, brief excerpts from the pieces, which were posted to Apple's intranet, as well as Cook's all-hands memo.
From Tim Cook's Essay
In February of 2009, Steve was on a leave of absence from Apple and spending his time at his home. I would drop by after work and discuss many things with him. He was waiting for a liver transplant and his health seemed to be rapidly deteriorating. One day in particular, he seemed especially ill and I left feeling so distraught that I threw up in his yard.
I was worried he would not live long enough to reach the top of the waiting list for a cadaver liver. After checking out my own health and researching donor liver transplants, I visited Steve again and told him I wanted to give him a portion of my liver. Despite his condition and the uncertainty of whether he would live long enough to be at the top of the waiting list, he adamantly refused to accept my offer for fear it would place my own health in jeopardy.
That was the kind of person he was. He was unselfish in the face of his own mortality. Even when his outlook was bleak and he had every right to accept help, he refused, rather than put a friend's health at risk. He put his compassion for me above his own needs, and I will never forget it.
-- Tim
From Eddy Cue's Essay
Working with him, I always felt that there was a personal connection. It wasn't just work. And in a way, sometimes he was a brother; sometimes he was a father figure, depending on what it was. But it was a family member nonetheless. And it was somebody you didn't want to disappoint. I've never felt that way about anybody else that I've worked with. You feel that way about your family. You don't wan't to disappoint your dad, you may not want to disappoint your bother or your kids or your wife. But you generally don't feel that way about your boss, per se. There was a different feeling. He had that. He created that. And I think that's part of the personal touch of the relationship that at least I felt I had with him around it.
That was the person he was, the person I knew. There were obviously times where we disagreed, fought, and other things -- like any relationship has. But he was a person who really cared.
-- Eddy
From Phil Schiller's Essay
Steve also had a great sense of humor. We would screw around all of the time. In 2003, we were working on a keynote demo of video conferencing with iChat on the Mac, and Al Gore was gracious enough during his busy schedule to make time to do the demo remotely with us. We were rehearsing the day before the keynote and Al is up on the giant 35-foot screen, and Steve in front of the Mac, and they were going back and forth discussing about what they were going to talk about. Al and Steve start joking a little bit, and as a comeback to something Al said, Steve turned around and mooned Al. He literally dropped his pants. Now, it was PG — he had his boxers on — but he mooned Al. All of us working on it were just dying.
... Steve cared so much about keynotes that he would want to talk about them immediately after. He'd ask, "How do you think it went? How do you think people reacted? What do you think the press is writing?" He'd always call me while he was driving home and say, "Hey, I want to talk to you." It was just the way it was, and it was a warm, great thing.
The day before Steve passed away, we had had a keynote, and Steve obviously wasn't there because he was home ill. We had finished the keynote, and were getting ready for press meetings, and I got the message, "Hey, Steve would like to see you. Can you please come by his house?" Stupid me, I was thinking, "Oh great, we just get done with the keynote, and he wants to talk about it — same old Steve." I'm driving almost into Palo Alto before it hit me full on: "Oh… that's not why I'm going to his house."
-- Phil
From Bud Tribble's Essay
Steve was not a lecturer. If he really wanted to impart or teach you something, he would show you. In 1981, just when the original Mac team had formed — there were maybe a dozen people — we were still trying to figure out what we were building. What should it be? What should it do? What should it look like? And Steve came in one day and said, "We're going on a field trip." And we all thought it would be some team-building exercise. Then he said, "We're going to San Francisco to the de Young museum. They have a Louis Comfort Tiffany exhibit and we're going to just spend the whole day there, looking at what this guy did.
It turned out to be an incredibly good lesson and it set the tone for the Mac group. The electric light had been invented and Thomas Edison wanted to have not just a burning bulb, but a beautiful thing. He convinced Tiffany, an artist, to make lamps. Tiffany used glass and chemistry and metallurgy to build art that was very useful to control light.
I think it was very illustrative of how Steve interacted with his teams and the people who were working for him. And it was an example of art meets technology, and probably one of the first times I saw that from Steve. Just this burning feeling he had -- that was so different from what you found in the Valley, you know? Everything was bits and bytes and how fast was it and how much silicon and how many computations can it do. And here was Steve saying, "We're building something, but it's equally if not more important that it be an artistic act of creation." Because these computers we're making are going to be part of our environment, and if we didn't pay attention to the aesthetics and the artistic nature of what we were doing, then who would? It would end up like the ugly bare bulb burning at the end of the wire.
I spent a lot of time with Steve. He was one of a kind. Really for the world to understand the impact of Steve on the world we live in, it's going to require a lot more time and perspective.
-- Bud
Tim Cook's Message to Apple Employees
Team,
Today marks four years since Steve passed away. On that day, the world lost a visionary. We at Apple lost a leader, a mentor, and many of us lost a dear friend.
Steve was a brilliant person, and his priorities were very simple. He loved his family above all, he loved Apple, and he loved the people with whom he worked so closely and achieved so much.
Each year since his passing, I have reminded everyone in the Apple community that we share the privilege and responsibility of continuing the work Steve loved so much.
What is his legacy? I see it all around us: An incredible team that embodies his spirit of innovation and creativity. The greatest products on earth, beloved by customers and empowering hundreds of millions of people around the world. Soaring achievements in technology and architecture. Experiences of surprise and delight. A company that only he could have built. A company with an intense determination to change the world for the better.
And, of course, the joy he brought his loved ones.
He told me several times in his final years that he hoped to live long enough to see some of the milestones in his children's lives. I was in his office over the summer with Laurene and their youngest daughter. Messages and drawings from his kids to their father are still there on Steve's whiteboard.
If you never knew Steve, you probably work with someone who did or who was here when he led Apple. Please stop one of us today and ask what he was really like. Several of us have posted our personal remembrances on AppleWeb, and I encourage you to read them.
Thank you for honoring Steve by continuing the work he started, and for remembering both who he was and what he stood for.
Tim