Here's The New Apple TV
For Apple, TV isn't just a hobby anymore.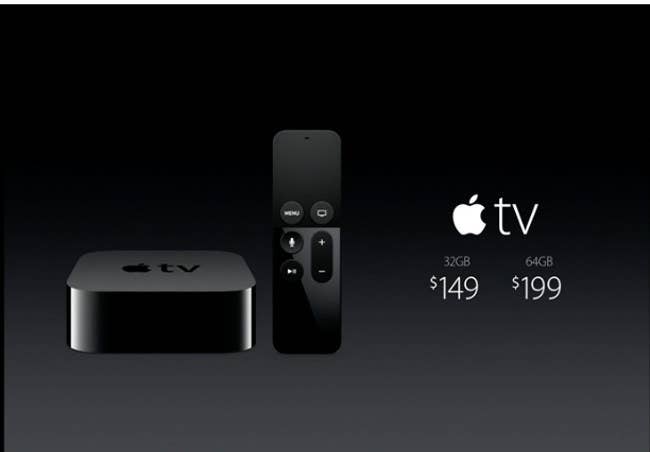 Back in March we told you that Apple had a new Apple TV in the pipeline, that it would use the company's more powerful A8 chip to support Siri voice control, and that it would arrive at market accompanied by an App Store of its own. In April, we told you that the the new Apple TV would not support 4K video streaming, as some had hoped. In June, we told you the diminutive set-top box would feature a new remote that sources said had been "drastically improved" by the addition of a touchpad. In August, we told you Apple would unveil it at a Sept. 9 event alongside the company's new iPhones and iPads. And in early September, we told you that universal search would be a cornerstone feature of the new Apple TV and that it would be priced starting at $149.
Today, Sept. 9, Apple itself told you pretty much the same thing.
Onstage at the Bill Graham Civic Auditorium, Apple CEO Tim Cook unveiled the company's successor to its dusty Apple TV set-top box, which hasn't seen a material upgrade since early 2012 but is sure as hell getting one today. The new Apple TV boasts all the features detailed above along with a new operating system called TVOS, and Apple is hyperbolically touting it as "the future of television."
That's very different from the "hobby" Apple leadership has previously described the device as, even in a year when it racked up $1 billion in sales -- though to be fair, CEO Tim Cook did concede it was getting "difficult" to refer to it as that.
"The TV experience hasn't changed much in decades," Cook said Wednesday. "In fact, the television experience has been standing still while innovation has been thriving in the mobile space. Today we are going to do something about that. Our vision for TV is simple and provocative: We believe the future of television is apps."
With powerful hardware, a modern OS, a brand new user experience and app store, and a motion sensing touch-based remote (Bluetooth!), the new Apple TV is a hobby no longer. It's the foundation of a major growth business and a clear play for the mythical digital living room -- a set-top box that offers video, music, apps and multi-player games. And with support for Siri voice control undergirded by Apple's powerful iOS 9 operating system, it will likely raise the table stakes in a set-top box market cluttered with barely differentiated devices from Amazon, Roku, and others. Siri can search across Netflix, Hulu, HBO, Showtime and iTunes; it can perform granular searches ("Siri, find that episode of Modern Family with Ed Norton in it," "Siri, what did she say?"); it can also scrub through videos, answer questions about movies, fire up your favorite album, turn on close captioning, and tell you the weather or latest sports scores. Meanwhile, a new App Store will bring applications like Airbnb, MLB, Gilt, Guitar Hero and Crossy Road to the big screen.
And this is all before Apple's much-anticipated subscription TV service launches.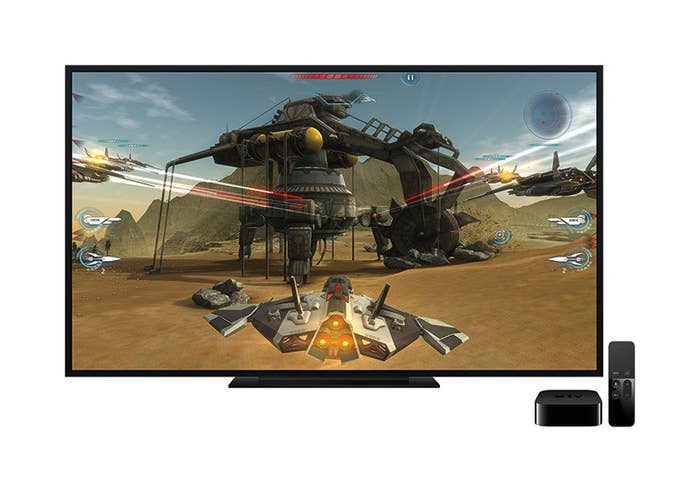 Which makes this Apple TV the first true Apple TV -- or Apple's first attempt at one, anyway. Certainly, it's the best demonstration yet of what Apple believes the home entertainment experience should be, and one that attempts to solve the problems that Apple co-founder Steve Jobs detailed years ago when he said the device was a hobby and nothing more.
"The TV industry has a subsidized model that gives everyone a set-top box for free. So no one wants to buy a box," Jobs said at the D: All Things Digital conference in 2010. "Ask TiVo, ask Roku, ask us … ask Google in a few months. The television industry fundamentally has a subsidized business model that gives everyone a set-top box, and that pretty much undermines innovation in the sector. The only way this is going to change is if you start from scratch, tear up the box, redesign, and get it to the consumer in a way that they want to buy it. But right now, there's no way to do that. … The TV is going to lose until there's a viable go-to-market strategy. That's the fundamental problem with the industry. It's not a problem with the technology, it's a problem with the go-to-market strategy. ... I'm sure smarter people than us will figure this out, but that's why we say Apple TV is a hobby."
Was a hobby.
Now Apple's found a go-to-market strategy it likes. It's torn up the set-top box and redesigned it. It's finally convinced networks like HBO and Showtime to sell their content over Apple TV without requiring a cable or satellite subscription. And it's gearing up to launch an internet TV subscription service of its own that will encompass local TV as well as pay TV. In the process it's tapping into a massive market that hasn't seen significant innovation in years. Consider this: According to a 2015 U.S. Senate survey, the cable industry makes about $19.5 billion renting cable boxes to the typical American household, which forks over an average of $231 a year for the privilege. And it turns out the typical American household does so because it's the easiest choice -- even though it's typically not a very good one.
What might happen if the typical American household were to be offered a better option? Something easily purchased, easily installed, easily navigated, easily updated, and easily populated with games and apps built by legions of iOS developers eager for a new platform that will bring their work to the living room. What might happen if the typical American household were to be offered a set-top box with cable channels that are apps, and a remote that doesn't look like a graphing calculator? A set-top box attached to an iTunes account, not a cable bill; a set-top box that, forgive the reference, "just works"? Will the typical American household keep the cord and its monthly set-top box rental fees, or will it cut it once and for all?
The new Apple TV will ship in late October. Price: $149 for 32GB of storage and $199 for 64GB.