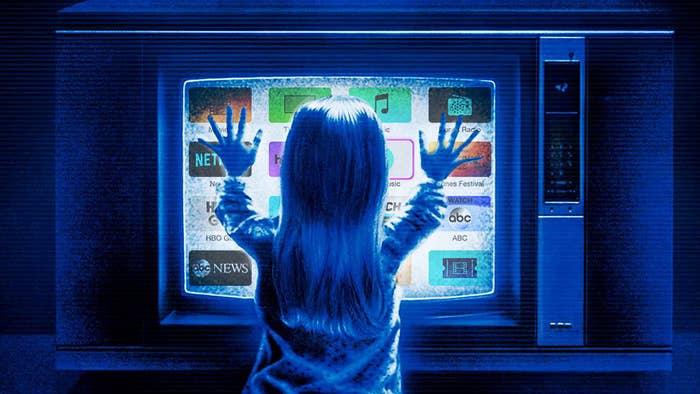 Update: Apple Postpones Debut Of New Apple TV
______________
For years Apple has described TV as an "area of intense interest," trashing the current TV experience as antiquated and asinine, and repeatedly hinting at plans to evolve it. As Apple SVP of Internet Software and Services Eddy Cue said last year at the Code Conference, "the TV experience sucks."
Now, after years of smack talk and "my, isn't TV interesting" teasing, Apple is preparing to mount its long-in-the-offing effort to drag a TV experience that CEO Tim Cook once described as "stuck in the seventies" into an Apple-curated present.
Earlier this week, the Wall Street Journal reported that the subscription internet TV service Apple's been trying to get off the ground since 2009 appears to be finally headed to market. And now sources familiar with the company's plans tell BuzzFeed News that a successor to its dusty and recently discounted Apple TV set top box is headed to market as well. Apple currently intends to show the device off at its annual World Wide Developers Conference in June along with a long-awaited App Store and a software development kit to help developers populate it.
Sources say Apple's new Apple TV is a significant overhaul of the device, one intended to undergird Apple's vision of what the TV viewing experience should be, and to raise the table stakes in a set-top box market cluttered with barely differentiated devices from Amazon, Roku, and others. If I'm understanding the company's strategy correctly, the new Apple TV isn't just a play for a stake of the streaming TV market, but for the mythical digital living room. Think TV, music, apps and a little bit of home automation as well.
As for the new Apple TV box itself, expect an updated design and new innards: the company's latest A8 system-on-chip — or a variant of it: a dramatic increase in on-board storage to accommodate app — well beyond the 8GB in the current device; and an improved operating system that will support Siri voice control of Apple TV, and enable it remotely for a selection of Homekit-enabled home automation devices, as earlier reports have suggested. Presumably it will also feature a new remote.
No word yet on price, though it will obviously be more than the current Apple TV, which recently had its price trimmed to $69 from $99 to make room for its successor. Note that Apple's Web site now lists the device as "starting at $69."
For Apple, which hasn't introduced a new Apple TV since early 2012, the debut of a next-generation set-top box is a tacit acknowledgment that the device, which it long described as a hobby, is quite a bit more than that — a growth business. And now, with an internet TV service that seems likely to actually see the light of day, the company could be poised to push it to the next level.
Apple, as it almost always does, declined to comment "on rumor and speculation."