At its fall event, Apple debuted a new generation of MacBook Pro laptops that seem poised to eventually replace its MacBook Air line, now that the Pros are thinner and faster. The new MacBook Pros are all-metal and come in 13-inch and 15-inch versions. Their key upgrade is a new touch panel, called the "TouchBar," that replaces the function bar. The TouchBar adjusts according to whatever app you're using to provide application-specific functions, which seems particularly useful for photo and video editing, sending emojis, and even DJing. Apple is selling a 13-inch MacBook without the TouchBar for $1,499; a 13-inch Pro with TouchBar is $1,799; and a 15-inch with TouchBar is going for $2,399.
Apple also announced an Apple TV update and — dramatic pause — a new app, which Tim Cook said is "simply called 'TV.'" The TV app unifies all your content so you can access it in one place, including shows you're watching from different video services like HBO Now and Hulu, your purchased content in your iTunes Library, as well as live news and sports. The new app will work on Apple TV, the iPad, and the iPhone.
Apple seems to be refocusing its laptop lines on the MacBook Pro rather than the MacBook Air.
Notably absent from today's event were any mentions of the MacBook Air — other than to note how much thinner and faster the new MacBook Pro is compared to the Air.
Hello, New MacBook Pros; Goodbye Function Bar
"This week happens to be a huge week in the history of the Mac and in the history of Apple. This week marks the 25th anniversary of our first notebook."
So said Cook ahead of the expected introduction of Apple's next-generation MacBook Pro laptops. The new machines are largely as expected, featuring that rumored OLED touch bar and a new "metal" design. The 13 inch version weighs 3 pounds -- almost half a pound less than its predecessor. It's also thinner and smaller in volume. The 15-inch version weighs 4 pounds. Both machines have new keyboards with second generation Butterfly keys that Apple SVP Phil Schiller claims are more responsive than those that preceded them. The new displays are 67% brighter, and their innards -- processors, GPUs and storage -- are all faster. Rounding things out: new speakers that are louder and some sort of new thermal scheme. As with ALL MacBooks, these newest ones are the "thinnest and lightest ever" -- thinner even than the MacBook Air, it turns out. They are also "the most powerful" -- 6.8 million times faster than Apple's very first laptop.
Evidently also quite powerful: A pair of new speakers with double the dynamic range. Port-wise we're looking at 4 Thunderbolt 3 ports (which USB C) and what appears to be A HEADPHONE JACK! Battery life: expect about 10 hours.
The tentpole feature of both devices is that new multitouch function bar. Apple calls it TouchBar. Featuring a Retina Display, the TouchBar adjusts according to whatever app you're using to provide application-specific functions AND navigation. Not only can it display things like System Controls, it can also handle navigation for apps like Photos (whose pictures it displays on its diminutive horizontal screen) and Photoshop, which is using it to show in-app menus that it would normally bury in onscreen tabs (think brush size, color, blend). Microsoft, Adobe, and other developers are all planning TouchBar support for their marquee apps.
Also built into TouchBar: Apple's TouchID biometric sensor for authentication, fast user-switching and Apple Pay. It's really a a feature-rich addition. "It was crazy keeping 45 year old function keys around," said Schiller in a tongue-in-cheek eulogy for the function bar.
Price? $1499 for a 13-inch without TouchBar; $1799 for a 13-inch with TouchBar; $2399 for a 15-inch with TouchBar. They're all available for order today, with the TouchBar models shipping in a few weeks,
"For 25 years we have been defining and redefining what a notebook is and what a notebook can do," Cook said before wrapping the event up with an overview of the other hardware Apple has rolled out this year.
An update for Apple TV: a new app called "TV"; Minecraft; Twitter for the big screen.
Since launching tvOS last year, Tim Cook said that the Apple TV platform now has 8,000 apps with 2,000 games and 1,600 apps from video providers.
The big announcement is a new unified TV app simply called, "TV" for Apple TV, iPad, and iPhone. The app features four categories: Watch Now, Library, Store, Search.
Watch Now features shows you're currently watching from different video services like HBO Now, CBS, and iTunes. It also displays TV and movie picks and genre collections like "Political Animals" that are "hand-curated" by Apple editors.
The Library includes your purchased content, and Store lets you download apps.
Siri can now take you to live news and sports (try saying "Watch CBS News"). Swipe up to view more news and watch a different story.
Minecraft is also coming to Apple TV, as well as a Twitter integration. Users can now swipe left while watching an NFL or NBA game to view a timeline featuring tweets from athletes, stats from sports media, and reactions from fans. To respond to tweets, you can "send" the tweet to your iPhone to reply on your mobile device.
The tvOS update will be available in December.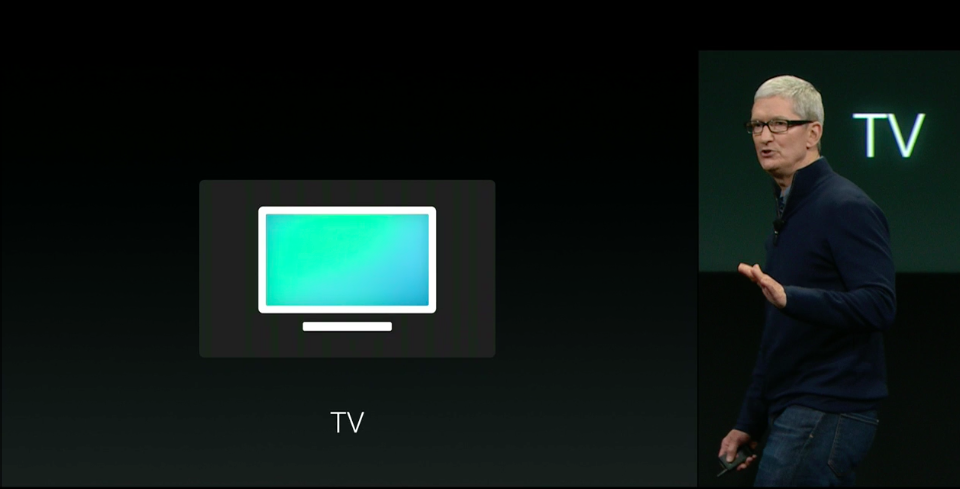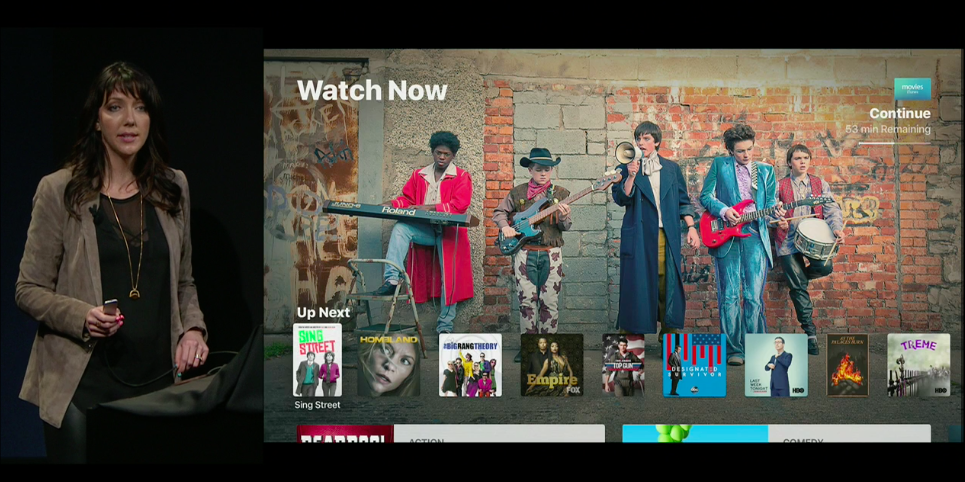 A Victory Lap And Some Smack Talk
Today's event kicked off with a short video featuring a broad overview of Apple's accessibility tech. When it concluded, CEO Tim Cook took the stage to tout the company's work in the field before taking the standard Apple victory lap — this one focused on reviews of the iPhone 7 and its camera. Cook noted that over 400 million Memories have been created and viewed in Apple's Photos App; he read some quotes from early glowing reviews of the latest Apple Watch. And, in a dig at Google's Android OS, he noted that already 60% of iPhone users have upgraded to iOS 10, while just 1% of Android users have upgraded to Android 7, which shipped earlier.
Apple's Last Special Event At Town Hall?
Today's event is being held at Apple's Town Hall, a much smaller venue than San Francisco's Bill Graham Civic Auditorium, the site of the company's last few product launches. That said, this room has hosted some milestone Apple events — Steve Jobs debuted the redesigned MacBook Air here; Apple held its iPhone 4 "antennagate" briefing; Town Hall is also the site of Tim Cook's first big product announcement — the iPhone 4S. Today is likely to be the last ever media event in this space — barring construction delays on Apple's new "space ship" campus.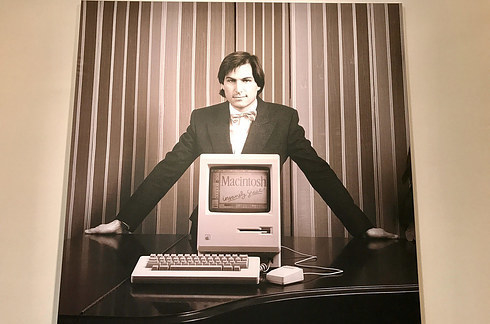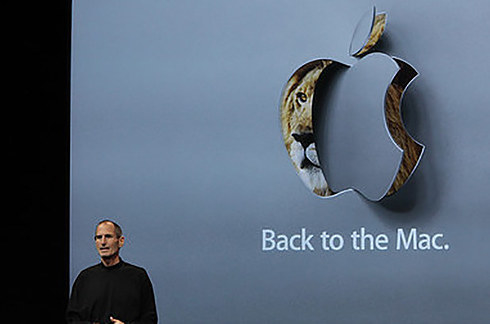 AirPods: Wireless. Effortless. Magical. Delayed.
When Apple unveiled its new AirPod wireless headphones at its September event, the company pledged to ship them by October's end. And that was still the plan as of about two weeks ago. But on Monday afternoon, Apple said it needs "a little more time before AirPods are ready for our customers" and wouldn't be shipping them this month. Sources close to Apple say the company had planned to announce retail availability of the Bluetooth buds at today's event, but reversed course "very recently."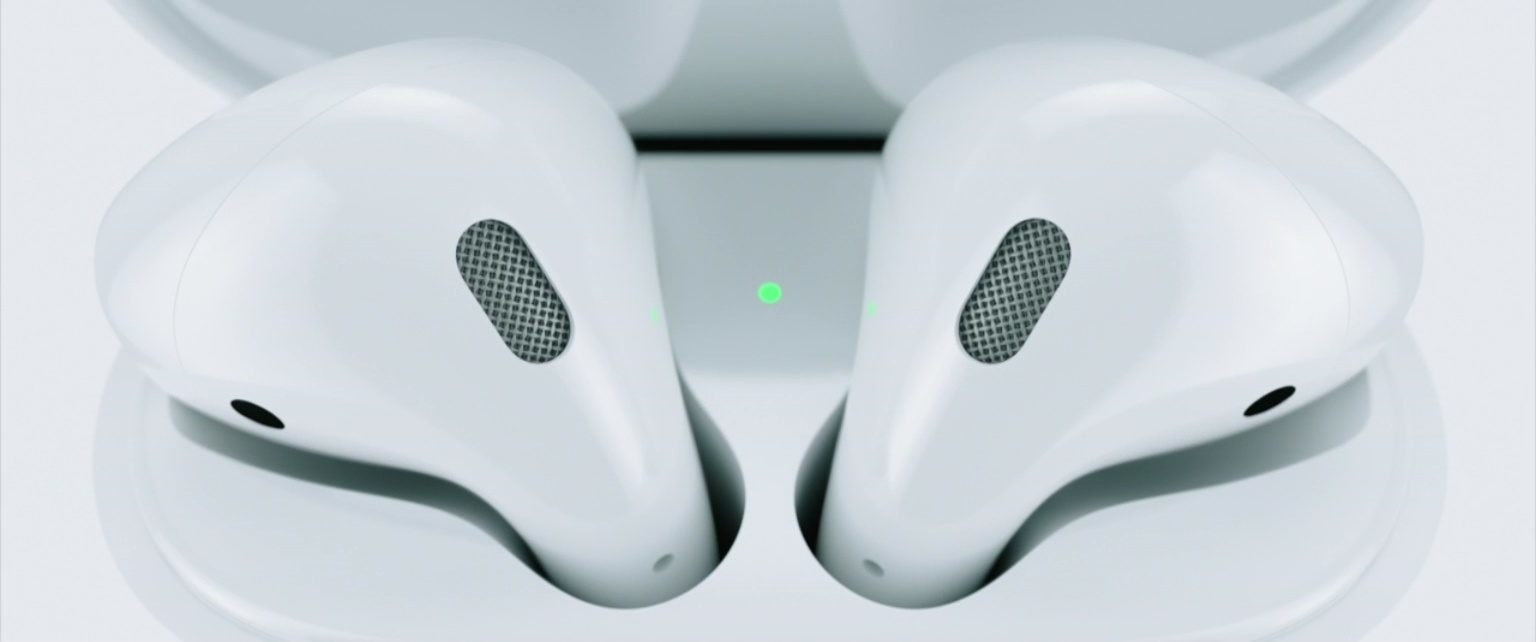 So Much For "Doubling Down on Secrecy"
"We're going to double down on secrecy on products."
Apple CEO Tim Cook said that back in 2012. Now, four years later, it might be a good time to remind the company's rank and file of that mandate. In just a few moments Apple will unveil its next generation MacBook Pro, but thanks to an embarrassing pre-event gaffe, you've probably already seen its marquee feature: an OLED touch panel with support for Touch ID, Apple's biometric fingerprint recognition tech. On Monday, a MacRumors tipster discovered an image of the unreleased MacBook Pro buried deep in Mac OS Sierra 10.12.1 release. And it shows not only an OLED touch panel replacing the standard top-row function keys on Apple's laptops, but a human finger using a Touch ID sensor to authenticate Apple Pay.