Here Are The Biggest Announcements From Apple's WWDC 2017
New iMacs, iPads, and iOS. Plus, the introduction of a brand-new device: the Apple HomePod.
Apple's yearly developer's conference was jammed with new announcements today.
Perhaps the biggest news is a brand new addition to Apple's hardware line: a smart speaker called HomePod. It'll run you $349 and for that price you'll get full voice integration with Siri, access to Apple Music and its in-device 'Musicologist.' A big highlight is HomePod's ability to detect the spaces in your environment and create a sound for that particular space. It's a definite Amazon Echo/Google Home/Sonos competitor.
Apple also spent a big chunk of the keynote unveiling its new iPad Pros, which it hopes will incentivize more people to opt for an iPad as a primary computing device. To sweeten the deal, Apple packed a ton of productivity software geared just for the iPad into iOS 11. There's a 10.5- inch that starts at $649 and a 12.9-inch that starts $799. Both start out with 64GB of memory, but offer a new 512GB option as well. They're available for order now, shipping next week.
Every WWDC, Apple shows off the latest version of iOS, and this year was no different. iOS 11 will ship in the fall and is has a slew of new features and updates including-but-not-limited to: Apple Pay person-to-person integration into Messages; a new camera with better low-light capability; a new App Store; Do Not Disturb safety features for driving; and a lot of new, intelligent Siri integrations (Basically, Siri is going to attempt to do more in the background. Which means it'll be smarter — and it's always listening).
Continuing with the souped up new hardware, Apple also unveiled new iMacs with much brighter screens, better storage, and more powerful chips. These are targeted at casual users as well as pros. And speaking of pros, the company announced a new iMac Pro, which will cost $4,999. It's space grey and a total monster in terms of processing capability.
There's also the unveiling of WatchOS 4, which featured new watch faces, Airpod Sync, and a whole mess of fitness apps (your watch can now sync up and share data with gym equipment like treadmills).
Catch up on the rest in our liveblog below:
We're live from WWDC! Stay tuned here for the latest from Apple's big event.
This is HomePod, Apple's new smart speaker
Watch out, Echo. Apple is positioning its smart speaker, which will cost $349, as one that's built to deliver high-quality audio. This smart speaker is coming later this year and comes in black or white.
There's an intelligent "musicologist" on board that responds to "Hey Siri" commands. You can say "Play Beats One radio" or "Who's the drummer in this?" or "Play more like that" or "I like that song". But it's not just limited to music: podcast, news, traffic, sports, reminders, timers, texting with Messages, HomeKit smart home device control.
It's powered by the iPhone's A8 chip, and detects the spaces in your environment and creates a sound for that particular space (Sonos has a similar feature). Like the Echo and Google Home, it has far field speech recognition, so you can talk to it from across the room. Two HomePods can also work together.
When you say "Hey Siri" your request is sent with an anonymous Siri ID, that isn't attached with your identity.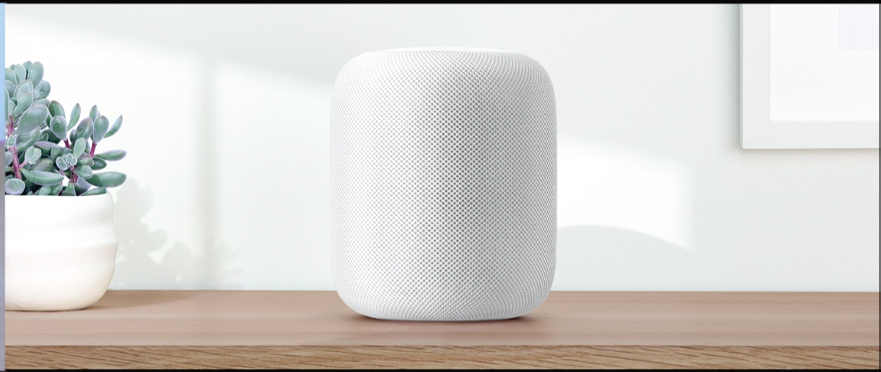 iOS 11 has a *lot* of iPad-specific productivity features
Get ready for a 10.5-inch iPad Pro
"We've been pushing the boundaries on iPad for years," said CEO Tim Cook. "Today we're going to push them further than ever before."
It's been about 14 months since Apple debuted a 9.7-inch iPad pro, the smaller sibling to the bigass 12.9-inch tablet it debuted in November of 2015. Today the company upgraded it by swapping it out for an entirely new model with a 10.5-inch display that's roughly the same overall size and weight of its predecessor. That new display size provides about 20% more screen area than the 9.7-inch version and enough real-estate for a full-size onscreen keyboard. Besides being larger, the display is dramatically brighter, with 600 nits of brightness (the first iPad Pro boasted 500 nits). It's also outfitted with Apple's True Tone tech, which uses ambient light sensors to automatically adjust the display to the most ideal color temperature for the room you're using it in.
Apple's big iPad display innovation this year is something it's calling ProMotion. It doubles the display's refresh rate so that anything that appears on it is drawn twice as often. It makes anything that moves on the display — even system stuff like scrolling or zooming — smoother and more detailed. It also makes Apple Pencil much more responsive. Evidently, they've gotten Pencil latency down to 20 milliseconds.
Driving all this stuff is a new Apple-designed A10X Fusion chip that the company claims delivers 30 percent faster computing performance and 40 percent faster graphics performance than the A9X chip in previous iPad Pros. Worth noting that despite the performance improvements here, Apple says battery life will remain consistent at 10 hours.
For folks unashamed of using an iPad as a camera, the 10.5-inch iPad Pro's camera system is basically identical to the one in the iPhone 7 — same 12 megapixel sensor, same optical image stabilization, six element lens, etc. It can capture and edit 4k video.
Apple is bringing all this stuff to the next generation 12.9-inch iPad as well as the new 10.5, along with new accessories — Smart Keyboards, etc.
Pricing: The 10.5 starts at $649, the 12.9 starts $799. Both start out with 64GB of memory, but offer a new 512GB option as well. They're available for order now, shipping next week.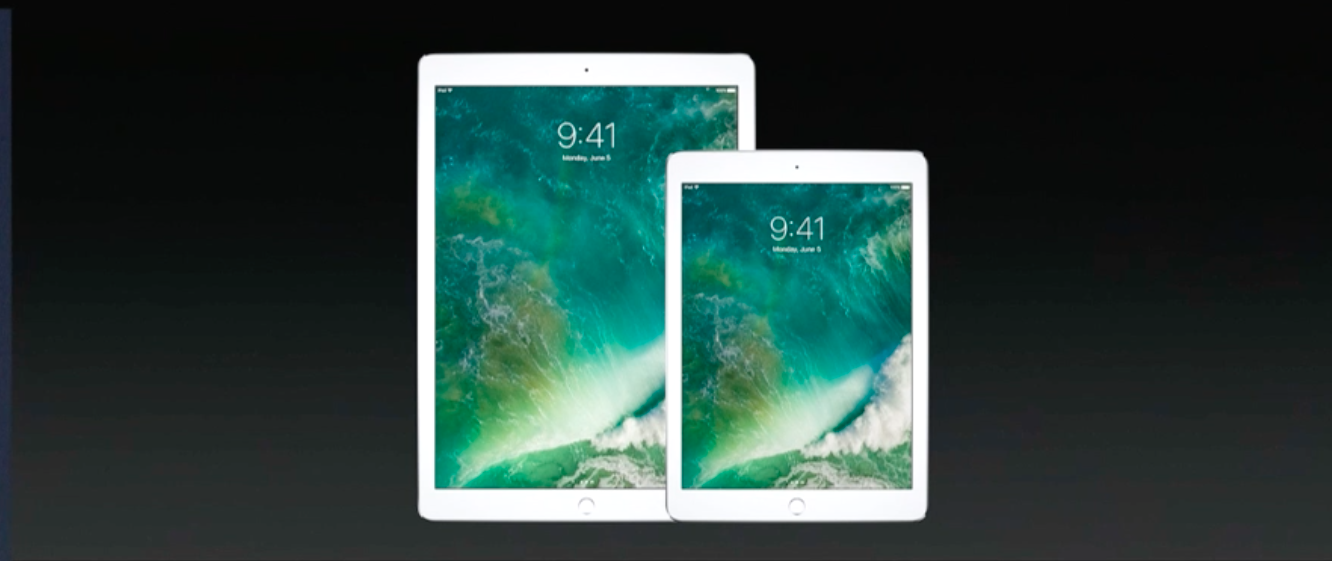 The new Mac OS is called High Sierra and everyone made the same joke
420 blaze it!!!!!! JK only if you live in Washington, Colorado, California, or Massachusetts.
Read more here.
And here's a video of ARkit:
Lots of machine learning and augmented reality
Apple execs spoke throughout the keynote about machine learning and AR and how they're in nearly every Apple update — from the predictive iPad writing with Apple Pencil to how your phone predicts battery life on your devices. And machine learning is crucial for facial recognition in photos.
Today, Apple is adding new APIs: a Vision API with face tracking and face detection. There's a natural language API, too.
This gives developers access to deep neural networks, as well as the ability to manipulate user data while protecting privacy for users. It's 6x faster than Google Pixel on recognizing images.
Augmented Reality: Apple has a new core technology called ARkit.
In a swanky demo, Apple showed how the AR tool kit works, adding a bunch of digital objects into the camera screen. You can manipulate these objects in real time and AR kit provides motion tracking that allows you to estimate ambient light. It also estimates scale so things are the size they should be (a coffee cup will look small on a table, a lamp will look bigger).
Here's ARkit in action: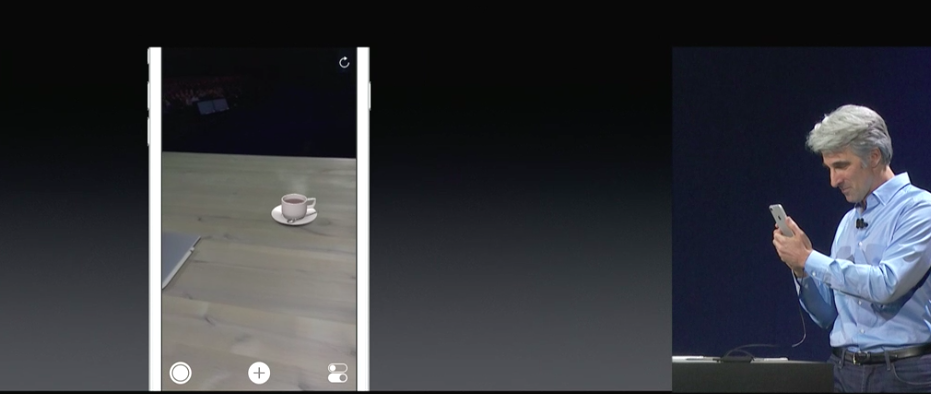 There's a big ol' audio update for iOS
After allowing Airplay to languish for years, Apple is finally giving it an update pegged to its Homekit home automation tech. The company has built multi-room audio into HomeKit. You'll now be able to configure wireless speakers via the app and access them via a new AirPlay 2 protocol. Also supported: home-wide audio playback via Siri, whether it be from Apple TV or iPhone. For developers, Apple is providing a new Apple Music API called MusicKit that will allow them to build apps that tap into Apple's Apple Music service.
There's a big update coming to the App Store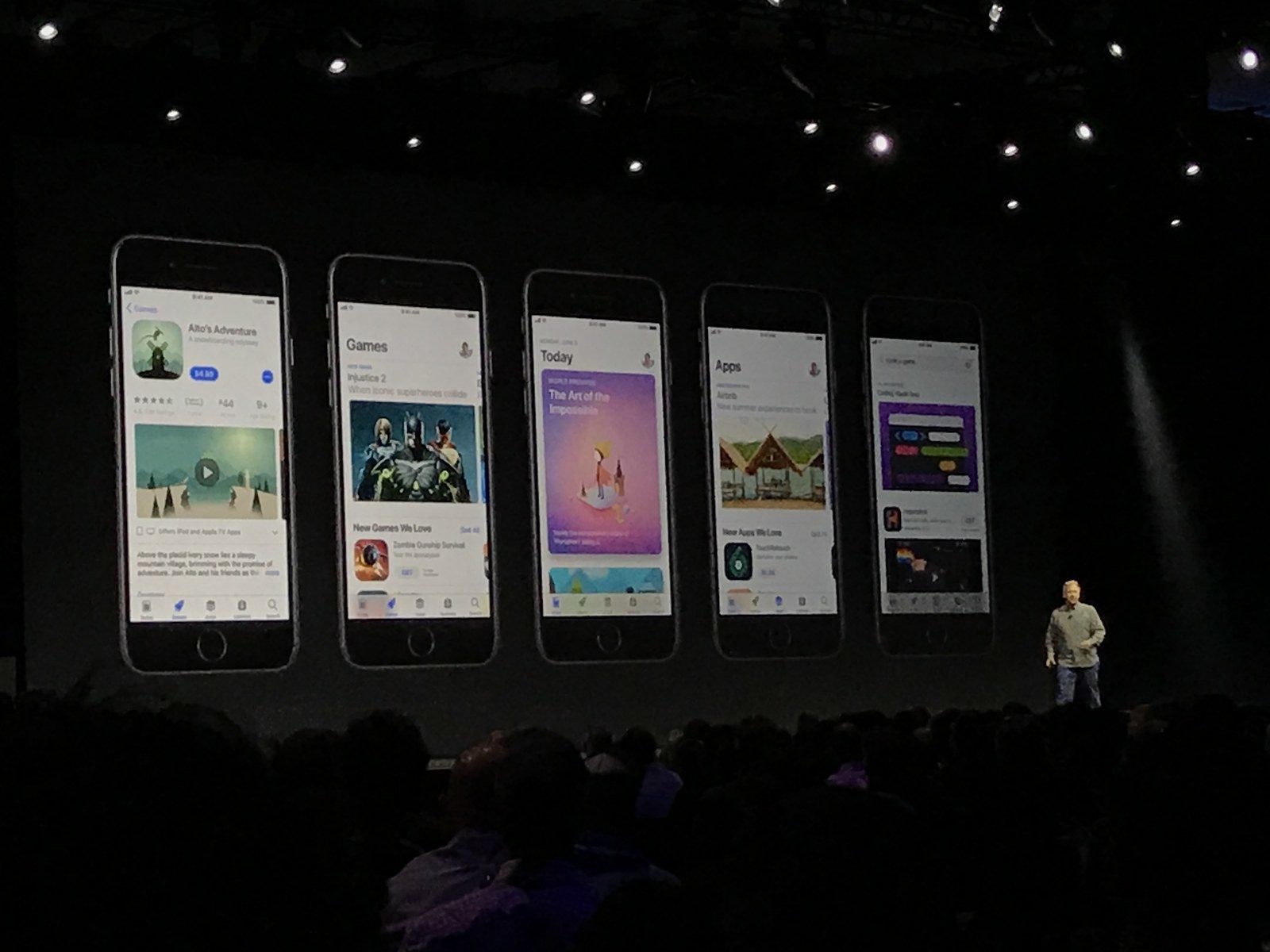 Do Not Disturb While Driving is a new feature meant to discourage texting and driving
Do Not Disturb While Driving is a feature that, once turned on, will then automatically detect when you're driving and turn off all notifications, including texts. People who text you while the feature is on will get an auto-reply that tells them that you're driving, and that they can reply "urgent" to get their original text to go through. And if you're a passenger in the car and you have the feature turned on, you can let your phone know that you're not actually driving and it will deactivate it.
There's a new Control Center in iOS
Control Center — where all your notificaions live — is now a single page.
Orientation lock: Using sliders you can adjust volume and access more controls for music. Control Center will now use 3-D touch to give depth controls as well
A cool thing: Now when you unlock the device, you can actually now swipe back down and get the old notifications — they won't go away!
Your camera is about to get better in iOS 11, too
A look at Apple Pay inside Messages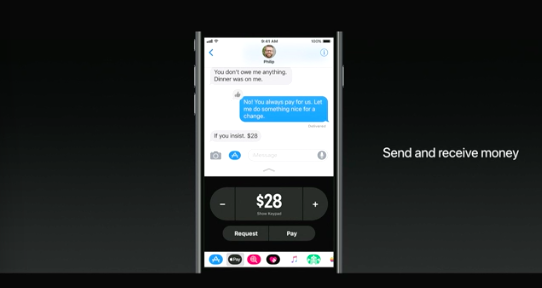 iOS is getting its yearly update
Tim Cook starts with a solid Dad Joke that Apple is turning its iOS software to '11.'
Messages: Redesigned app drawer. Makes it easier to use apps and stickers in Messages.
Messages will also have iCloud integration so your messages are in sync across all of your devices. That means when you delete embarrassing messages on an iPhone, they'll immediately delete off your iPad.
Apple Pay: Person to person payments. Integrated right into Messages. You can send money right in the chat window — with a one tap authentication. It's a big run at things like Square Cash and Venmo.
Siri: Apple is playing up Siri in a BIG WAY this conference. Some stats: 375 million devices. 21 languages in 36 countries. In iOS 11 Siri is going to get an update.
The key word is here is "deep learning."
Siri will do on the fly translations from English into Chinese, Spanish, French, German, and Italian.
Siri Intelligence: They're playing up that Siri understands your context, interests, and your device. So it will help you predict what apps you want to use next, and will help respond to texts. It will use "on-device learning" and actually suggest topics you might want to learn about in news. It can respond with your location to a friend who's asking where you're going. And it can make calendar invites based on things you just booked on Safari. It's one Siri across all devices. And — as always — Apple plays up the privacy element.
Basically, Siri is going to attempt to do more in the background. Which means it'll be smarter — and it's always listening.
Surprise! iMac Pro
Turns out there's another iMac waiting in the wings. A much more powerful machine aimed at the pro market. This is the iMac Pro Apple hinted at back in April. The company touts it as workstation class performance in a 5K iMac design. It's space grey and seems to be a monster from a spec standpoint. I'm not going to list them all here, but per Apple it's capable of managing up to 22 teraflops of half precision computation, which sounds pretty badass. The iMac Pro is a machine Apple is pitching for everything from real-time 3D rendering to immersive VR to machine learning development.
Starting price when it arrives at market in December? $4999.
Here's what the displays will look like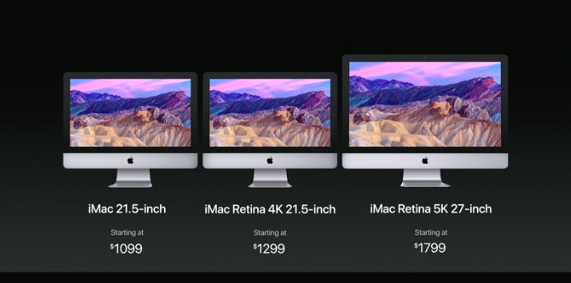 Hey, look! New iMacs
We've got new iMacs with much brighter screens, better storage, and more powerful chips. These are targeted at casual users as well as pros.
The new displays are now going to be 500 nits — which is a fancy way of saying they'll be 43% brighter than the previous generation and will be able to reproduce up to a billion colors. And on the 27 inch iMac, the SSD will be 50% faster, now have up to 2 terabytes of storage.
To drive home the Pro element — Apple did a fancy Star Wars demo with Darth Vader and a bunch of lava.
macOS High Sierra has a lot for developers, and refinements for everyone else
The latest operating system, for consumers, is just a slight improvement over last year's release, macOS Sierra. The new version is called macOS High Sierra (heh), and it brings some refinements to core apps like Safari, Mail, and Photos.
Safari: VP Craig Federighi says that the web browser is the "world's fastest desktop browser with High Sierra." Running modern javascript, Safari is 80% faster than Chrome. The browser is also introducing intelligent ad tracking prevention, which won't block ads but will automatically stop ad trackers from following you around the web. The biggest announcement is blocking auto-play videos and audio on annoying web pages.
Mail: Search in mail is now improved with Spotlight. Instead of prioritizing your most recent emails, search will also surface top hits. Split View for the compose window is now available, and High Sierra also offers 30% less disk space for the Mail app.
Photos: There are new organization and editing tools in Photos. You can now view your album by media type, favorites, and other parameters. Face recognition is now improved, and if you name faces, they are now synced across iOS devices and the Mac. Photos also play nice with other editing apps now. So, if you punch out to Photoshop and save the image file, it'll sync to your Photos library.
Apple is also opening up image publishing to other developers (it has typically offered its own printed books through Photos). So now you can print wall mounted photos or publish websites based off of images in an album.
For developers, there are a lot of improvements in data, video, and graphics. The file system on the Mac is changing to the faster Apple File System as a default. For graphics, Apple is introducing Metal 2, which has a faster frame debugger, 10x faster in draw call throughput, machine learning capabilities, support for external graphics, and – finally – support for new Steam VR SDK. Unity and Unreal engines are also coming to the Mac.
The developer preview is available today, with a public beta out in late June and a wide public release shipping in the fall.
Apple unveils WatchOS 4
New Watch Faces: New integration with Siri alows you to tap easily and talk to Siri. Apple is really drilling down on its machine learning and voice assistant as a major part of its operating system (similar to Google). Here's the proof. There's also some fancy kaleidoscope watch face and a bunch of Toy Story watch faces.
Activity: Apple's rolling out new personalized activity goals and coaching for fitness — including challenges based on your activity history. The workout app has a new user interface with better pool integration for swimmers. Apple is really working on fitness.
The coolest bit: a new feature that does two-way information exchange with gym equipment (LifeFitness, Cybex, Stairmaster and others). It'll take your info and the gym equipment's info and allow your watch to talk to your treadmill.
Airpod Sync: The Airpods are really the key to Siri integration into all of Apple's hardware. It's getting more sophisticated and you'll have better watch/Airpod synergy here.
Other Stuff: There's better integration with apps like Apple News. And the flashlight on the watch now acts as a safety strobe if you're working out late at night.
Get ready for "Transparent" and "Man In The High Castle" on AppleTV
After a shorter than usual preamble, Apple CEO Tim Cook gets right to the news. He says there are 6 important announcements to come related to Apple's four big platforms — tvOS, iOS, macOS, and watchOS. The first is for tvOS and Apple TV. Amazon Prime Video is indeed coming to Apple TV and the TV app as we earlier reported. No firm launch date yet, just a "coming later this year." Also coming later this year? "A lot more about tvOS." Could Apple's long-in-the-offing over-the-top streaming service finally be ready for prime time?

Two iOS 11 features — a file management app and drag and drop capabilities between apps — have leaked ahead of the keynote
20 minutes to go...
It's that time of year again: Apple's annual Worldwide Developers Conference kicks off on June 5
All eyes will be on Monday's keynote, at which Apple typically reveals new updates to its iOS software for iPhone and iPad, as well as the macOS operating system for its desktop computers. The company has already released its victory lap of numbers — traditionally revealed during the event — making room for what we believe will be a slew of announcements.
In addition to previews of iOS 11 and macOS 10.13, the company is rumored to take the wraps off of refreshed iPad Pro and 12-inch MacBook models, and maybe offer a sneak peek of a pro-level iMac. We also may get a look at watchOS 4 for the Apple Watch and tvOS 11 for Apple TV (complete with Amazon Prime Video). A Siri-powered speaker may also be previewed at the event, though some reports point to a September release.
We'll be on the ground at McEnry Convention Center in San Jose, CA, so join us for our live coverage of WWDC here, starting at 10 a.m. Pacific. You can also tune into the keynote at apple.com/apple-events/june-2017 (Mac users will need Safari, and Windows users will need Microsoft Edge to view the livestream) or following along on Twitter with us at @fwd.