Nothing earthshaking happened at this year's Apple Worldwide Developer Conference at the Bill Graham Civic Auditorium in San Francisco. There was no new hardware and no new hardware redesigns. There wasn't a software announcement on the scale of last year's rollout of the new Apple Music. Tim Cook didn't even say "just one more thing."
Instead, the company outlined a series of commonsense and pretty cool updates to its hugely popular operating systems: OS X (Now called Mac OS Sierra), iOS 10, WatchOS 3 and tvOS. It was, more than anything, grab bag of new features and upgrades that make these OSs all slightly better and more usable. They include speed and safety upgrades for WatchOS; cross-app sign-in and better Siri functionality for tvOS; Apple Pay and better Siri functionality for Mac OS; and a host of upgrades to iOS that include upgrades to Photos, Maps, and Siri, most notably third-party access to the virtual assistant.
Here's a full rundown of what happened:
Wrapping Up
A final video showcasing a handful of developers and their stories, and Cook returns to the stage for some final remarks. "I can't wait to see what this next generation of developers are going to create to make the world a better place," he says. "At Apple we believe that technology should lift humanity. That it should enrich people's lives in all the ways they want to experience it, whether it's on their wrists, in their living room, on their desks, in the palm of their hand, or in the car. I'd like to thank everyone at Apple and all the teams that worked so hard to make this day happen."
Teaching Kids to Code
Apple is pushing its Swift programming language forward with a new app. Called Swift Playgrounds, it's an iPad app designed to teach people to code. Simple and intuitive, Apple hopes it will make coding accessible to millions of kids around the world who don't yet code, but might want to learn. Swift Playgrounds will ship later this year, and Apple is making it available for free.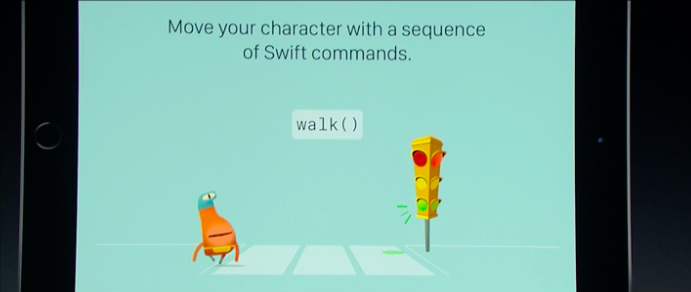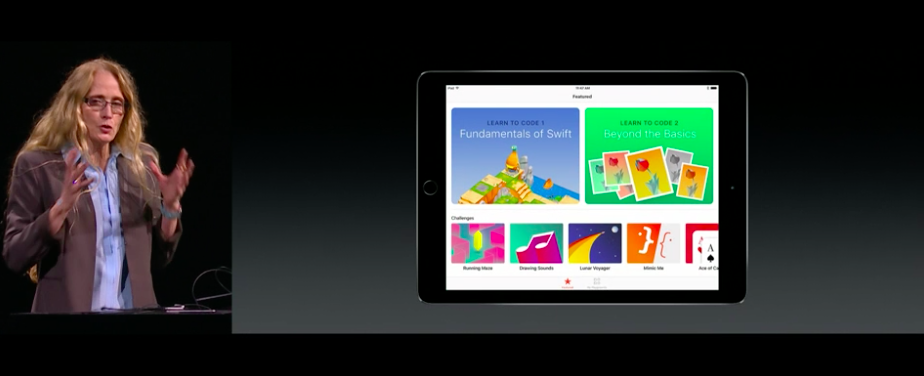 A Few Words About Privacy
Given Apple's various battles with the FBI over assorted locked iPhones during the past year, privacy was an inevitable topic at today's event. VP Craig Federighi spoke to it briefly, noting that Apple has enabled end-to-end encryption by default on its services to protect user communications. It all takes place on-device so that your data is under your control. Internet searches via Apple's products don't create user profiles that identify you, he said.
Finally, he noted that there's a thing called differential privacy, which allows Apple to learn more about its users in the aggregate but that doesn't reveal any identifiable info about a specific user to the company. "We believe you should have great features and great privacy," said Federighi. "You demand it; we're working really hard to provide it."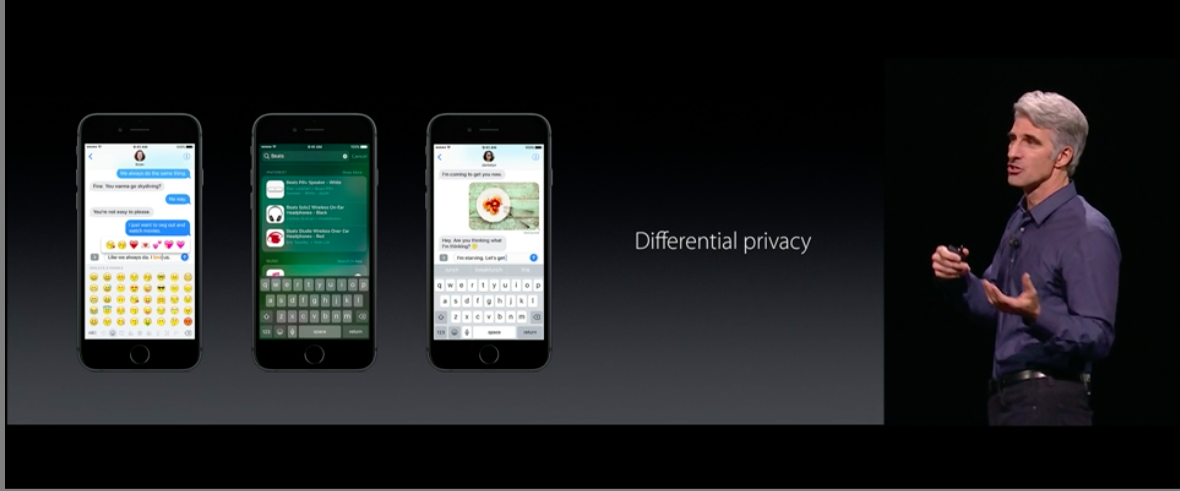 iMessage Gets a Big, Juicy Update
iOS 10 will arrive with a MASSIVE update to iMessage. It includes rich HTML links with pictures and videos. There's camera integration, so you can see all your photos without going into camera roll. Emojis are 3x bigger! And then there's the feature that got the biggest cheer at WWDC so far: Predictive AI to identify places to put emojis into a text. The Emojification feature.
Also: You can now use your finger to write a handwritten message to a loved one or send your heart rate — just like the Apple Watch. Even bigger news: Apple is opening iMessage up to developers. The app will include an "App Drawer" that will store apps.
There are a lot of bells and whistles but the potentially transformative thing about iMessage is that it is now truly collaborative. Group messages can now be places where you can not only plan, but also get things done inside other apps. That feels important.
Seeing these updates, it's almost insane to think how impersonal the current version of iMessage is. What we are seeing here is an admission that messaging is one of the most important ways we express ourselves. And if the iPhone is the most personal device we own, its core features like messaging should reflect that.
Voicemail Transcription in iOS 10
Here's an iOS 10 feature that's certain to come in handy: automatic voicemail transcription. Also: a feature that detects spam calls.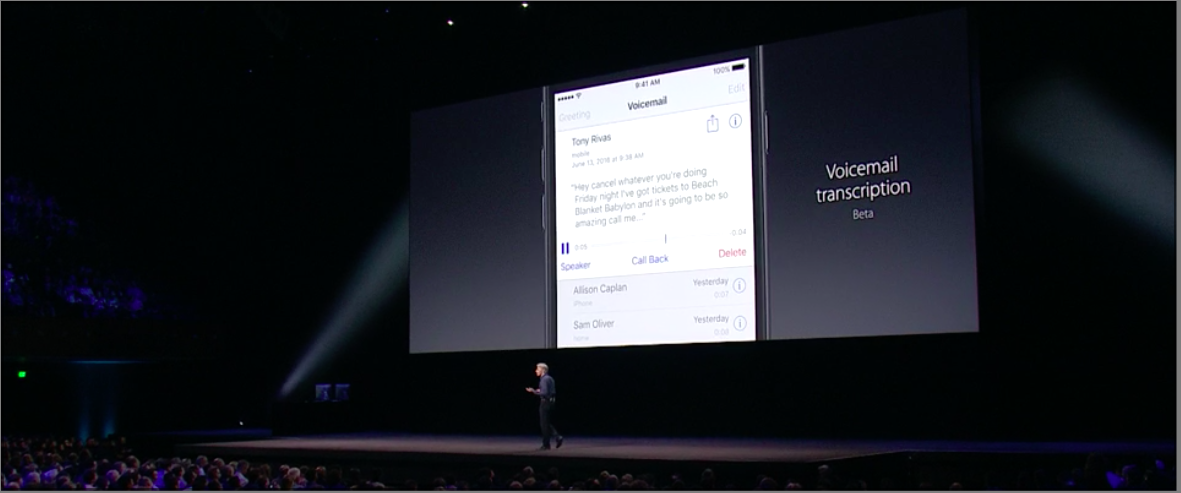 Home Automates Your Home
Apple's HomeKit home automation platform will get a big update in iOS 10. "Home" gathers all your home automation apps into a single app. Home is integrated with Siri, so you can do things like say, "Good morning, Siri," and Siri will turn on your lights and turn the thermostat to a desired temperature. There are all kinds of contextual control options, like geofencing, which will, say, turn your house on for you when you park the car in the garage.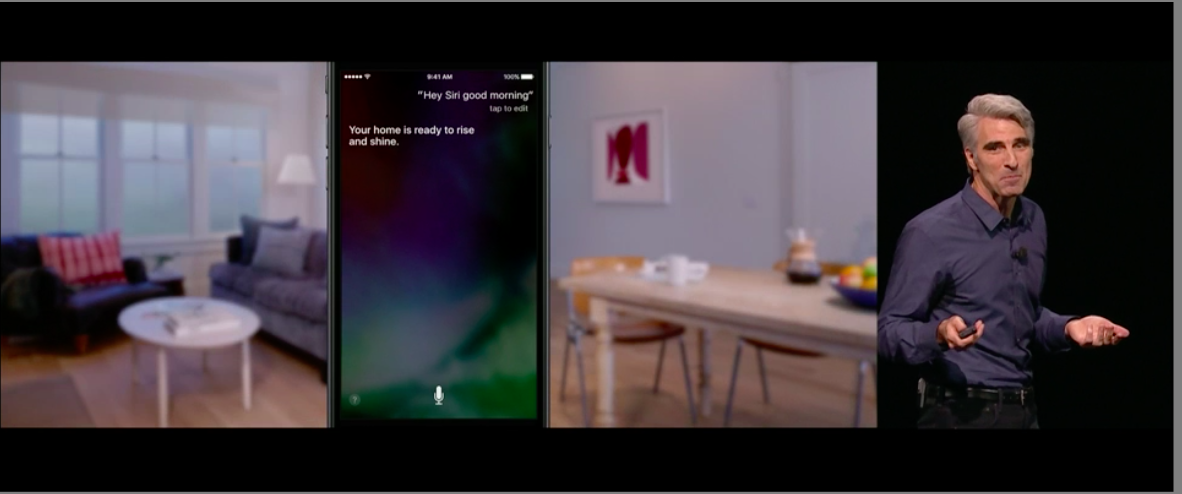 Apple Music Redesigned
The rumors were true, Apple has indeed redesigned Apple Music. It's given it a more spartan interface — lots of white space, with a big focus on cover art. Apple claims the design is more intuitive to use, and it does look that way. Certainly, it's significantly less cluttered. The company has also added a handy new lyrics tab (perfectly demoed with "Rapper's Delight") and it's rejiggered the "For You" tab. Apple is going to try and take on Spotify's customized playlists with "Discovery" playlists intended to expose users to new music they might like. A browse tab showcases all the music Apple's editors have taken the time to curate.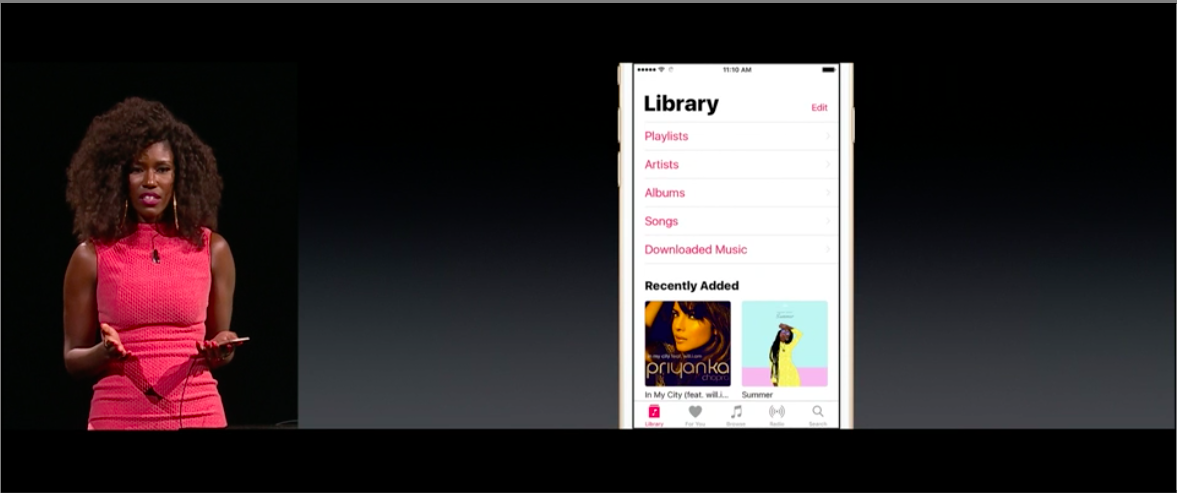 iOS 10: A "Huge" Update
Apple SVP Craig Federighi touted iOS 10 as a "huge" update to Apple's mobile operating system. Among the new features: raise to wake, which uses 3D Touch to surface important information on the lock screen quickly and easily. It can display messages, Uber notifications, and even live sports.
Apple is essentially integrating 3D touch to allow you to basically use your entire phone without ever even going to the home screen. The lock screen is the new home screen, friends.
Undergirding Federighi's claim that this is a huge update to iOS is news that Apple will be opening up Siri to developers, allowing them to link their apps to Apple's virtual assistant. That means we'll be able to use Siri to do things like summon an Uber or send a WeChat to a friend or Slack someone or send them a payment with Square Cash. That works with CarPlay, too.
Apple is adding Siri to your keyboard to combat some of the newer, intelligent keyboards that have recently come out, like Google's Gboard. This includes Intelligent suggestions, contact info, scheduling, calendar availability, lookup, and search terms. And the quick-type keyboard now supports multilingual typing.
iOS 10 includes some significant additions to Photos. Apple's updated the software with improved facial recognition; it's also using artificial intelligence to scan and group photos according to "Memories" (trips, topics, people, moments, vacations). These Memories can also include bits of video and even a musical soundtrack — all automatically added (and editable). It's a bit like what Google Photos has been doing for over a year, but there's more of a Hallmark touch to it.
Also included in iOS 10 is an all-new version of Maps, one that Apple claims is a bit more proactive and intuitive. It asks questions like "Where do you want to go?" rather than being...slightly awkward like before. There's a lot more dynamic directional and navigation stuff, which will all go to your car. Maps is going to do the Waze thing, offering you updated routes based on road conditions. Maps, like Siri, will be opened up to developers. So you can ask Maps to go through OpenTable to find a restaurant and then request a car through Uber. Oh: And you can pay for it, too using Apple Pay. All without leaving Maps. Capitalism made easy!
Siri on the Mac
Apple's intelligent personal assistant is at long last coming to the Mac.
Siri will be able to search your computer but also search the web. If you tell Siri to find a photo on the internet, it calls it up and you can drag it into other applications. It is also the connective tissue between your mobile devices. Copy something on your iPad? Now you can paste it into your computer via Siri. The idea is that by making all your devices work together in harmony, you'll have more incentive to go out and buy the whole suite of expensive gadgets.
For Apple, the move to bring Siri to the desktop is a long-awaited one delivered with "well, it's about time" execution. With personal digital assistants migrating from smartphone to desktop to countertop and their price points dropping (Amazon's new Echo Dot puts the retailer's Alexa Voice Service in an $89 device the size of a tuna fish can), bringing Siri to the Mac was an inevitability.
This is one of many steps today where we are going to see Siri integrated into every major Apple product. The plan here is obvious: As personal assistants become the new way to navigate our digital worlds, Siri will be inside everything. Your phone. Your watch. Your computer. Your car. Your home.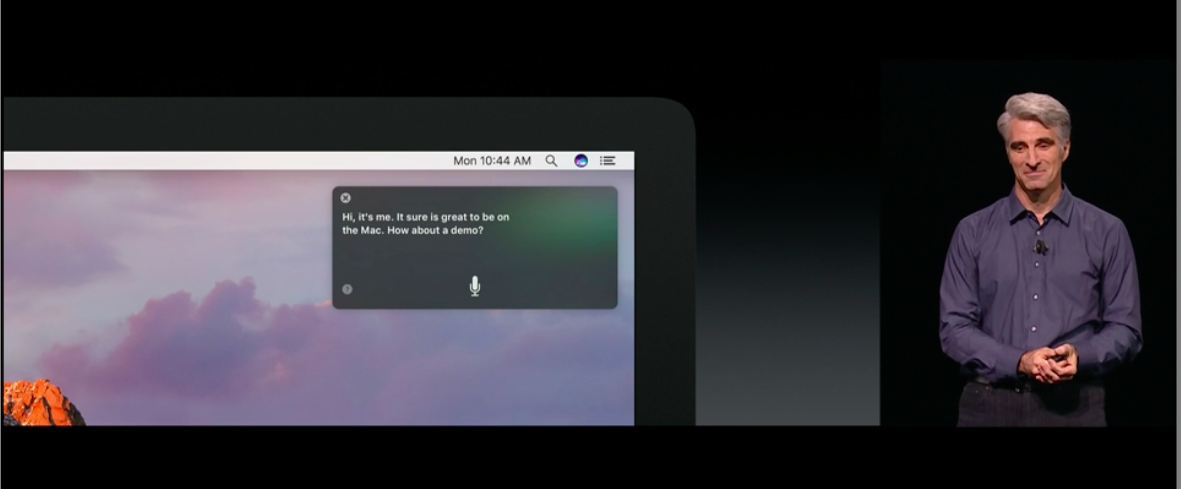 Goodbye, OS X. Hello, MacOS.
After more than 15 years, Apple is getting rid of the name OSX. Get ready for it: It's now MacOS. This year's version of MacOS is called Sierra. It's packed with a bunch of new features:
• Auto Unlock: Good news if you have an Apple Watch! You can unlock your computer without typing in an annoying password. Your watch is your authenticator. Brave new world.
• Universal Clipboard: Copy and paste on one device is recognized across all your devices. So you could copy text on your phone, for example, and paste it in on your computer. This is part of Apple's plan to make the ecosystem seamless.
• iCloud storage optimization: This feature make room for new files by keeping older ones in the cloud. So movies you've already seen in iTunes or really old email attachments will immediately go to the cloud and free up room on your computer's hard drive. This is great news for anyone with a computer that's a couple years old and is struggling with a creaky processor.
• Apple Pay is coming to the web! This is actually really, really huge. It may sound kind of bland but it's essentially Apple becoming your one-click payment plan for THE ENTIRE INTERNET. Tons of stores are signing on. All you need to do is use your phone with TouchID to authenticate a purchase. Seriously. This is a really big deal and puts Apple in competition for payment data with some of the biggest retailers and banks. Your move, Amazon.
• Tabs on Safari get a little better. There's also a new picture-in-picture feature, so you can watch a video while doing emails and never, ever, ever be productive again!
tvOS: Single Sign-on, Live Tuning, and YouTube Search
Apple's first big update to its next generation tvOS (that's what runs your Apple TV) will bring a new version of its Remote app for iOS to the iPhone and iPad. It will also enable Siri to search movies by topic as well as keyword. Siri, which currently searches over 650,000 movies and TV shows, will soon be capable of searching YouTube. It will also be able to tune to live TV with a simple command like "Watch ESPN."
Also coming with the next version of tvOS: single sign-on, which will allow you to register for all manner of pay TV services via a single account bypassing the rat's maze of registration screens we often encounter when searching for shows to watch. The developer version of the OS becomes available today, with the public release following later this year.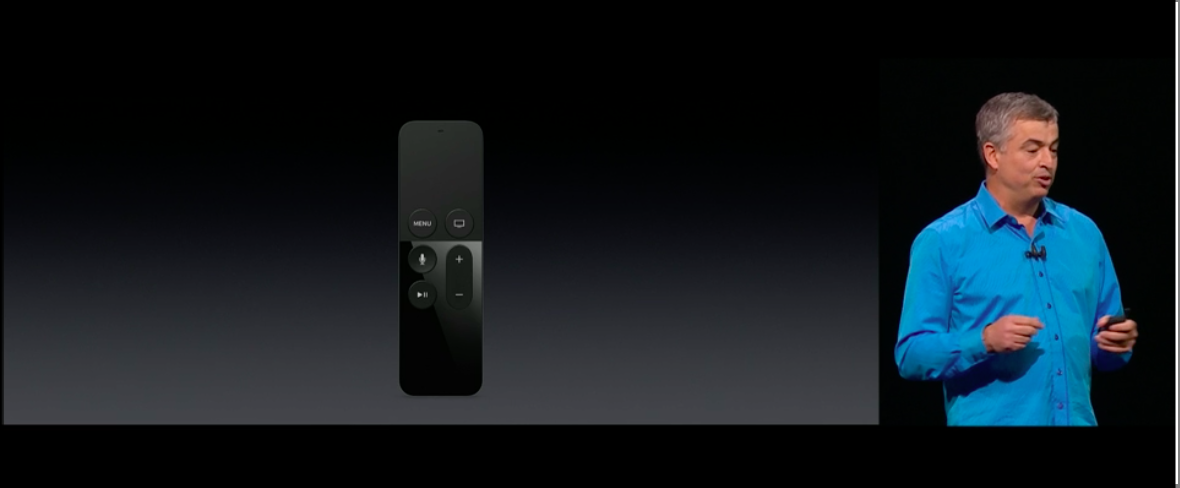 WatchOS 3: Physical Fitness Features for People in Wheelchairs
Apple has developed some Apple Watch accessibility options for wheelchair users. They're designed to understand how wheelchair users operate their chairs. "Time to stand" watch notifications will be changed to "time to roll" and the watch's activity tracker will reflect wheelchair pushes, instead of steps.
Hello, WatchOS 3
A new version of the operating system that runs the Apple Watch is coming. It's called WatchOS 3. There are a few bells and whistles but, at its core, this update is about making WatchOS run faster and improving what has been a rather sluggish experience.
According to Apple, it will be a much faster experience (the company says up to seven times faster). Background refreshes mean that apps take far less time to load. There's also a dock function so you can scroll through apps quickly, and a swipe-up control center like on iOS.
Apple has taken some of the friction out of the autoreplies. There's a function called scribble that allows you to write on your screen and WatchOS will recognize the characters and turn it into text.
There are some new watch faces as well, including Minnie Mouse and an Activity watch face that shows you your health progress throughout the day — a way for Apple to get people to continue to use the watch for activity.
To address safety concerns, the new WatchOS has a call for help function that lets people press and hold a button to place a call to emergency services. It works over both the phone and Wi-Fi, and can transmit medical information as well. It will work both in the United States and internationally.
There's also an interesting new optimization for wheelchair users to help them make the most of activity settings. For example, instead of time to stand, WatchOS 3 will send them a time to roll notification.
New API access means you'll also be able to make in-app payments with Apple Pay, fitness apps can run in the background during workouts for real-time heart rate and motion data, and developers will be able to tap into the digital crown and other aspects of the watch. It will be a free update for all Apple Watch users this fall.
Kicking Things Off: The Annual Victory Lap
WWDC 2016 began as the event does pretty much every year: with a victory lap of big numbers and success stories. Onstage before a concert-size audience at San Francisco's Bill Graham Civic Auditorium, Apple CEO Tim Cook rolled through a string of numbers followed by lots and lots of zeros. Apple has 13 million registered developers from 74 countries. Those developers hare built 2 million apps for the iTunes App Store. And those apps have been downloaded more 130 billion times. To date, Apple has paid out $50 billion to developers.
A Moment of Silence for Orlando Massacre Victims
Apple CEO Tim Cook kicks this year's WWDC off with a moment of silence for the lives lost in the Orlando shooting over the weekend. "We offer our deepest sympathies to everyone affected by this act of terrorism," Cook says. "The Apple community is made up of people from all around the world. These people make us all stronger. Please rise and join me in a moment of silence."
Outside the WWDC venue, Apple logo flags are all at half staff to honor the victims of yesterday's tragedy in Orlando.