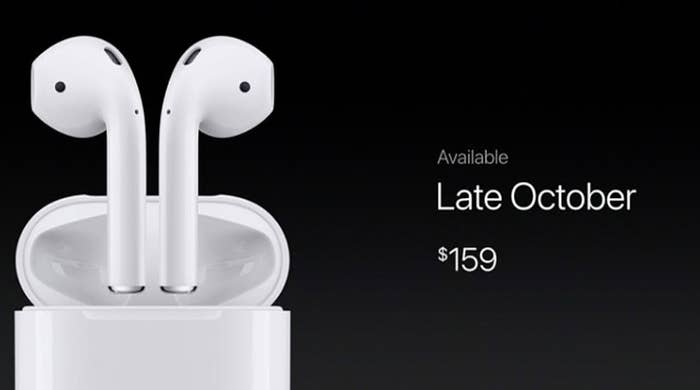 Looks like Apple's new Airpods will arrive in time for the winter holiday shopping binge after all. On Tuesday morning the wireless earbuds became available for purchase online with a ship date of Wed December 21, the same day they will also arrive in Apple's brick-and-mortar stores.
When it announced Airpods in September, Apple said the $159 headphones would begin shipping in October. But on October 26, with the month nearly concluded, the company said it was delaying their retail availability. "We don't believe in shipping a product before it's ready," an Apple spokesperson told BuzzFeed News. "We need a little more time before AirPods are ready for our customers." Apple did not provide an explanation for the postponement, its first big delay of a new product since the white iPhone 4 in 2010.

Apple introduced AirPods in September alongside the headphone jack-less iPhone 7, touting them as a technically superior alternative to wired earbuds. Packed with a custom-designed Apple W1 chip, accelerometers, optical sensors, beam-forming microphones, and antennas, Airpods are diminutive in-ear computers and a big part of Apple's vision for the future of audio.
"These are as advanced a project as Apple Pencil," Apple SVP Phil Schiller told BuzzFeed News back in September. "We started this project when we started the Watch project. We knew we needed a great wireless solution for audio. We said, 'What if you could design what the future of headphones should look like?' That's what we asked the team to do."
Asked again to explain the issue behind Airpods' delay today, Apple declined comment. But prior to today's announcement, a person familiar with the product's development told BuzzFeed News Airpods had required additional and unexpected "fine-tuning" related to sound performance and battery life. It's worth noting that Apple said today that BeatsX — which rely on the same proprietary wireless chip as Airpods and were also supposed to ship in October — will ship in February 2017.
Airpods feature a buttonless design that relies on double taps and Siri commands to skip songs or make phone calls, and a "magic sauce"-soaked wireless chip that Apple says will solve the conga line of connectivity problems from which Bluetooth headphones have historically suffered.
"It's unbelievable to me still how much stuff we were able to cram in there," John Ternus, vice president of Mac, iPad, ecosystem, and audio engineering at Apple told BuzzFeed News in a September interview. "We do a lot of products that are just packed with technology, but these are arguably the most densely packed products we've ever made. There is NO wasted space. NONE."
Update: Shortly after Airpods became available for pre-order on Apple.com, shipping estimates slipped from December 21 to December 29, and then to "4 weeks."