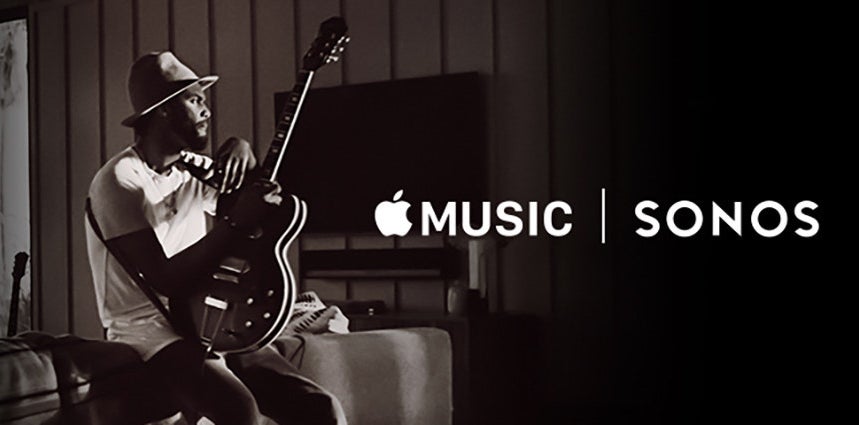 At long last Apple Music is headed to Sonos. Making good on a promise made back in June, Sonos said Monday that Apple's new streaming music service will debut on its wireless speakers before the end of the year. Apple Music will become available as a public beta on Sonos starting December 15 with general availability to begin in early 2016.

"We're big fans of Sonos," Apple SVP of Internet Software and Services Eddy Cue told BuzzFeed News. "We've been looking forward to this."
Sonos will let people access Apple Music's For You, My Music, New, and Radio — basically everything but "Connect," a social feature intended to link artists with their fans. The focus is curated streaming, which Sonos co-founder and CEO John MacFarlane says drives most of the music listening that occurs on Sonos speakers these days.
"Well over 90 percent of the music people listen to on Sonos speakers is from streaming services," MacFarlane told BuzzFeed News. "We think Apple Music is going to be a catalyst that will raise that percentage even higher. What we've found is that as Sonos owners discover streaming services like Apple Music they use the local collections they have on their home computers and cell phones less and less."
For Sonos, which has long offered a robust menu of streaming music services that includes everything from Spotify to Tidal, the addition of Apple Music seems a no-brainer, particularly since its Beats Music predecessor had been available on Sonos since January of 2014 until it was shut down on November 30. So why wait? Why did Apple not offer Apple Music right out of the gate? "It's important to get the integration right the first time out," Cue told BuzzFeed News. "Apple has a high bar for this stuff; So does Sonos. Apple Music isn't even 6 months old yet, so this really did not take much time at all."
Sonos, which recently debuted a new flagship speaker -- the PLAY:5, as well as a very slick speaker-tuning application called Trueplay, is the latest non-Apple platform to debut Apple Music in as many months. In early November Apple brought its streaming music service to Android, the first time the company has ever offered one of its services on Google's mobile platform.

You'll find instructions for joining the Apple Music beta on Sonos here.