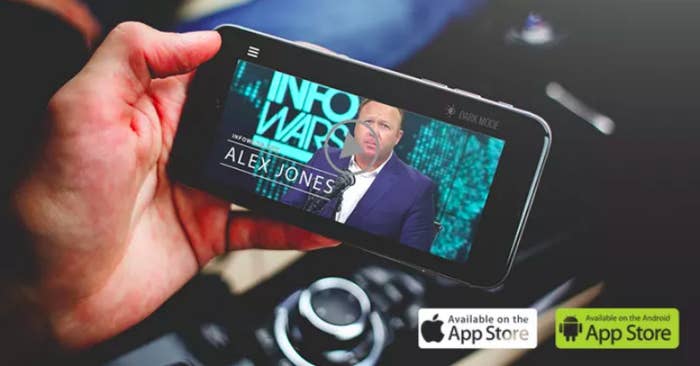 A day after being banned from Twitter, Alex Jones and Infowars have been booted from yet another platform: Apple's popular App Store. As of Friday evening, searches on the App Store for Infowars return no results.

Apple confirmed the app's removal to BuzzFeed News, but declined to comment, pointing to its App Store Review Guidelines. The company said Infowars would not be permitted to return to the App Store.

The first clause of those guidelines explicitly rejects "defamatory, discriminatory, or mean-spirited content, including references or commentary about religion, race, sexual orientation, gender, national/ethnic origin, or other targeted groups, particularly if the app is likely to humiliate, intimidate, or place a targeted individual or group in harm's way."
Infowars' app, which allowed users to read Infowars articles, shop, and livestream all of Jones' programming 24 hours a day, served as a window into the incendiary conspiratorial content that led to the outlet's ban from Facebook, YouTube, Spotify, and Twitter. While Apple removed Jones and Infowars from its podcast platform in early August, the company took no action against the Infowars app, nor did it explain why it was allowed to remain. It's worth noting, however, that the Infowars app does not store content, which presumably made violations of Apple's guidelines more difficult to police.
The App Store has been a valuable platform for Infowars. The site relaunched its app on July 9, and, according to the analytics company Apptopia, it was downloaded about 93,000 times in its first month. Though it cautioned that the app is still too new to the App Store for it to provide definitive daily average user analytics, Apptopia told BuzzFeed News that Infowars has logged more than 600,000 hours spent in-app as of August. After Jones' ban from Facebook, YouTube, and Apple's podcast platform, the app surged to the third spot in Apple's App Store.